Sky – Giovinco, Destro, Isla, Verratti och andraSky – Giovinco, Destro, Isla, Verratti and others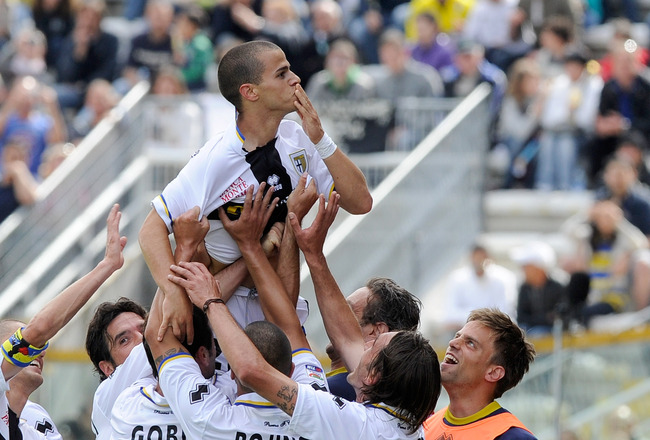 Idag talas det mycket om Mercato:n på Sky Sports. Mycket om Inters förehavande, likväl. Man börjar givetvis att prata om Parmas stjärna Sebastian Giovinco. Han sägs vara en perfekt pusselbit för den taktiken som Andrea Stramaccioni vill spela med och Inter förväntas lägga ett bud, trots att det kan kosta en hel del. Man talar också om Chievos mittback Fransesco Acerbi, som sägs ha ett avtal med Milan, men man måste först förhandla med Genoa, och där öppnar sig möjligheter för Inter.
Igår rapporterades det om Inters intresse för Oscar, vilket är genuint, men det finns för tillfället högre prioriteringar. En av dessa prioriteringar skulle vara att ta hem Mattia Destro, men som verkar ligga närmare Juventus. Det är även derby om Mauricio Isla som också jagas av Juventus. Där ligger klubbarna mer lika trots att Juventus kan tänkas få fördel av att Arturo Vidal redan spelar för Turinklubben.
Sist så talar man om Marco Verratti från Pescara där man kommer framtill att det inte alls är omöjligt med en övergång, då Inter ska vara villiga att köpa och låta honom stanna ett år i Pescara på lån.
Sky Sports speaks a lot about Inter and the Mercato today. They give a large overview of Inters targets for the summer. First out is Parma-star Sebastian Giovinco. Giovinco is considered perfect for Andrea Stramaccionis tactical system for the upcoming season and Inter are expected to bid despite the hugh pricetag. Another target is Chievo defender Francesco Acerbi, who has a verbal agreement with AC Milan, but first talks has to be initiated with Genoa, where Inter might be able to slide in and steal the player.
Oscar, as mentioned yesterday, is also a target for Inter, but with low priorites. A high priority is to bring Mattia Destro home to Inter, but Juventus seems to be a couple steps ahead. Mauricio Isla is another player wanted by both Inter and Juventus, a battle which seems to be more even, even though Juventus got the advantage of having Arturo Vidal in their squad.
Finally, Marco Verratti is adressed. A transfer to Inter seems more and more likely, since Inter are willing to buy the player and let him stay in Pescara on loan for next season.