La Grande Inter: Helenio Herrera (1910-1997) – Il MagoLa Grande Inter: Helenio Herrera (1910-1997) – Il Mago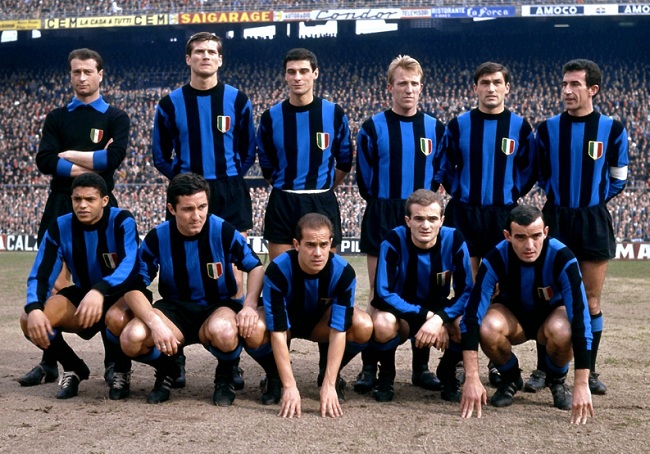 Ingen av oss har väl glömt det fantastiska Interlag som gav oss så mycket glädje under 2010. La Triplete var någonting unikt och Inter befann sig under en period på toppen av den italienska och internationella fotbollen. Vi minns alla personer som Samuel Eto'o, Wesley Sneijder, Javier Zanetti, Diego Milito, José Mourinho och alla de andra hjältarna som skänkte oss så mycket glädje och stolthet. Men hur många av oss minns eller känner till personer som Sandro Mazzola, Luis Suárez, Giacinto Facchetti, Mario Corso, Helenio Herrera och de andra hjältarna som kallades La Grande Inter? Eftersom många av oss inte var födda på den tiden är det naturligt att vi inte har några egna minnen av detta stora lag men det innebär inte att vi inte kan ha vetkap om hur Inter under 1960-talet dominerade världsfotbollen. Jag kommer därför under de kommande veckorna att presentera de personer som var med och bidrog till så många segrar och som skrev så många sidor i Inters historiebok, personer som tillsammans kallades La Grande Inter.
I den första delen i denna serie ger jag en övergripande beskrivning av La Grande Inters bedrifter under perioden 1960 till 1968, något som är omöjligt att göra utan att också berätta om lagets arkitekt, tränaren som inte bara var betydelsefull för Inter utan även för världsfotbollen: Helenio Herrera.
Riposa In Pace, Il Mago.
Uppväxten och karriären som fotbollsspelare (1910-1944)
Helenio Herrera Gavilán föddes den 10 april 1910, ett datum som än idag är osäkert eftersom det ryktas att han under 1950-talet ändrade sitt födelseår till 1916. Herrera föddes visserligen i Argentina men båda hans föräldrar var från Spanien. Hans pappa var en känd anarkist och var således en motståndare till den spanska monarkin och Alfonso XIII av Spanien, omständigheter som tvingade familjen att leva utomlands i exil. När Helenio var fyra år gammal flyttade familjen till Marocko där han så småningom blev fransk medborgare.
Innan han blev tränare hade Herrera en karriär som spelare men det var inte den som skulle göra honom till en legend. Herrera var en försvarare och inledde karriären i RC Casablanca innan han flyttade till det franska fastlandet och CASG Paris. Han spelade även för Stade Francais och Excelsior Roubaix innan det andra världskriget bröt ut. Under kriget spelade han för Red Star Paris, Stade Francais, EF Paris-Capitale och slutligen Puteaux där han påbörjade sin tränarkarriär genom att vara spelande tränare.
Karriären som tränare tar fart (1944-1959)
Tränarkarriären fortsatte sedan med att Herrera återvände till Stade Francais en tredje gång och blev kvar i klubben under tre säsonger. Framgångarna uteblev dock och i samband med att ägaren sålde klubben flyttade Herrera till Spanien och spenderade de kommande sex säsongerna med att träna Real Valladolid, Atlético Madrid, CD Málaga, Deportivo La Coruna och Sevilla FC. Under tiden i Atlético Madrid vann han två stycken ligatitlar. Efter en kort sejour i portugisiska CF Os Belenenses återvände Herrera till Spanien där han fick det prestigefyllda jobbet som tränare för FC Barcelona. Sett till resultaten var tiden i Barcelona en framgång med två ligatitlar, två Inter City Fairs Cup (dåtidens motsvarighet till Europa League) och en titel i spanska cupen. Trots alla titlar med FC Barcelona var inte allt frid och fröjd. Herreras auktoritära ledarstil uppskattades inte och hans relation med lagets ungerska stjärna Ladislao Kubala var allt annat än bra. Efter två säsonger i klubben blev situationen ohållbar och Herrera fick till slut sparken.
Helenio Herrera tar över Inter (1960)
I Inter hade Angelo Moratti tagit över som president 1955 och han var mycket missnöjd med att laget inte vunnit någon Scudetto sedan 1954. Moratti kände till att Herrera hade problem i Barcelona och eftersom han imponerats av tränaren, inte minst i samband med att FC Barcelona slagit ut Inter ur Inter City Fairs Cup, såg han till att redan under pågående säsong försäkra sig om att Herrera skulle träna laget kommande säsong. Året var 1960 och Herrera blev i och med övergången till Inter dåtidens överlägset bäst betalda tränare.
Säsongen 1960/61
Inter inledde den första säsongen under Helenio Herreras på ett fantastiskt sätt: fyra raka segrar och 18 gjorda mål. Efter lite mer än en månad av säsongen låg man ensamt i toppen av tabellen men jagades av Juventus och Roma. Efter den första halvan av säsongen hade Inter bara förlorat två matcher och låg tre poäng före AC Milan och ytterligare en före överraskningen Catania. Juventus, som inlett överraskande svagt och låg på en sjätteplats vid tidpunkten, inledde säsongens andra del på ett fantastiskt sätt och vann fem matcher i rad och närmade sig Inter i toppen. Segerraden stoppades i mars av Milan men det hjälpte inte Inter som samtidigt förlorade mot Lecco, en förlust som bara var den första av fyra raka för Inter. Juventus övertog ledningen i Serie A med AC Milan som tvåa. I den sjunde omgången från slutet skulle Inter möta Juventus i Turin i en match som kom att leda till en av många skandaler inom italiensk fotboll där Inter drabbats och Juventus vunnit fördelar. Matchen, som spelades den 16:e april, avbröts vid ställningen 2-0 till Inter efter att planen invaderats av supportrar som tagit sig in på arenan utan biljetter och Inter tilldelades segern med 2-0, ett beslut som givetvis överklagades av Juventus. Inför den sista omgången stod både Inter och Juventus på 46 poäng då FIGC (det italienska fotbollsförbundet) meddelade att man bifallit Juventus överklagan och beslutat sig för att matchen skulle spelas om. I sammanhanget bör nämnas att den som var president för FIGC vid tidpunkten var Umberto Agnelli som även var president för Juventus… Beslutet gjorde att Juventus nu istället ledde Serie A med två poäng och i det som skulle varit den sista omgången spelade Juventus 1-1 mot Bari samtidigt som Inter förlorade mot Catania med 2-0. Juventus blev hastigt och mindre lustigt italienska mästare. Den uppskjutna matchen mellan Juventus och Inter spelades veckan efter säsongen egentligen skulle tagit slut och vanns av Juventus med 9-1 och Inter slutade trea i tabellen. Juventini skryter än idag över den segern men det de inte vet, eller åtminstone låtsas inte veta, är omständigheterna kring matchen. Interpresidenten Angelo Moratti beordrade nämligen Helenio Herrera att ställa upp med Primaveralaget i protest mot FIGC:s beslut samtidigt som Juventus ställde upp med sitt ordinarie lag. Inters målskytt i matchen: 18-åringen Sandro Mazzola.
Säsongen 1961/62
Inför säsongen 1961/62 såg Herrera till att Inter värvade hans mittfältsstjärna från tiden i FC Barcelona Luis Suárez som vunnit Ballon d'Or 1960. Inter inledde återigen säsongen bra och ledde Serie A efter den första halvan av säsongen och jagades länge av Torino och Atalanta samtidigt som de andra storlagen hade stora problem. När säsongen vände var Inter i toppen av tabellen, fyra poäng före Fiorentina och Bologna. Precis som året innan skulle Inter göra en svagare vårsäsong och efter en hemmaförlust mot Roma kom Fiorentina och Milan ifatt. Inters seger i det efterföljande Milanoderbyt var därför oerhört viktig och många trodde då att Inters väg mot Scudetton låg öppen. En mycket oväntad förlust mot SPAL satte dock stopp för Inters planer och ledningen togs över av Fiorentina som i sin tur passerades av AC Milan som prickade in en ordentlig formtopp i slutet av säsongen. Fjolårsmästarna Juventus avslutade säsongen med sju raka förluster och slutade tolva.
Säsongen 1962/63
Säsongen 1962/63 vann Inter Serie A med hjälp av ett försvar som var näst intill omöjligt för motståndare att ta sig igenom. Inför säsongen hade det förstärkts med Tarcisio Burgnich som ratats av Juventus men som gjort en bra säsong med Palermo. En annan värvning som kom att bli betydelsefull var den av brasilianaren Jair, en anfallare som ratats av Milan. Säsongens avgörande kom i den 31:a omgången när Inter vann Derby d'Italia med 1-0 på bortaplan efter att unge Sandro Mazzola gjort det avgörande målet. Omgången efter säkrade Inter Scudetton trots att laget förlorade med 0-3 mot Roma eftersom Juventus samtidigt bara spelade oavgjort mot Mantova. Under säsongen var det tre blivande legender som fick sina genombrott och blev ordinarie i Inters startelva: Giacinto Facchetti, Armando Picchi och Sandro Mazzola.
Säsongen 1963/64
Inför säsongen 1963/64 värvade Inter den rutinerade målvakten Giuliano Sarti från Fiorentina, den tyska landslagsmittfältaren Horst Szymaniak och anfallaren Aurelio Milani från Catania som delade skytteligasegern 1961/62. Inter inledde säsongen som man slutat den föregående och förlorade inte i Serie A förrän i den 14:e omgången då Juventus blev för starka. Även AC Milan var starka och toppade under hösten länge tabellen. Överraskningsslaget Bologna lyckades dock rada upp tio raka segrar och den nionde februari övertog laget förstaplatsen i tabellen. Inter var med i toppen och säsongen blev en av de mest spännande någonsin. I början av mars meddelade det italienska fotbollsförbundet att fem spelare i Bologna testat positivt på amfetamin efter segern mot Torino den andra februari. Torino tilldömdes segern och Bologna straffades med en minuspoäng. Efter stora protester granskades testen ytterligare och det visade sig att de manipulerats och att halterna av amfetamin var alldeles för höga för att någon människa överhuvudtaget skulle kunna överleva ett sådant intag. Den 16:e maj, med tre omgångar kvar, upphävdes domen och Herreras Inter som tidigare varit i ensam ledning fick nu sällskap av Bologna. I de tre återstående omgångarna följdes lagen åt då de båda lagen spelade två oavgjorda matcher och tog en varsin seger. Bologna hade bättre målskillnad men enligt regelverket skulle säsongen avgöras genom ett möte mellan lagen på en neutral arena. Det beslutades att matchen skulle spelas på Stadio Olimpico i Rom den sjunde juni. En som inte fick möjlighet att se matchen var Bolognas dåvarande president Renato Dall'ara. Han dog nämligen av en hjärtinfarkt han drabbats av under en diskussion med Inters president Angelo Moratti angående detaljerna inför matchen. Bologna vann den avgörande matchen med 2-0 och därmed också Scudetton 1963/64 efter att danske Harald Nielsen, som vann skytteligan, gjort ett av målen.
Lokalkonkurrenterna AC Milans seger i Europacupen säsongen 1962/63 hade fråntagit lite av glädjen över Scudetton och det fanns en stor revanschlusta i Inter. Europacupen, som var dåtiden motsvarighet till dagens Champions League, spelades helt och hållet som en utslagsturnering utan några gruppspel på den här tiden. De stora favoriterna var spanska Real Madrid som tagit sig till sju av de nio finaler som spelats i turneringen. Inter som kvalificerat sig som italienska mästare besegrade i tur och ordning Everton, AS Monaco, Partizan Belgrad och Borussia Dortmund innan man ställdes mot Real Madrid i finalen som spelades på Praterstadion i Wien den 27 maj 1964. Real Madrid hade ett fantastiskt lag där framför allt ungraren Ferenc Puskás och Alfredo Di Stéfano var de stora stjärnorna. Helenio Herreras Inter lyckades dock besegra Real Madrid med 3-1 efter att Sandro Mazzola gjort två mål och Aurelio Milani gjort ett. En spelare som kanske gjorde sitt livs match var Inters defensiva mittfältare Carlo Tagnin som helt och hållet lyckades stänga ner Real Madrids Di Stéfano och gav Inters mittfältare Suárez och Corso fritt spelrum. Inter gick obesegrade genom turneringen och blev det första laget någonsin att lyckas med den bedriften.
Säsongen 1964/65
Copa Intercontinentale eller VM för klubblag som den även kallas var vid den här tiden begränsad till ett dubbelmöte mellan vinnaren av Europacupen och vinnaren av Copa Libertadores, de sydamerikanska cupmästarna. Inter var som vinnare av Europacupen kvalificerade till finalen av Copa Intercontinentale som avgjordes i september 1964, samtidigt som den italienska säsongen inleddes. Finalmotståndare var argentinska Independiente som inledde på hemmaplan och besegrade Inter med 1-0. I returen på San Siro vann Inter med 2-0 och tvingade fram en tredje och avgörande match. En match som spelades på Santiago Bernabéu i Madrid och som vanns av Inter med 1-0 efter mål av Mario Corso.
Kampen om Scudetton 1964/65 stod mellan de två Milanolagen. När halva säsongen spelats toppade AC Milan tabellen med fem poängs marginal, efter att bland annat en seger i derbyt med 3-0. Ledningen drygades därefter ut till sju poäng i slutet av januari 1965 och det mesta talade för AC Milan i kampen om Scudetton. Då började Inter en fantastisk segersvit på åtta raka segrar, bland dessa en revansch för derbyförlusten i form av en 5-2 seger, som gjorde att Inter kunde återfå kontakten med toppen av tabellen. Under våren blev det alltmer uppenbart att Scudetton skulle hamna i Milano, frågan var bara i vilket av lagen. Avgörandet kom i omgång 31 när AC Milan besegrades på hemmaplan av Roma samtidigt som Inter vann Derby d'Italia i Turin med 2-0. Inter hade nu övertaget och säkrade Scudetton matematiskt i den sista omgången. Sandro Mazzola delade titeln som Capocannoniere med Fiorentinas Alberto Orlando.
I Europacupen var Inter regerande mästare och inledde starkt genom att besegra Dynamo Bukarest med 6-0 hemma och 1-0 borta i den första omgången. Inte heller i kvartsfinalen hade man några större problem när Glasgow Rangers slogs ut med totalt 3-2. Chocken kom i semifinalen mot Liverpool där Inter förlorade med 1-3 och hamnade i ett besvärligt läge inför hemmamötet veckan efter. Hemma på San Siro lossnade det dock och efter bara 10 minuter ledde Inter med 2-0. Ett mål för Liverpool hade kunnat förstöra Inters finaldrömmar men istället gjorde Facchetti 3-0 i den 62:a minuten och säkrade Inters plats i finalen som skulle spelas på hemmaplan. Motståndare i finalen var Benfica som vid den här tidpunkten var ett av Europas hetaste lag med superstjärnan Eusébio i spetsen. Benfica hade imponerat stort under turneringen och bland annat slagit ut storlaget Real Madrid efter 5-1 på hemmaplan. San Siro var fylld till bristningsgränsen och 89 000 åskådare fick se Inter vinna sin andra raka titel efter att man som första lag i turneringen lyckats hålla nollan mot Benfica i en match som slutade 1-0. Målskytt: Jair i matchminut 42.
Säsongen 1965/66
Tack vare segern i Europacupen föregående säsong inledde Inter också den här säsongen med att spela final i Copa Intercontinentale och även den här gången var argentinska Independiente motståndare. Den här gången krävdes det dock inte tre matcher för att vinna titeln eftersom Inter vann med 3-0 hemma och spelade 0-0 borta. Inters andra raka seger i turneringen var ett faktum och Helenio Herreras Inter dominans i fotbollsvärlden var vid den här tidpunkten total.
Även i Serie A fortsatte man sin storhetstid men det saknades inte utmanare. Under hösten var Napoli den stora överraskningen med nyförvärven Sívori och Altafini, två talanger som ratats av Juventus respektive AC Milan, som nu gjorde succé. Även ett pånyttfött Bologna var med i tätstriden men inget av de två lagen kunde ta sig förbi Inter som i näst sista omgången säkrade Scudetton som innebar att man som andra lag i Italien fick sy dit den guldfärgade stjärnan ovanför klubbmärket då det var lagets tionde titel. Dessutom blev vänsterbacken Giacinto Facchetti historisk då han med sina tio mål satte ett rekord när det gäller antal mål gjorda av en försvarare.
Inter var efter två raka segrar i Europacupen en av de stora favoriterna i den här säsongens upplaga av turneringen. Det var därför förvånande att laget hade så stora besvär med att gå vidare från den första omgången där Inter mötte Dynamo Bukarest. Efter att förlorat på bortaplan med 1-2 var pressen stor på laget att vända underläget på hemmaplan. Efter en mållös första halvlek lyckades till slut Mazzola göra mål i början av andra halvlek på straff. I den 87:e minuten gjorde Facchetti 2-0 och såg till att Inter kvalificerade sig för kvartsfinalen. Där gjorde man processen kort med ungerska Ferencvâros och gick vidare med totalt 5-1 och ställdes mot Real Madrid i semifinalen. De blivande mästarna blev för svåra och slog ut Inter med 2-1 totalt.
Säsongen 1966/67
Detta var säsongen efter att det italienska landslaget slagits ut redan i gruppspelet av Fotbolls-VM efter en katastrofal förlust mot Nordkorea. I Italien fick man panik och bestämde att någonting var tvunget att göras. Åtgärden blev att begränsa antalet utländska spelare lagen i Serie A fick värva. Detta gjorde att lagen i princip såg ut som säsongen innan utan några spektakulära värvningar. Detta påverkade inte Inter som inledde säsongen med sju raka segrar och såg ut att gå mot ytterligare en Scudetto. Den 22 januari när den första halvan av säsongen var spelad kunde Inter kalla sig Campioni d'Inverno (vintermästare), en titel som inte betyder någonting om man inte gör en bra vår. Inters vår var inte lika bra och man tillät Juventus att komma ifatt och kanske började Herreras spelare bli trötta och slitna efter år av dominans. Inför slutomgången hade Inter trots detta en poäng mer än Juventus och skulle möta mittenlaget Mantova samtidigt som Juventus mötte ett Lazio som kämpade i bottenstriden och riskerade att åka ut vid förlust. Efter ett misstag av målvakten Sarti gjorde Mantova 1-0 och vann över Inter i en match där två uteblivna straffar för Inter blev omdiskuterade. Samtidigt vann Juventus sin match och skickade ner Lazio i Serie B, samtidigt som laget passerade Inter och vann Scudetton.
Slutet av maj och början av juni 1967 var en tuff period för Inter.  Veckan innan man tappade seriesegern till ärkerivalerna Juventus förlorade man också i finalen av Europacupen mot Celtic. Inter gjorde för övrigt en bra turnering och slog bland annat ut regerande mästarna Real Madrid i kvartsfinalen och ledde länge finalen efter ett straffmål av Mazzola. I mitten av andra halvlek kvitterade dock Celtic och avgjorde sedan matchen, som spelades i Lissabon, när det bara var fem minuter kvar. Resultatet speglade egentligen inte matchen då Celtic spelmässigt utklassade Inter och under långa perioder var det spel mot ett mål. Det var ett trött och slitet Inter som tycktes tömma sina sista krafter i den här matchen. Luis Suárez missade finalen på grund av skada och Jair hade lämnat klubben.
Säsongen 1967/68
La Grande Inter tillhörde nu det förgångna. Besvikelserna under fjolårssäsongens avslutning kom att markera slutet på en era och säsongen 1967/68 blev även den en besvikelse. Inter hamnade till slut på en femte plats, hela 13 poäng efter AC Milan. Helenio Herreras tid i Inter var över för den här gången. Under åtta år med klubben vann han Scudetton tre gånger, Europacupen två gånger och Copa Intercontinentale två gånger.
Tränaruppdrag efter La Grande Inter och återkomsten

När Herrera lämnade Inter valde han att gå till Roma som lockade med ett drömkontrakt. I Roma blev Herrera kvar i fem år men lyckades aldrig vinna någon Scudetto utan som bäst en sjätteplats. Det blev dock en vinst i Coppa Italia och en vinst i Anglo-Italienska Cupen. Hade han haft lite tur hade han även kunnat räkna in en titel i Cupvinnarcupen men förlorade en slantsingling efter att finalen slutat oavgjort. Efter ytterligare en misslyckad säsong fick Herrera sparken 1973 och återvände då till Inter. Sejouren i Inter blev inte vad han eller någon annan i Inter hoppats på eftersom Herrera drabbades av en hjärtattack och fick lämna tränarsysslan till Enea Masiero som ledde laget till en fjärdeplats i Serie A.
En legendarisk tränarkarriär avslutas
Efter hjärtattacken 1974 drog sig Herrera tillbaka och återvände till fotbollen först i mars 1979 när Serie B-klubben Rimini Calcio kallade och han fick där rollen som konsult. Efter bara två månader med klubben återvände han till FC Barcelona som efterfrågat hans hjälp och där avslutade han sin fantastiska tränarkarriär med att hjälpa laget att kvalificera sig för UEFA-Cupen 1980 och vinna den spanska cupen 1981.
Efter att tränarkarriären avslutats gick Herrera över till att kommentera fotboll och var mycket uppskattad.
Sina sista år i livet tillbringade Helenio Herrera i Venedig där han bosatte sig och den nionde november 1997 stannade hans hjärta och en av de mest legendariska fotbollstränarna någonsin lämnade jordelivet.
Helenio Herreras betydelse för fotbollen och tränarrollen
Helenio Herrera bröt ny mark på många sätt. Framför allt förändrade han tränarens roll och betydelse. La Grande Inters mittfältare Luis Suárez berättade senare i en intervju om sin tränare: "Hans betoning på fysisk form och psykologi hade aldrig setts förut. Innan honom var tränaren oviktigt." Tidigare var tränarens roll i princip bara att träna laget, ta ut en startelva och bestämma formationen. Tränaren fick således sällan någon ära och berömmelse och framför allt inte spelarnas respekt. Helenio Herrera var den första stjärntränaren och innan Herrera pratade man mer om lagets stjärnspelare än dess tränare. Tidigare beskrev man exempelvis Real Madrid som Di Stefanos Madrid. Inter kom att beskrivas som Herreras Inter.
Innan Herrera hade de flesta tränare en spelidé och avsåg att använda den utan att ta hänsyn till vad man hade för spelare. Herrera tänkte annorlunda: "Den första uppgiften är att lära känna spelarna väldigt väl, se på dem som individer under träning och matcher, för att se vad de har för bra naturliga egenskaper. Då och endast då kan vi börja göra en plan för den generella taktiken."
Av dagens tränare beskrivs framför allt José Mourinho som en stor motivatör men Herrera var en föregångare på det området och han använde sig av tekniker som till exempel att få spelarna att repetera slogans under träningarna. Ett exempel var: "Den som inte ger allt, ger inget." Herrera satte också upp posters på träningsanläggningen och omklädningsrummen med texter som skulle motivera spelarna. Nu kanske det låter som en självklarhet men under 1950- och 1960-talen var det en nyhet. "Klass+förberedelser+intelligens+fysiska styrka=titlar" var ett av dessa motton som bidrog till att göra Inter till ett vinnande lag. Herrera var också en av de första som intresserade sig för hur spelarna förde sig i sitt privatliv. Rökning och alkohol var förbjudet och spelarna fick även individuella dieter för att se till att de höll sig i god form. Det var inte ovanligt att Herrera skickade ut representanter från klubben för att se till att spelarna sov om nätterna och på så vis var utvilade inför matcher och träningar. För de spelare som inte följde dessa direktiv fanns det inga andra alternativ än att byta klubb. Herrera kunde upplevas som sträng men han visste vad som krävdes för att bli vinnare. Herrera var också den första tränaren som började kalla samman lagets spelare innan matcherna för ritiro, något som dagens tränare ofta använder sig av och innebär att spelarna tas med till avlägsna hotell för att förbereda dem inför matcher och skapa sammanhållning. Herrera ville skapa en vinnarmentalitet i laget och det faktum att han stängde av en spelare som i en intervju sa att "Inter kom till Rom för att spela," istället för att säga att Inter kommit dit för att vinna, säger det mesta.
Även taktiskt sett var Herrera före sin tid. Han var inte, som många tror, den som uppfann det som kom att kallas Catenaccio. Han var inte ens den som tog den till Italien, men han var utan tvekan den som utvecklade och gjorde den taktiska metoden känd i och med sina framgångar. Catenaccio var en utveckling av österrikaren Karl Rappans Verrou som användes under 1930- och 1940-talen med Servette och det schweiziska landslaget. Den mest använda formationen vid tidpunkten var den så kallade WM-formationen som skulle kunna kallas 3-2-2-3. Den var helt klart mer offensiv än det nya spelsättet men eftersom den ställde höga krav på spelarnas individuella skicklighet var det svårare att vinna med den om man inte hade spelarna för den. Den mest betydelsefulla positionen i Karl Rappans taktik var liberon. Liberon agerade bakom backlinjen och fångade upp de bollar som tagit sig igenom försvarslinjen. Den som tog det som kom att kallas Catenaccio till Italien var tränaren Nereo Rocco som lyckades föra Triestina till en andraplats i Serie A 1947 med hjälp av formationen.
Helenio Herreras Catenaccio skiljde sig mot Rappans och Roccos på flera sätt. Rappans taktik blandade zonförsvar med man-mot-man försvar medan Herrera konsekvent använde sig av man-mot-man försvar. Varje försvarare fokuserade på en enskild anfallare från motståndarlaget medan liberon fångade upp de bollar som tog sig förbi dem, det fanns med andra ord alltid en extra spelare i försvaret. Den som fick den rollen som libero i Inter var Armando Picchi. Herreras Catenaccio var också betydligt mer stängd än Roccos motsvarighet och öppnade på så sätt upp för mer långbollar och kontringar. I Herreras Catenaccio var vänsterbacken ovanligt offensiv, mycket beroende på att han hade världsstjärnan och den blivande legenden Giacinto Facchetti på positionen.
Även när det gällde det som hände på läktaren var Herrera engagerad. Han påtalade den tolfte spelarens betydelse för lagets prestationer och uppmanade supportrarna att organisera sig och göra sitt stöd för laget tydligt. Indirekt kan man säga att han bidrog till bildandet av Ultrasgrupper runt om i Italien.
La Grande Inters framgångar ifrågasatta på senare tid
Inter var under 1960-talet en världsmakt inom fotbollen. Lagets framgångar har dock ifrågasatts. Brittiska The Times hävdade under 2003 att Inters dåvarande president Angelo Moratti varit i kontakt med den ungerska domaren Gyorgy Vadas inför Europacupmatchen mellan Inter och Malaga 1965. Enligt samma källa skulle Interledningen ha gjort liknande försök under de båda föregående säsongerna. Enligt författaren till artikeln, Brian Glanville var La Grande Inters framgångar: "frukten av mutor och korruption där Angelo Moratti spelade en avgörande roll i en process som utfördes av två män som nu också är döda: Deszo Szolti, den ungerska fixaren, och den ormliknande Italo Allodi (Inters sportchef)." Det är viktigt att notera att dessa uppgifter aldrig blivit bekräftade från annat håll och att Inter inte blivit fällda för någonting som hänt under denna period.
Året efter kom det en annan sorts anklagelser. I sin bok Il Terzo Incomodo som publicerades 2004 berättade den tidigare spelaren Ferruccio Mazzola om doping i den italienska fotbollen. Mazzola anklagade även Inter, med vilka han spelade en match, för att ha försett spelarna med olagliga prestationshöjande droger under 1960- och 1970-talet. Bland de som namngavs fanns Helenio Herrera och Giacinto Facchetti. Ferruccio, som är bror med Interlegenden Sandro, ansåg att de tidigare Interspelarna Armando Picchi, Carlo Tagnin, Mauro Bicicli och Ferdinando Miniussi alla dött i förtid på grund av användandet av otillåtna medel. Dessa uppgifter mottogs inte väl av Inter och dess spelare. Sandro Mazzola sa upp bekantskapen med sin bror. Giacinto Facchetti som var president för Inter vid tidpunkte stämde, tillsammans med Massimo Moratti, Ferruccio för förtal men förlorade fallet då domaren inte ansåg att de uppgifter Ferruccio lämnat i boken kunde klassas som förtal. Detta har av vissa felaktigt tolkats som att de uppgifter Ferruccio lämnar i boken skulle vara korrekta men så är inte fallet. Rättegången handlade inte om huruvida Inter gjort sig skyldiga till doping under 1960-talet utan om Ferruccio gjort sig skyldig till förtal.
Ingen av dessa anklagelser har prövats juridiskt och Inter har således inte fällts för något av det de anklagats för. Anledningarna till att det inte prövats i domstol är bland annat bristen på bevis och det faktum att uppgiftslämnarna väntat nästan 40 år med att föra fram sina anklagelser. Dessutom tycks det vara en trend att anklagelser riktas mot personer strax efter att de har dött. Är det så att det är en slump eller är det kanske mer bekvämt att anklaga någon som inte kan försvara sig? Vissa kanske undrar varför jag ens skriver om detta i en artikel som är tänkt att hylla La Grande Inter. Jag skriver det för att jag, till skillnad från supportrar till vissa andra lag, inte har för avsikt att dölja eller censurera någonting. Inter blev en världsmakt inom fotbollen under 1960-talet och historien om La Grande Inter är något vi ska vara stolta över och bära med oss när vi ser laget fortsätta skriva historia.
Källor:
https://aroundthepeninsula.wordpress.com/2011/11/16/la-grande-inter-in-a-nutshell/
https://fiifianaman.blogspot.se/2012/06/helenio-herreraa-legend-forgotten.html
https://aroundthepeninsula.wordpress.com/2011/11/19/the-many-innovations-of-helenio-herrera/
https://it.wikipedia.org/wiki/Grande_Inter
https://it.wikipedia.org/wiki/Helenio_Herrera
https://it.wikipedia.org/wiki/Ferruccio_Mazzola
Surely, none of us have forgotten the amazing Inter team that gave us so much joy in 2010. La Triplete was something unique and for a little while Inter found themselves at the top of the Italian and the international football. We all remember people like Samuel Eto'o, Wesley Sneijder, Javier Zanetti, Diego Milito, José Mourinho or any of the other heroes who gave us so much joy and pride. But how many of us remember and know about people like Sandro Mazzola, Luis Suárez, Giacinto Facchetti, Mario Corso, Helenio Herrera and the other heroes known as La Grande Inter? Since many of us were not born at the time, it is natural that we do not have any personal memories of this great team but that does not mean that we can not know how Inter in the 1960's dominated world football. During the upcoming weeks I will be presenting the people who contributed to so many wins and who wrote so many pages in Inter's history, people who, together were called La Grande Inter.
In the first part of this series, I give a general description of La Grande Inter's achievements over the period from 1960 to 1968, which is impossible to do without also mentioning the team's architect, the coach that was not only important for Inter, but also for world football: Helenio Herrera.
Riposa In Pace, Il Mago.
Early life and career as football player (1910-1944)
Helenio Herrera Gavilan was born on april 10 1910, a date which is still uncertain because it is rumored that he changed his year of birth to 1916 during the 1950's. Herrera was born in Argentina but both his parents were from Spain. His father was a well-known anarchist, and was thus an opponent of the Spanish monarchy and Alfonso XIII of Spain, circumstances which forced the family to live abroad in exile. When Helenio was four years old the family moved to Morocco where he eventually became a French citizen.
Before he became a coach Herrera had a career as a player, but that was not what would make him a legend. Herrera was a defender and launched his career at RC Casablanca before moving to the mainland and CASG Paris. He also played for Stade Francais and Excelsior Roubaix before World War II broke out. During the war he played for Red Star Paris, Stade Francais, EF Paris Capitale and finally Puteaux where he began his managerial career by being a playing coach.
The career as a coach takes off (1944-1959)
His career as a coach continued on when Herrera returned to Stade Francais for a third time and stayed at the club for three seasons. However, the success failed to appear and when the owner sold the club Herrera moved to Spain and spent the next six seasons coaching Real Valladolid, Atlético Madrid, CD Málaga, Deportivo La Coruna and Sevilla FC. During his time in Atlético Madrid he won two league titles. After a brief spell in Portuguese CF Os Belenenses Herrera returned to Spain, where he received the prestigious job as coach of FC Barcelona. Looking at the results, the time in Barcelona was a success with two league titles, two Inter City Fairs Cup (the equivalent of todays Europa League) and a title in the Spanish Cup. Despite all the titles with Barcelona things were not all peace and joy. Herrera's authoritarian leadership style was not appreciated, and his relationship with the team's Hungarian star Ladislao Kubala was anything but good. After two seasons with the club, the situation became unsustainable and Herrera was eventually fired.
Helenio Herrera takes over Inter (1960)
At Inter, Angelo Moratti had taken over as president in 1955 and he was very unhappy with the fact that the team had not won a Scudetto since 1954. Moratti knew that Herrera had problems in Barcelona and since he was so impressed by the coach, not least in connection with FC Barcelona knocking Inter out of the Inter City Fairs Cup, he ensured that Herrera would coach the team in the upcoming season before Herrera even was fired from the Spanish club. The year was 1960 and Herreras move to Inter made him by far the highest paid coach at the time.
The 1960/61 season
Inter started the first season under Helenio Herrera in a fantastic way: four straight wins while scoring 18 goals. After a little more than a month of the season Herrera's team was alone at the top of the table but was chased by Juventus and Roma. During the first half of the season Inter lost only two matches and were three points ahead of AC Milan and one more ahead of the surprise team Catania. Juventus, who started out surprisingly weak and was in sixth place at the time, started the season's second part in a fantastic way and won five games in a row and closed in on Inter at the top of the table. Their winning streak was stopped in march by Milan but it did not help Inter who at the same time lost agains Lecco, a loss that was only the first of four straight for Inter. Juventus overtook the lead in Serie A with AC Milan in second place. With seven rounds left of the season Inter were set to face Juventus in Turin in a match that would lead to one of many scandals in Italian football in which Inter suffered while Juventus won benefits. The match, which was played on April 16, was cancelled when Inter were leading 2-0 after the pitch was invaded by supporters who had entered the stadium without tickets and Inter were awarded the victory by 2-0, a decision that obviously was appealed by Juventus. Going into the final round of the season Inter and Juventus were tied for the lead in Serie A with 46 points each when the FIGC (Italian Football Federation) announced that it upheld Juventus appeal and decided that the match should be replayed. In this context it should be mentioned that the one who was president of the FIGC at the time was Umberto Agnelli, who was also president of Juventus… The decision meant that Juventus now instead were alone at top of Serie A, two points ahead of Inter, and in what should have been the last round Juventus drew 1-1 against Bari, while Inter lost to Catania 2-0. Juventus were crowned Italian champions under these strange circumstances. The delayed game between Juventus and Inter was played the week after the season was supposed to have ended and was won by Juventus with a score of 9-1. Inter finished third in the table. Nowadays, Juventini are bragging about this victory but what they do not know, or at least pretend not to know, are the circumstances surrounding the match. In fact, Inter president Angelo Moratti ordered Helenio Herrera to only use players from the Primavera team to protest against the FIGC's decision. Meanwhile Juventus used their regular team. Inter's goal scorer in the game: 18-year-old Sandro Mazzola.
The 1961/62 season
Before the 1961/62 season Herrera made sure that Inter acquired his star midfield from his time in FC Barcelona, Luis Suárez, who had won the Ballon d'Or  in 1960. Inter once again started the season well and held the lead in Serie A for the first half of the season and for a long time they were chased by Torino and Atalanta while the other big teams had big problems. When the season was turned Inter were at the top of the table, four points ahead of Fiorentina and Bologna. Just like the previous season, Inter's performances were weaker during the spring season and after a home defeat against Roma, Fiorentina and Milan caught up. Inter's victory in the subsequent Milan derby was therefore extremely important and many believed that Inter's road to the Scudetto was wide open. A very unexpected loss to SPAL put a stop to Inter's hopes and the lead was overtaken by Fiorentina, who in turn was passed by AC Milan who were in great shape during the end of the season. The champions from the previous year, Juventus, finished the season with seven straight losses and finished twelfth.
The 1962/63 season
Inter won the Scudetto in 1962/63 with a defense that was almost impossible for opponents to get through. Before the season, Inter had reinforced the team by acquiring Tarcisio Burgnich who had been rejected by Juventus but had performed well during a season with Palermo. Another acquisition that became important was that of Brazilian Jair, a striker who had been rejected by AC Milan. The deciding moment of the season came in the 31st round when Inter won the Derby d'Italia by a score of 1-0. The youngster Sandro Mazzola made the decisive goal. In the following round Inter secured the Scudetto despite a 0-3 loss to Roma, because at the same time Juventus only managed a draw against Mantova. During the season there were three aspiring legends who got their breakthrough and became a regular in the Inter starting eleven: Giacinto Facchetti, Armando Picchi and Sandro Mazzola.
The 1963/64 season
During the summer ahead of the 1963/64 season Inter acquired the experienced goalkeeper Giuliano Sarti from Fiorentina, the German national team midfielder Horst Szymaniak and striker Aurelio Milani from Catania who shared the lead in scoring in 1961/62. Inter started the season as they finished the previous one and did not lose in Serie A until the 14th round when Juventus were too strong. Even AC Milan were strong and were, for a long time, at the top of the table during the first half of the season. The surprise Bologna managed to line up ten straight wins and on February 9, the team overtook the first place in the table. Inter were also one of the teams at the top of the table and the season were to become one of the most exciting ever. In early March the Italian Football Federation announced that five Bologna players had tested positive for amphetamines after the victory against Torino on February 2. Torino was awarded the victory and Bologna were punished a deduction of one point. After large protests the tests were examined further and it turned out that they had been tampered with and that the levels of amphetamine were far too high for any human to even survive such an intake. On May 16, with three rounds remaining, the ruling was suspended and Herrera's Inter, who previously were in sole leadership, were now joined by Bologna. In the remaining three rounds it was impossible to separate the two teams as the both drew to games and won one game. Bologna had the better goal difference, but according to the rules the winner of the Scudetto would be determined by a playoff game between the teams at a neutral venue. It was decided that the game would be played at the Stadio Olimpico in Rome on June 7. A person that did not get the opportunity to see the game was Bologna's president Renato Dall'ara. He actually died of a heart attack he suffered during a heated discussion with Inter president Angelo Moratti regarding the details for the game. Bologna won the playoff game by a score of 2-0 and thus the Scudetto of 1963/64 after the Danish Harald Nielsen, who became Serie A's the top scorer, scored one of the goals.
Local rivals AC Milan's victory in the European Cup during the 1962/63 season had deprived some of the joy of Scudetto and there was a big hunger for revenge at Inter. The European Cup, which was the equivalent of today's Champions League, was played entirely as a knockout tournament with no group stage at the time. The big favorites were the Spanish giants Real Madrid who had made it to seven of the nine finals played in the tournaments history. Inter, qualifying as Italian champions, defeated in turn Everton, AS Monaco, Partizan Belgrade and Borussia Dortmund before it was set to face Real Madrid in the final which was played at the Prater Stadium in Vienna on May 27 1964. Real Madrid had a fantastic team with Hungarian Ferenc Puskas and Alfredo Di Stéfano as the big stars. Helenio Herrera's Inter managed to defeat Real Madrid 3-1 after Sandro Mazzola has two goals and Aurelio Milani one. A player who may have played the game of his life was Inter's defensive midfielder Carlo Tagnin, who managed to completely shut down Real Madrid's Di Stéfano and gave Inter midfielder Suarez and Corso free rein. Inter went undefeated through the tournament and became the first team ever to achieve the feat.
The 1964/65 season
Copa Intercontinentale, or the the World Club Championship as it is also known was at this time limited to a double meeting between the winner of the European Cup and the winner of the Copa Libertadores, the South American Cup champions. Inter were the winners of the European Cup and qualified for the finals of the Copa Intercontinentale that was played in september 1964, the same time that the Italian season began. The opponents in the final were Argentinian Independiente who started at home and defeated Inter with 1-0. In the second game at San Siro Inter won 2-0 and forced a third and deciding game. A game that was played at the Santiago Bernabéu in Madrid and won by Inter 1-0 after a goal by Mario Corso.
The fight for the Scudetto 1964/65 turned out to be a battle between the two teams of Milan. With half the season played AC Milan topped the table with five points margin, including a victory in the derby 3-0. The lead then increased to seven points at the end of January 1965 and it seemed as if AC Milan had an advantage in the race for the Scudetto. Inter then began a stunning period with eight straight victories, among them a revenge for the derbyloss with a 5-2 victory, which meant that Inter could reconnect with the top of the table. In the spring, it became increasingly apparent that the Scudetto would end up in Milan, the only question was which team. The deciding moment of the season came in round 31 when AC Milan were defeated at home by Roma while Inter won the Derby d'Italia in Turin 2-0. Inter now had the upper hand and secured the Scudetto mathematically in the final round. Sandro Mazzola shared the title as Capocannoniere with Fiorentina's Alberto Orlando.
In The European Cup Inter were the reigning champions and started out strong by defeating Dynamo Bucharest 6-0 at home and 1-0 away in the first round. The team did not have any major problems in the quarterfinals neither as Glasgow Rangers were eliminated by a total of 3-2 on aggregate. The shock came in the semi-final against Liverpool in which Inter lost 1-3 and ended up in an awkward position for the home meeting the following week. At home at the San Siro, however, Inter got off to a good start and after 10 minutes Inter were in the lead by 2-0. A goal for Liverpool could have spoiled Inter's dreams of qualifying for the final but Facchetti scored to make it 3-0 in the 62nd minute and secured Inter's place in the final that was to be played at home. Opponents in the final were Benfica, who at the time was one of Europe's hottest teams with superstar Eusébio as one of the stars. Benfica had a impressed greatly during the tournament and had eliminated the great Real Madrid after winning by 5-1 at home. San Siro was packed to it's bursting point, and 89,000 spectators saw Inter win their second straight title after becoming the first team in the tournament that managed a clean sheet against Benfica in a match that ended 1-0. Scorer: Jair in the 42nd minute of the game.
The 1965/66 season
Thanks to the victory in the European Cup the previous season Inter began even this season by playing the final of the Copa Intercontinentale and for the second year in a row Argentinian Independiente were the opponents. This time, it did not take three games to win the title as Inter won 3-0 at home and drew 0-0 away. Inter's second straight victory in the tournament was a fact and Helenio Herrera and Inter's dominance of the world football was at this time total.
Even in Serie A the team's glory days continued but there was no shortage of contenders. During the first half of the season Napoli was the big surprise with new acquisitions Sivori and Altafini, two young talents that had been rejected by Juventus and AC Milan, who now were great performers. Even a revitalized Bologna was involved in the battle at the top but none of the two teams could beat the Inter team that secured the Scudetto in the second to last round. The Scudetto meant that Inter became the second team in Italy to be allowed to place the gold star above the crest as it was the team's tenth title. Additionally, full-back Giacinto Facchetti made history when he scored ten goals and set a record for number of goals scored by a defender.
After two straight victories in the European Cup Inter was one of the favorites in this season's edition of the tournament. It was therefore surprising that the team had such great struggles to move on from the first round where Inter met Dynamo Bucharest. After losing on the road 1-2, there was huge pressure on the team to turn the result at home. After a goalless first half, Mazzola finally managed to score early in the second half on a penalty. In the 87th minute Facchetti made it 2-0 and ensured that Inter qualified for the quarter-finals. There, the team had no problem eliminating Hungarian Ferencvaros and moved on with an aggregate result of 5-1 and were set to face Real Madrid in the semifinals. The future champions proved too difficult and eliminated Inter with 2-1 on aggregate.
The 1966/67 season
This was the season after the World Cup in which the Italian national team been eliminated already in the group stage after a disastrous loss to North Korea. Italy was in a state of shock and decided that something had to be done. Measures were made to limit the number of foreign players in the squads in Serie A. This meant that the teams basically remained the same as the previous season, without any spectacular signings. This did not affect Inter who started out the season with seven straight victories and seemed to be headed towards another Scudetto. On January 22, when the first half of the season had been completed Inter could call themselves Campioni d'Inverno (winter champions), a title that means nothing if you do not follow it up with a good spring season. Inter did not do that and allowed Juventus to catch up and perhaps Herrera's players started to show some fatigue after years of dominance. Despite that, Inter were going into the final round as the leaders of the Serie A table, with one point more than Juventus, and were facing Mantova which was a team in the middle of the table. At the same time Juventus were facing a Lazio team which was involved in the relegation battle and thus playing for survival. After a rare mistake by goalkeeper Sarti Mantova won the game 1-0, a game that was controversial as Inter were denied to penalties. Meanwhile Juventus won their match and sent Lazio to Serie B and won the Scudetto ahead of Inter.
The end of May and the beginning of june 1967 was a tough period for Inter. The week before they lost the Scudetto to archrivals Juventus they lost in the final of the European Cup against Celtic. Inter had performed well in the tournament, eliminating the reigning champions Real Madrid in the quarter-finals and were for some time in the lead of the final after Mazzola had scored on a penalty. In the middle of the second half, however, Celtic equalized and later made it 2-1 in the game, which was played in Lisbon, when it was only five minutes left. The result did not really tell the truth about the game as Celtic totally outplayed Inter and for long periods of the game the ball was only on Inters half of the pitch. It was a tired and worn Interteam that seemed to empty it's last remaining strengths in this game. Luis Suárez missed the final because of an injury and Jair had left the club.
The 1967/68 season
La Grande Inter now belonged to the past. The disappointing end of the previous season marked the end of an era and the 1967/68 season was to become another disappointment. Inter ended up in fifth place, an unimpressivel 13 points behind AC Milan. Helenio Herrera's time at Inter was over for this time. During eight years with the club, he had won the Scudetto three times, the European Cup twice and the Copa Intercontinentale twice.
Coaching jobs after La Grande Inter and the return
When Herrera left Inter, he chose to go to Roma who had offered him an extremely lucrative contract. In Roma Herrera remained for five years but never managed to win a Scudetto. At best he reached sixth place. He did however win the Coppa Italia and the Anglo-Italian Cup with Roma. Had he been more lucky, he could have won the Cup Winners' Cup but lost a coin toss after the final had ended in a draw. After another disappointing season Herrera got fired in 1973 and returned to Inter. His second spell at Inter did not turn out as he or anyone else at Inter had hoped because Herrera suffered a heart attack and had to turn over the coaching duties to Enea Masiero who led the team to a fourth place in Serie A.
A legendary coaching career ends
After his heart attack in 1974 Herrera retired from football and did not return until March 1979 when Serie B club Rimini Calcio called upon his services and gave him the role of consultant. After just two months with the club, he returned to FC Barcelona who requested his help and that was where he would finish his great coaching career by helping the team qualify for the UEFA Cup in 1980 and winning the Spanish Cup in 1981.
After his retirement from coaching Herrera went on to become a much appreciated commentator.
Helenio Herrera spent his final days in Venice, where he had settled, and on November 9 1997 his heart stopped and one of the most legendary coaches in football passed away.
Helenio Herrera's influence on football and the coach's role
Helenio Herrera was groundbreaking in many ways. Above all, he changed the coach's role and importance. In an interview many years later, La Grande Inter midfielder Luis Suárez said this about his coach: "His emphasis on physical fitness and psychology had never been seen before. Before him the coach was unimportant."Previously, the coach's role was basically just to train the team, select a starting eleven and decide what formation to use. The coach was therefore rarely given any praise or fame, and certainly never got the respect of the players. Helenio Herrera was the first star coach and before Herrera there were more focus on team's star players than the coach. A team like Madrid, for example, was described as Di Stefano's Real Madrid. Inter came to be described as Herrera's Inter.
Before Herrera most coaches had one tactical idea and intended to use it without taking into account what kind of players he had. Herrera thought differently: "The first task is to get to know the players very well, look at them as individuals during training and matches, to see what their best natural abilities are. Then, and only then can we begin to make a plan for the general tactics."
Of today's coaches it is mainly José Mourinho who is described as a great motivator, but Herrera was a pioneer even in this field and he made use of techniques such as getting the players to repeat slogans during training sessions. One example was: "Whoever does not give everything, gives nothing." Herrera also put up posters on the training ground and dressing rooms with texts that would motivate the players. Nowadays it may seem trivial, but in the 1950's and 1960's, it was a novelty. "Class + preparation + intelligence + athleticism = Titles" was one of the mottos that helped to make Inter a winning team. Herrera was also one of the first to be interested in how the players conducted themselves in their private lives. Smoking and drinking alcohol was forbidden and the players also received individual diets to ensure that they kept themselves in good shape. It was not uncommon that Herrera sent out representatives from the club to ensure that the players slept at night to make sure they were rested for matches and training sessions. For those players who did not follow these directives, there was no other option than to change clubs. Herrera could be perceived as a strict, but he knew what it would take to be winners. Herrera was also the first coach who started to assemble players before the games for ritiro, something that today's coaches frequently use and it means that players are taken to remote hotels to prepare them for matches and create unity. Herrera wanted to create a winning mentality in the team and the fact that he once suspended a player who in an interview had said that "Inter came to Rome to play," instead of saying that Inter came there to win, says a lot.
Even tactically, Herrera was ahead of its time. He was not however, as many believe, the one who invented what would later be called Catenaccio. He was not even the one who brought it to Italy, but he was undoubtedly the one who developed it and made the tactical method known considering his achievements. Catenaccio was a development of the Austrian Karl Rappan's Verrou, a formation he used during the 1930's and 1940's when he coached Servette and the Swiss national team. The most common formation at the time was known as the WM formation, which could be described as 3-2-2-3. It was a much more proactive tactic than Rappan's, but since it placed such high demands on the players' individual skills it was more difficult to win using it if the team did not have the players required. The most important position in Karl Rappan's tactic was the libero. The libero acted behind the back line and intercepted the balls that made it through the line of defense. The coach that brought what came to be known as Catenaccio to Italy was the Nereo Rocco who managed to bring Triestina to second place in Serie A in 1947 using the formation.
Helenio Herrera Catenaccio differed from Rappan's and Rocco's in several ways. Rappan's version used a zonal marking mixed with man-to-man marking, while Herrera consistently used the man-to-man defense. Each defender focused on a single striker from the opposing team while the libero acted behind them, and made sure no balls went any further. There was, in other words, always an extra player in defense. The player Herrera used as in the role of libero at Inter was Armando Picchi. Herrera's Catenaccio was also significantly tighter than Rocco's version and opened up for more long balls and counter-attacks. In Herrera's Catenaccio the full-back was unusually offensive, largely because he had superstar and future legend Giacinto Facchetti on the position.
Herrera even showed an interest when it comes to what happened in the stands. He pointed out the impact the twelfth player on the team's performances and urged supporters to organize and make their support for the team loud and clear. Indirectly, one can say that he contributed to the creation of Ultras groups in Italy.
La Grande Inter's success disputed in recent times
Inter was a a world power in football during the 1960's. The team's success has, however, been questioned. In 2003 British tabloid The Times claimed that Inter's president at the time, Angelo Moratti was in contact with the Hungarian referee Gyorgy Vadas ahead of the European Cup game between Inter and Malaga in 1965. According to the same source the Inter management had made similar attempts in the previous two seasons. According to the author of the article, Brian Glanville, La Grande Inter's success was "the fruit of bribery and corruption in which Angelo Moratti played a crucial part in a process implemented by two men also now dead: Deszo Szolti, the Hungarian fixer, and the serpentine Italo Allodi (Inter's sporting director)." It is important to note that these allegations never have been confirmed from any other source and that Inter have not been convicted of anything that happened during this period.
The following year another kind of accusations emerged. In his book Il Terzo Incomodo, published in 2004, the former player Ferruccio Mazzola made revelations about doping in Italian football. Mazzola also accused Inter, the team with which he played one game, for having provided the players with illegal performance-enhancing drugs during the 1960's and the 1970's. Among those named were Helenio Herrera and Giacinto Facchetti. Ferruccio, who is the brother of Inter legend Sandro, was convinced that the former Inter players Armando Picchi, Carlo Tagnin, Mauro Bicicli and Ferdinando Miniussi all died prematurely because of the use of illegal drugs. This information was not received well by Inter and its players. Sandro Mazzola ended his relation with his brother. Giacinto Facchetti who was president of  Inter at time, along with Massimo Moratti, sued Ferruccio for libel but lost the case when the judge did not consider the information in Ferruccios book could be labeled as libel. This has, by some, incorrectly been interpreted as if the allegations in Ferruccio book were correct, but that is not the case. The trial was not about whether Inter were guilty of doping in the 1960's or not, but about Ferruccio being guilty of libel.
None of these allegations have been tested legally and therefore Inter has not been convicted of any of these accusations. The reasons that it has not been tested in court are among others the lack of evidence and the fact that these people waited almost 40 years to make their accusations. Moreover, there seems to be a trend that accusations are directed at people just after they have died. Is it a coincidence or is it maybe more convenient to accuse someone who can not defend themselves? Some might wonder why I'm even writing about this in an article that is supposed to celebrate La Grande Inter. I write it because I, unlike some supporters of certain other teams, do not intend to hide or censor anything. Inter became a world power in football in the 1960's and the story of La Grande Inter is something we should be proud of and carry with us when we watch the team continue to write history.
Sources:
https://aroundthepeninsula.wordpress.com/2011/11/16/la-grande-inter-in-a-nutshell/
https://fiifianaman.blogspot.se/2012/06/helenio-herreraa-legend-forgotten.html
https://aroundthepeninsula.wordpress.com/2011/11/19/the-many-innovations-of-helenio-herrera/
https://it.wikipedia.org/wiki/Grande_Inter
https://it.wikipedia.org/wiki/Helenio_Herrera
https://it.wikipedia.org/wiki/Ferruccio_Mazzola