La Grande Inter: Tarcisio Burgnich – "La Roccia"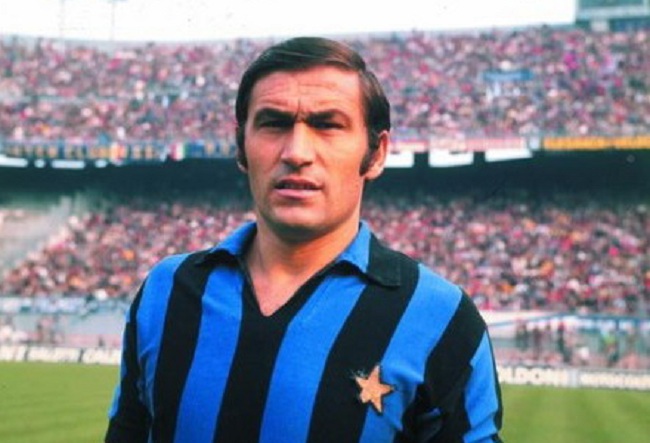 Surely, none of us have forgotten the amazing Inter team that gave us so much joy in 2010. La Triplete was something unique and for a little while Inter found themselves at the top of the Italian and the international football. We all remember people like Samuel Eto'o, Wesley Sneijder, Javier Zanetti, Diego Milito, José Mourinho or any of the other heroes who gave us so much joy and pride. But how many of us remember and know about people like Sandro Mazzola, Luis Suárez, Giacinto Facchetti, Mario Corso, Helenio Herrera and the other heroes known as La Grande Inter? Since many of us were not born at the time, it is natural that we do not have any personal memories of this great team but that does not mean that we can not know how Inter in the 1960′s dominated world football. During the upcoming weeks I will be presenting the people who contributed to so many wins and who wrote so many pages in Inter's history, people who, together were called La Grande Inter.
In the second part of this series I will tell you about a player who did great defensive work in silence and gave Giacinto Facchetti space to become the player he turned out to be, and who was a contributing reason that Inter in the 1960's became known as La Grande Inter: Tarcisio Burgnich, whose style of play gave him the nickname La Roccia.
Tarcisio Burgnich was born on april 25 in 1939 in community called Ruda near Udine. It was therefore natural that Tarcisio began his career in Udinese's youth section, where one of his teammates was future legend Dino Zoff. As a 20-year-old Tarcisio made his debut for Udinese's first team in the penultimate match of the Serie A 1958/59. The opponents were the already crowned champions AC Milan who, with players like Lorenzo Buffon, Nils Liedholm and Cesare Maldini, defeated Udinese 7-0. Udinese managed to remain in Serie A and Burgnich stayed one more season and was given more confidence. It may seem that the fact that Burgnich only played seven matches for Udinese would be a failure, but you should keep in mind that during this time, substitutions were not allowed during the games and therefore it was difficult for young players to take a place in the starting line-up. Burgnich amount of playing time was in fact impressive and the real recognition came when he was selected for the Italian squad for the Olympics in 1960.
Before the 1960/61 season Juventus icon Giampiero Boniperti persuaded his club to acquire the young defender from Udinese. Burgnich's experience at Juventus was short and not very successful. First and foremost, Juventus style of play did not fit Burgnich and the club also had doubts about his future as a footballer as Burgnich was cross-eyed.
In the summer of 1961 Burgnich reluctantly accepted a transfer to Palermo, where he was part of a deal that took goalkeeper Roberto Anzolin to Juventus. Burgnich was surprised himself with how well he came to thrive and play in Palermo, which he talked about in an interview recently: "In Palermo I felt good. It was a year full of satisfaction." Burgnich went straight into the starting line-up when the regular Giorgio Sereni did his military service in Rome. Burgnich scored a goal for Palermo on a penalty, ironically, against Juventus. Eventually Palermo finished in eighth place, four places ahead of Juventus.
In 1962 Burgnich arrived at Inter after coach Helenio Herrera according to some sources, asked for him specifically. Inter's Catenaccio suited his style perfectly. Burgnich played a tough, fierce style of football and was a hard worker who did his work in silence and became extremely important for Inter. He was nicknamed Roccia (rock) by Armando Picchi who witnessed how Carlo Novelli had been left lying on the ground after a duel with Burgnich. Novelli described what happened as he had run into a rock. Just like in his season with Juventus he won the Scudetto in his first season at the club, even though he also did his military service at the same time. During the twelve years Burgnich spent at Inter he managed to win four Scudetti, two European Cups and two Copa Intercontinentale. In the 467 games he played for Inter Burgnich scored six goals.
In the heavy defeat against Celtic in the European Cup Final 1967 Inter were outplayed and a few years later the Inter defender talked about the game: "I remember at one point Picchi turned to the goalkeeper and said 'Giuliano, let it go, just let it go. Sooner or later they'll get the winner'. I never thought I would hear those words. I never imagined my captain would tell our keeper to throw in the towel. But that shows how destroyed we were at that point."
Tarcisio Burgnich experienced La Grande Inter's rise and fall, and in an interview earlier this year he tried to explain why Inter had so difficult to win after 2010 and made comparisons to the situation at Inter 1967/68 when the golden era ended: "There is no special reason, that is what happens after a period of victories. It happened to us also after 1967, for three or four years we won nothing, then we came back. Then it is a fact that when you have won everything everyone play as if it were a game of life and death when they meet you and want to beat you. You may intend to give maximum but you fail trying to do what you did before. Then there is the physical aspect."
After Burgnich suffered an injury in the World Cup 1974 Inter Management believed that his career as a footballer was nearing its end. Burgnich had otherwise been spared from serious injuries and during his time at Inter he never played fewer than 31 games in a season. Napoli still believed in him and after he initially did not agree with the coach on the tactical decisions, he became an integral part of the team's starting eleven during his last three seasons as an active player. Burgnich came close to winning a scudetto with Napoli in 1974/75 but the team finished second. The following year he won the Coppa Italia with Napoli, which was his only title he won with the club.
Burgnich was also an integral part of the Italian national team from 1963 to 1974 and played a total of 66 matches. He represented Italy in three World Cups: 1966, 1970 and 1974 and won the European Championship in 1968. After World Cup fiasco in 1966, when the team was eliminated  already in the group stage after losing to North Korea, Italy redeemed themselves in the World Cup in 1970 and reached the final after a semi-final against West Germany which has been called the game of the century. In that game Burgnich scored one of his two goals with the national team. After losing the final against the mighty Brazil Burgnich made his the famous quote about Pelé: "I told myself before the game, 'he's made of skin and bones just like everyone else' — but I was wrong."
After he finished his career as a player Burgnich was persuaded by Italo Allodi, the former Inter Director who was one of the founders and managers of the coaching education at the Coverciano, to study to become a coach. Burgnich career as coach lasted for over twenty years but he was not even close to achieving the same success as a coach as he did as a player. Between 1978 and 2001 he coached Catanzaro, Bologna, Como, Livorno, Foggia, Lucchese, Cremonese, Genoa, Ternana, Salernitana, Pescara och Vicenza. During his time at Bologna Burgnich was mentioned as a candidate to coach Inter but he declined the offer as he did not want to break the promises he had given the club. Perhaps the greatest achievement Burgnich accomplished as a coach was when he, as the coach at Bologna during the 1981/82 season, had the courage to let a young player at only sixteen years of age, play. A player who eventually scored nine goals in his debut season in Serie A. The player's name? Roberto Mancini.
After his coaching career Burgnich worked as a scout for Inter. Today Burgnich is 73 years old and in interviews is often asked to give his thoughts on what is happening at Inter nowadays.
Sources:
https://it.wikipedia.org/wiki/Tarcisio_Burgnich
https://it.wikipedia.org/wiki/La_Grande_Inter