Milito: "We'll all retire and Zanetti will still be going"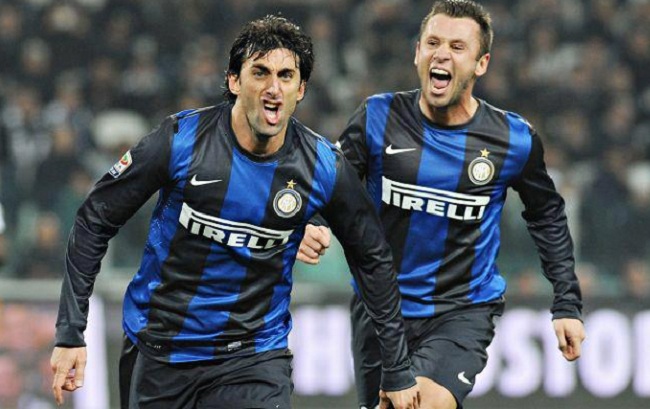 Versatile, always available, determined to keep improving and with a great appreciation of the fans. That's Diego Milito as he appeared on Inter Channel's Prima Serata programme. El Principe spoke about the current team: "In my career I've always been able to adapt to different playing systems and team-mates. Now I'm playing alongside Rodrigo and Antonio, which is a great advantage. They help you and create lots of chances for you. Everything is easier when you have such fantastic players in the side, I really enjoy playing with them."
Images of that unforgettable 2010 are shown in the studio – triumphs that led to "a year that will be hard to repeat, but we'll give it our best shot. We always try to give 100% and keep improving."
Milito then had a few words for the fans because, as he explained, "the affection they give you is incredible. They've always been right behind me and I try to pull out all the stops for them. They are real fans, the sort that always stand by you. I'll never be able to repay them for all the love they've shown me."
From the blue and black to the colours of the other shirts that Milito has worn: "Coming to Inter was a dream. And it was destiny, because before going to Spain I had the chance in 2005, but then I went to Zaragoza, a team where my brother played, and I did well. But then I ended up coming to Inter just the same." El Principe then spoke about his days at Racing Avellaneda, "the team in which I grew up. I first wore the Racing shirt at 9 years old. It's my home. I won a league title there when the club hadn't won it for 35 years. That was something special. Then Genoa, my first club in Europe, was something very special. The fans were always fantastic, just as they are at Inter."
"I'd do anything to win the Scudetto!" exclaimed Diego Milito. He meant it too, and so it was that he agreed to dye his hair blond if Inter were to win the title.
There's no doubting he's hungry for more success. That's why Diego and the rest of the team are working so hard, because "We hope to win titles. Lots of titles," he grinned.
In the meantime, there's no harm in taking a look back at past achievements, starting with the 2010 Champions League triumph in Madrid, when the Prince netted two historic goals: "The second one relaxed us a bit. From that moment I thought 'We're close, we're close to realising a dream'. Scoring is the pinnacle in football. Sometimes it's difficult to explain it in words. It's a moment of joy, so immensely satisfying when you hit the back of the net. Have I kept in touch with Mourinho? Yes, I get the odd text from him. We get on really well."
Curious fans bombarded the studio with emails and questions for Milito. One of which was, "What does it feel like when you take a penalty?" The Prince replied: "It's never easy and it's normal to feel a little bit tense. Then you get goalkeepers and goalkeepers. I try to study them just as they try to study me."
He's useless in the kitchen ("My wife does all the cooking, she's rather good") and admits he's no technology buff ("Not at all really, I've only got a Facebook profile"), but when it comes to scoring, he's the best in the business. Fans were given an insight into the real Diego Milito as he spoke to Inter Channel.
"I feel lucky, actually all I do is try to give my all and do my bit for the team," Diego smiled. Some of the fans who wrote in asked if Inter really need a 'Milito understudy'. "This question about an understudy is something you need to put to the coach and the people in charge of signing players. Who do I see myself in? Which strikers do I admire? It's hard to say who I see myself in, but there are some top players in Serie A, like Di Natale who has done extremely well, and Cavani. They might not be that similar to me but they are players I like a lot."
El Principe also knows that he's not a transfer market expert. Asked what signings Inter should make, the Argentine hitman replied: "There are people at the club who are good at dealing with transfer business and they don't need me to advise them. The only thing I think about is playing."
Which is also the only thing his friend and team-mate captain Zanetti is doing, for now at least: "We'll all retire and Zanetti will still be going. He's incredible," Diego smiled.
Finally, El Principe cast his mind back to the recent league win at the Juventus Stadium: "We were angry at half time because they clearly should have had a player sent off and their goal was offside. Anyway we looked each other in the eyes and told ourselves that we could do it. It was an amazing feeling at the end and we'll treasure it as a wonderful memory. We were the first to win at that stadium. It's great that we ended their 49-game unbeaten run."
Source: inter.it