Exclusive INTERview with Udinese striker Mathias Ranegie: "We will beat Inter"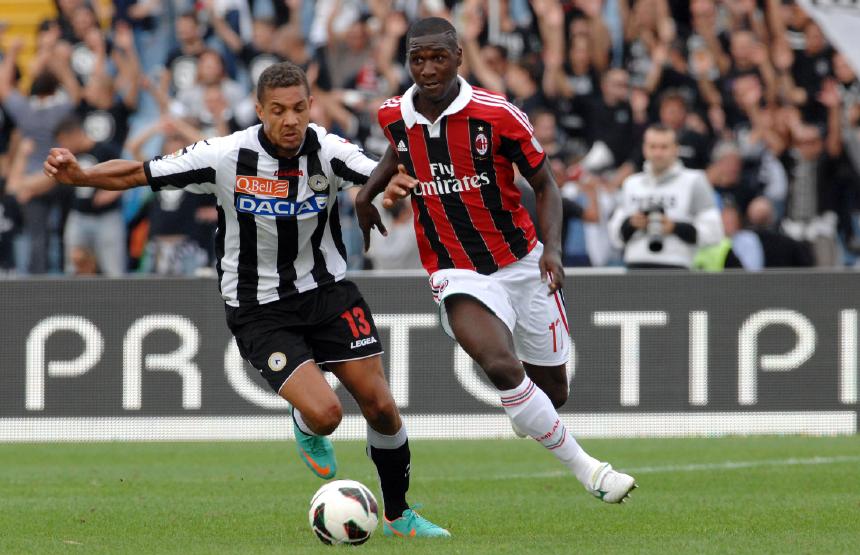 Ahead of tomorrow's Serie A fixture between Udinese and Inter at the Stadio Friuli in Udine, we at SempreInter.com phoned up Udinese and Swedish International striker Mathias Ranegie about his thoughts going in to the match, as well as discussing how he is adapting to life in northern Italy.
Mathias, we're almost half way in to the Serie A season, how would you summarize your first few months as Udinese?
It's been both up and down, it started very well where I scored the winning goal against Milan in my debut but since then I have felt very tired and worn out since as early as August had already played 25 matches with Malmö FF in the Swedish top flight. But generally speaking I think things have gone pretty well, after Di Natale I'm the striker that has notched up the most playing time in the league as well as in the Europa League.
How would you rate your own performance as well the teams performance this autumn on a classic Italian rating scale of 1-10?
I can't give myself a rating, it would feel strange since I already know why things have gone as they have since as I said during the calender year of 2012 played almost 40-45 matches. Also the first year at a new club is always special regardless of which league you come to, now I made a giant leap in quality regarding the level of skill of the league I left and the league I arrived at when I left the Swedish Allsvenskan and came to Serie A. With regards to the teams performance I think we merit a 6-6.5. We've beaten Milan at home and Roma away whilst flopping in the Europa League where we lost to Young Boys and were eliminated. But again generally speaking I think we've performed well given the number of new arrivals to the team in the summer. 
You mention that you feel tired and worn out, is that more a physical sensation or is it mental or maybe even a little bit of both?
I'm tired both from a physical and mental aspect, my body is used to being away on holiday during this time of year as Allsvenskan ends in Octotber-November and then we're on holiday until we reconvene with the pre-season training camp early January. Now I've played a whole year and in June I've been playing for 18 months non-stop, so I think it's only normal that I'm felling a bit worn out.
How well do you think have adapted to the team, from a tactical point of view?
I think I've adapted wuite well to how we are supposed to play tactically. We mostly play 3-5-1-1 and both Guidolin and I think that I should play in the position up front, it's just that this position is also where Di Natale wants to play which isn't helping my chances to start, but as I said after Di Natale I'm the striker that's played the most. Udinese's tactics are quite different to what I'm used to as here in the Serie A teams mostly kepp the ball on the ground and play more of a passing game than in Sweden and I tend to score most of goals through crosses played into the penalty-area.
Do you mean that Guidolin wants you to more often run in deep behind the opponents defensive-line to what you are used to doing?
No, we strikers in Udinese don't run so much behind defences, the ball is played up to us strikers from a lower point tn the pitch and we strikers hold on to the ball and play the ball to our midfielders who play it to another midfielder or a full-back who comes running. All this takes place by passing the ball on the ground, not too many high balls are played.
Do you feel that Guidolin maybe is trying to re-shape how you play football given that you say that you score most of your goals with your head?
No, absolutely not. He wants me to adapt to the way he wants the team to play, he knows that you can't re-shape a player at my age. He knows that I'm a rather fluid player but he laso knows I'm 196 cm tall and that the fact that I'm strong in the air is just an added bonus.
The winter transfer market window opens in January, do you feel that you maybe have to change clubs in order to be playing on a more regular basis?
Absolutely not, I would never leave now, I'm much more patient that that. As I said I'm the striker that has played the most after Di Natale and as I said earlier my fatigue, physically and mentally, is due to that before August I had already played 25 matches with Malmö. The Christmas break has given me the break I needed so that i could rest a bit and now I feel very motivated to get going again.
You arrived just before the transferwindow closed at the end of August to an Udinese who in last two seasons sold world class players such as Handanovic, Asamoah, Isla, Sanchez etc. Did you get any indications from Guidolin or the clubs management what the teams aim for this coming season was, which had already begun when you signed?
No I don't think I've recieved any information expressly regarding what the teams aim is this season but Guidolin told the whole team at the start of the season that this year would be more difficult since we've lost a lot of players and a lot of new players have come in, for instance our central midfield is brand new for this season.
What is your aim personally, for example have you set a number of goals you want to score or a minimum number of matches that you want to start?
No, I think that it would be rather silly to set goals like that because football is a living entity, I mean all of a sudden you can injur yourself and then your'e gone and that's why I can't sit here and say I'm going to score 5 or 15 goals. I can have a desire to start in so and so many matches or score so and so many goals but to have that as an outspoken personal aim doesn't work for me, like I said football is a living entity. But of course, if I had only played 8 matches when I was in Malmö and we would be half way through the season I wouldn't have been to satisfied but now I play at such a higher level than I did when I played in Allsvenskan so I've given myself time to get into the run of things, which I think I've managed to do quite well so far.
Before the Christmas break Guidolin stated that he had a surprise which he was going to reveal after Christmas, have you gotten any indications as what this could be?
No, I donät read the newspapers here so I had no idea he had said that until you just told me. Maybe it's some news regarding the new stadium? No, I really have no idea.
If we focus on the match on Sunday, this is the second team from Milano that you play against this season at home and last time it went quite well both for the team and for you on a personal evel, are you looking forard to this fixture?
Absolutely, Inter's one of those 4-5 big teams in Italy and it's really exciting as this means that there will be a lot of people at the stadium. Everyone in the league wants to beat the big teams such as Roma, napoli, Milan, Inter and Juve. I am really looking forward ti the match. 
Who or which of the Inter players are the one's you respect the most?
The first names that spring to mind are Cambiasso, Zanetti and Milito, these are players that all players respect because of what they have achieved, I'm also impressed by how long a period Zanetti has been able to maintain the high level that he has maintained. Inter always have a good team on paper and therefore there are many players at Inter whom one respects.  
Do you feel that the general feeling in the team going in to this fixture is that you are the underdogs now that you're going to play a big team like Inter?
 All my team-mates have already experienced how it feels to beat all the big teams we've mentioned, you shouldn't forget that Udinese have been parked at the top of the Serie A now for 2 years in a row, so we don't have any kind of exagerated level of respect for any team. For example Udinese finished the Serie A last season ahead of Inter and these things linger.
What do you think about the result on Sunday, who wins?
I think that it will be a very close-fought fixture but that we eventually come out on top with a 1-0 win.