Strama's pressconference: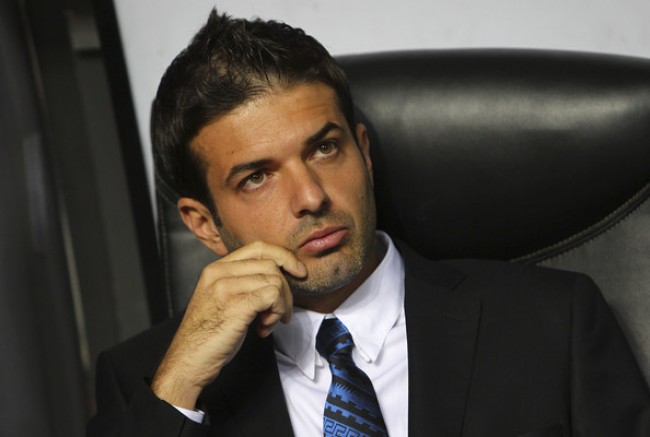 Did you expect a first part this hard?
I think we didn't startin a positive way, we had problems at the tactical level to organize the team. Earlier this season, we found an identity with the defense tactics of three defenders, which has led us to put together a series of positive results in Italy and Europé. Then we had a slight dip and a loss of unequivocal results, but I am convinced that we are a great team that has had a hard time and not a normal team that has had a great start. My Inter will fight until the end and only had a hard time recently.
Why so many injuries?
"It's variable, always difficult to predict, we have had so many. I just think the two of Mudingayi, I see the glass half full, we did a great job of recovery and I thank Dr. Combi because we start the new year with all available expect for Stankovic, which is often not mentioned. My choice for tomorrow is still save players and I will not play who can have consequences if they go out to hard."  
How's Milito?
"He had this problem on the eve of the match against Udinese, which does not lead to clinical complications, but when I feel I'd rather not risk it. Tomorrow he is available, not 100% but recovered."
Gargano?
"He called me in doubt asking me to give him until morning after listening to the doctor and also its percentage of risk. He is important but it is also important not to lose him, I will decide tomorrow morning after hearing the doctor."
What you learned from the victory of Pescara in Florence?
"After a few rounds of settling in, the coach has found the right set-ups and is doing a great job, it's an organized team with fast players that the coach has put in a position to trouble the opposition. I do not think you beat Catania and Fiorentina if you don't got something special, we need to play our game with awareness.
After the match against Udinese, you complained about the referee. However, Moratti said that the referee was good.
"For me it was a penalty. Palacio says that he was unbalanced, pushed and then it's a penalty. Then I agree that the ref Giannoccaro did well, that episode rated him so and that's fine. Also congratulations to Udinese. However, if you ask me to take a secound stand, I'll keep saying that it should have been a penalty, but there were no other errors, and the president is right. "
Nagatomo's name also features in Stramaccioni's squad for tomorrow but the coach explained that:
"He's in the squad because he asked to be around the players, just like Milito came to Udine, and Cassano came to Parma. He loves this club and he wants to make his presence felt. He's not fit and he won't play, but I hope to have him back for Roma."

What do you expect on the issue of Wesley Sneijder?
"In or out hope that it all ends soon, all the cards are on the table for you and let's see how it ends."
Duncan is a young and talented player already on the team, has made appearances in the first team. In your opinion, can he be an alternative in the second half of the season?
"He's been unlucky too, after Verona in the cup it was possible to give him more space, but injury stopped him and he has not trained continuously for a first minute debut in Serie A. For us he will be very important, but probably yet to be starting in a club like Inter. But he is born in 93′. It is important for him to play, and I think he should be found a top-division club, where he can play a lot on a good level, but I think sending him to a Serie A-club would be too much competion. "
Mudingayi, Obi and Coutinho have said they are not ready, someone is ahead?
"Mudi is ready, then Coutinho and finally Obi. Mudingayi is the most ready, but no one from the first minute."
Inter have been looking for young man to enter the team, maybe Saponara or Bellomo?
"Saponara. Yes, we followed him, now it makes no sense to talk about him. We follow a lot of young people in Serie A and B and now we'll see who we can get."

If Sneijder stays, how could be accepted into the locker room after all that has happened?
"Let's wait to see how it will turn out. He would be accepted like all members of the team. After January 31, we see if he can stayed or left."
The team was reinforced but the points are the same as last year, what happened?
"We started uphill, because surely to start with two defeats in four games has been difficult. With a radical choices I have reversed this trend and built a safer strategy. We've been working, we found a good set-up and now we just have to take it to the field. Surely I am not satisfied to have finished the year at 35 points "