Santon believes in Real Madrid in the Champions League: "José is José"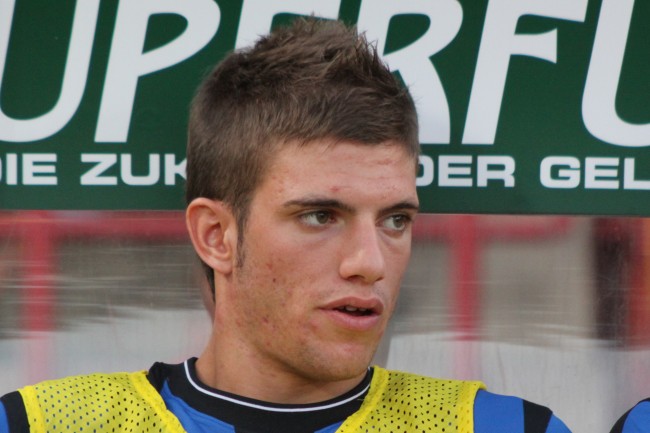 If the season in the Premier League has not met expectations, the European campaign so far has been quite satisfactory. Newcastle managed to eliminate Eto'o's Anzhi and went to the Europa League quarter-finals, where the team will face Benfica. One of the regular players in the starting line-up is Davide Santon who has carved out an important role in the club from the north of England since he left Inter. Our partners at fcinternews.it interviewed him to get a picture of his current situation and also talk about his past with Inter.
Hello Davide, how is it going in England? Last year was a great season for Newcastle, but this year you have had a bit more problems: why?
"Everything is going well here in England. The problems we have had this year are definitely related to all the injuries we've had, we started losing some important games and fear certainly took over. There are so many things that went well last year that are not working properly this year. During the transfer market in January, we did very well and now we are on our way back."
Worse in the Premier League, better in the Europa League: will you aim at winnig the trophy?
"Obviously, we are very concerned about the trophy, because we will give everything to reach the very end even though we know it will be tough."
After the triple season, there hasn't been much satisfaction for the Inter supporters: what is the reason according to you?
"When it comes to Inter, I prefer not to talk. It is no longer my team. I know they are going through a tough time and I hope they will come back."
A few months ago striker Demba Ba was predicted to have a great future, and finally he ended up in Chelsea. Are there any of your teammates that you would recommend to Inter and who you feel is ready for a big club in the Premier League or Europe?
"There are many good players in Newcastle, but the best and most complete is Cabaye. He will certainly find a place in a big team."
How did you experience the difference from Inter?
"The first few months were difficult because of the language and the inevitable change of habits, but now I feel good here in Newcastle."
If Newcastle one day decide to sell you and Inter showed up, would you voluntarily return to Inter?
"You should never say never in this life."
In about a little more than a year, it's time for the World Cup in Brazil: do you feel ready to be called this time?
"The World Cup is a competition that I care much about, but it all depends on me and my performances."
You have often made comparison between Alan Pardew and José Mourinho, this time I ask: how do they differ?
"Pardew and Mourinho are two coaches that are very similar, with the same will to win and the same determination. Of course there is a difference… José is José."
What are your thoughts on Stramaccioni? Do you think it is right to go that route Moratti has done with a young coach and, with your knowledge of the environment, would it be better to focus on experience?
"Moratti is a great person. Honestly, I don't know Stramaccioni, but I hope he is the right person for Inter."
Meanwhile, Balotelli has returned to Italy: is he really a "rotten apple" like Berlusconi said? Do you think he will mature sooner or later, or will he always be like this as Roberto Mancini said?
"Mario is a friend of mine, I prefer not to answer this question."
Finally, tell us who will win the Premier League, who will win Serie A and who will win the Champions League. I'm not asking who will win the Europa League because of the obvious conflict of interest…
"Manchester United will win the Premier League, in Serie A it will be Juventus again while Real Madrid will triumph in the Champions League."
Mourinho's Real is often mentioned when it comes to the football that counts. Therefore, we say like Santon, José is always José.
Source: fcinternews.it