Milito: "I want to thank the fans and get back to 100% for them"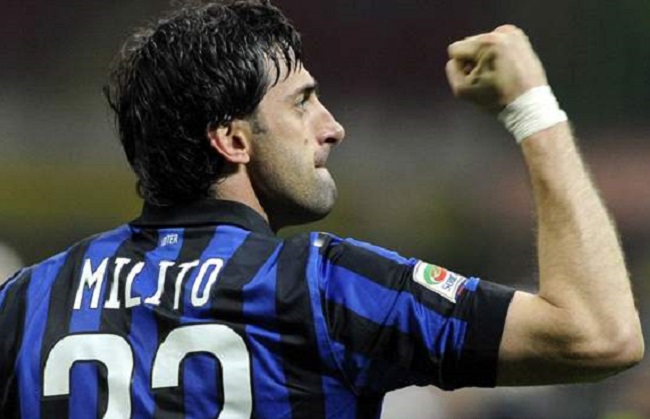 Diego Milito was the guest on this evening's edition of Prima Serata on Inter Channel.
It was the first time that the Argentine champion spoke after sustaining his injury in the Europa League match on 14 February at the San Siro against Romanian side Cluj. There were many e-mails sent containing questions, and the forward sat down in the Inter Channel studio to give his responses.
"First of all, I want to thank the fans. They're fantastic. Their support for me has been the greatest thing throughout this whole ordeal. The first few days after the injury were very tough, and all this support has provided me with a lot of strength. I also want to get back to 100% for them. This is the goal I have in mind and I'll try to get back to my best to be able to make these people happy."
Milito continued: "I'm doing well. I've started the recovery work and luckily the knee is responding to all the exercises I'm beginning to do. Luckily we're on the right track. However, I miss working with the ball. Hopefully, if all goes well, I'll be able to start the pre-season summer camp with the team. My objective is to get back to playing again and keep doing my part to help out. I spend a lot of time at home with my family, especially on weekends when I'm not training with the team. I love being at home and I also try to do the little things to help my knee recover, like ice packs for example, and any other type of thing I can do on my own."
It was inevitable that there would be at least one question regarding the new Pope. The Argentine forward responded: "It was certainly an unexpected surprise, and we all feel very proud." Then from the Pope to his role as a father: "Would I like my young son Leandro to become a footballer? I'll try to give him the freedom to make his own choices in life. There's no doubt he already loves football, although I don't know if that's what he'll do in the future. I enjoy trying to be a father who is close to his kids, and to be there for them."
A few questions on peculiarities, such as his choice of the number 22? "It's a number that I just ended up with," revealed Milito. "When I arrived at Zaragoza I had the choice of either 2 and 22. I opted for the latter because I liked it more. That's where it started. And then it was available at Genoa and Inter. Will I end my career at Inter? I honestly don't know. I've always said that I'd like to go back to Argentina and play with the club I started with. You never know. Now I'm focused on recovering and getting back on the pitch. I don't know what will happen after that." Has El Principe ever considered a future as a coach or director? "I haven't considered those things yet. I still think as a player. I'm trying to enjoy my final years on the pitch, then I'll decide my future." 
Regarding young strikers, Milito was asked if there are any that impress him or he feels resemble him. "There are a lot of good ones. I'm not sure if there are any that can be compared to me. I've always said Mattia Destro, who I've also had the pleasure of meeting. He's a good lad and a great player with a high ceiling. Samuele Longo is also a great striker, and we've trained a lot together. He's young and has to continue growing. What he's experiencing in Spain is going to help him grow and give him a lot. Icardi? He's doing very well. He's another youngster who has exploded in the Serie A and he's got a of quality."
What about the league and the Coppa Italia? Will Inter manage to reach third place and the cup final? "I have a lot of confidence in my team-mates. They'll give their all to reach third place, then hopefully we'll be in the final of the Coppa Italia. I'm convinced the lads will stand up and be counted in these remaining months," replied the Argentine marksman.
The last round of questions was fired off at the Prince in quick succession.
What do you expect to happen in the future?
"I expect to start playing again. There's just one goal in my head right now and that's to try and make a good recovery and get back on the pitch."
Has Palacio ever said that he misses playing alongside you?
"Being a friend, Rodri has obviously told me that. He knows how much I've suffered and hopefully we'll get to play together many more times. He's a top player and I really am delighted for him: he's a top lad as well as being a top player."
When will your official website go online?
"It was all set for launch and then I got this injury, so we'll wait a bit now."
What sort of game will Inter v Juventus be?
"A very tough game, but we'll definitely win it. At least we hope so."
And then his thanks before the interview ended: "I can't thank the fans enough, because they've been so fantastic towards me. I really want to keep bring them joy because they deserve it. I want to thank the club, from the president on down, since they've stood beside me during the hardest moments of my career. Thanks to my family too, who are always with me. Then the entire medical staff at Inter. They're extraordinary and help me every day. From professor Combi down to all the physiotherapists, to Andrea Galli, who personally follows me."
Source: inter.it