Mudingayi: "I'm starting to see a bit of light at the end of the tunnel"Mudingayi: "Jag börjar se lite ljus i slutet av tunneln"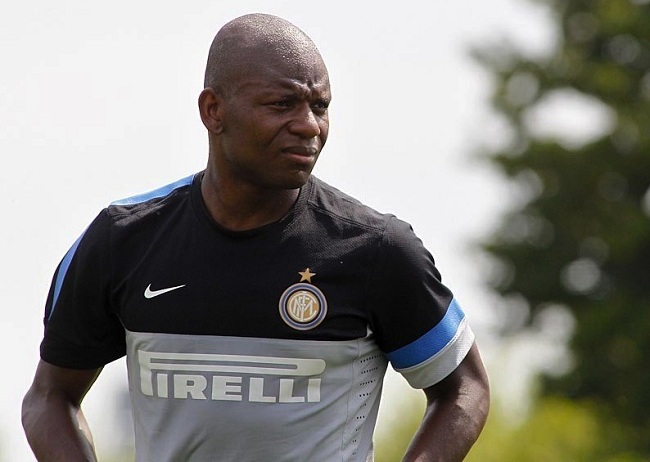 As he waits for the chance to be able to help his team-mates again, Gaby Mudingayi spoke to Inter Channel after two months on the sidelines with an Achilles injury picked up against Torino on 27 January.
"It's going well. I've finally started having therapy now and next week I'll be able to take the brace off too," the Belgian midfielder began. "I'm happy because I'm finally starting to see a bit of light at the end of the tunnel. It's going to be a while before I'm back on the pitch but things are looking brighter now. It's been a difficult period for me, I couldn't do anything and I basically spent a month at home. The hardest thing is seeing your team-mates train and not being able to do anything to help them. It's a shame the year's gone the way it has but now I'm just trying to get myself fit again as quickly as possible."
The only way is up from here. Mudingayi explained: "I'm already feeling a lot better because I know I'll be walking without the brace soon and then I can start running again – that's the best thing because it makes you feel as if you're doing something. Being able to work alongside the rest of the team is a big boost for me and it's great to know that they're waiting for me to return. The group is very compact as well and that also makes me feel good."
Source: inter.it
Medan han väntar på att få chansen att kunna hjälpa sina lagkamrater igen pratade Gaby Mudingayi med Inter Channel efter att ha spenderat två månader utanför planen med en skadad hälsena som han ådrog sig i mötet med Torino den 27:e januari.
"Det går bra. Jag äntligen har börjat med behandling nu och nästa vecka ska jag kunna ta bort skenan också," började den belgiske mittfältaren. "Jag är glad för att äntligen börjar jag se lite ljus i slutet av tunneln. Det kommer att ta ett tag innan jag är tillbaka på planen, men det ser ljusare ut nu. Det har varit en svår period för mig, jag har inte kunnat göra något och jag tillbringade i princip en månad hemma. Det tuffaste är att se din lagkamrater träna och inte kunna göra något för att hjälpa dem. Det är synd att året har gått som det har gjort, men nu försöker jag bara komma i form igen så snabbt som möjligt."
Den enda vägen härifrån är uppåt. Mudingayi förklarade: "Jag känner mig redan mycket bättre eftersom jag vet att jag kommer att gå utan skenan snart och då kan jag börja köra igen – det är det bästa eftersom det får dig att känna som att du gör någonting. Att kunna arbeta tillsammans med resten av laget är ett stort lyft för mig och det känns bra att veta att de väntar på att jag ska komma tillbaka. Gruppen är även väldigt sammansvetsad och det får mig också att må bra."
Source: inter.it