Stramaccioni: "Cassano and Palacio will lead Inter"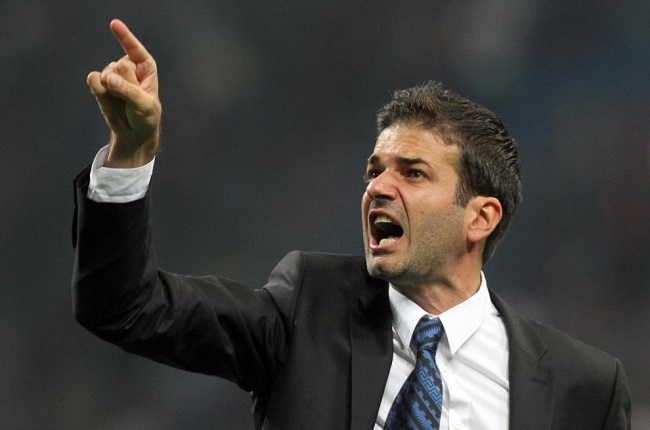 Many thoughts in the mind of Andrea Stramaccioni days before Inter-Juventus. Some things that were previously seen as collateral has faded a bit due to travel by airplane. While the dangers on the field during the international games have been avoided, other problems have arisen from the intercontinental journeys.
Three players returned to the training sessions a day late. Gargano and Pereira due to a technical fault in the aircraft they would go with, Guarin to simply have missed the flight. The coach must now decide which of the three who can play tomorrow against Juventus, because everyone is needed.
Meanwhile, Stramaccioni tried to predict the match during his traditional press conference at the training center. Here are the questions he had to answer:
Just a year ago Inter and Juventus met in Turin. You came in as coach just days after …
"Yes it's been 365 days and we hope that the result will be different this time. Motivation is at its peak. They are the series's best team and we want to prove our qualities, this really is the right match for it. We want to make a good performance, it is normal for these kinds of games to be open and the result can go anyway. We will try to repeat the feat in Turin, but perhaps in a different way."
Conte said at his press conference that he is willing to work out Inter, would you be willing to train Juventus?
"Conte is professional and has been in the game longer than I have, therefore, he knows how this world works better than I do. Juventus are a great club, but I find it hard to imagine myself as a coach there, because of my age, among others. then if I go on about 4-5-6 years there will be another bench to sit on, but maybe not just that one… "
Guarin missed flight. Does it make you angry?
"We have a dark cloud over us given that Isla came home right away but our players did not", says Stramaccioni and smiles. These things happen, I met Gargano and Pereira this morning, Guarin is practicing right now. It is not a big deal."
After the meeting away Marotta spoke of "carefree tactics", and now?
It was probably a misunderstanding, we've put it behind us now. We have talked about it and made our views clear to one another. I have my character, sometimes gives me the advantage and sometimes not. But this story is closed."
Moratti continues to give you confidence, does it feel good?
I just need to do my job, I thank the President for having confidence in me. We all need to repay him by taking points, we only think about that. "
How is Samuel?
"It is round great reluctance. Therefore, I intend to make the decision sometime between tonight and tomorrow morning. He brings a lot of experience, he says he is ready, he is ready. I know I can trust a man who gives me important feedback whether it is positive or not. That said, I will take a decision later."
Round after last meeting, what went wrong?
"The worst thing is we didn't get continuity to what we did in that game against Juve. Nobody wants to change something that works, no matter what the critics say. We had to make changes, we lay a point behind Juventus and already in Bergamo, we had to make changes. That's what I regret the most, we did not get more continuity after the victory against Juve. We are still analyzing what went wrong for it not to be repeated the next season. ".
How to reduce the gap to Juventus for next season?
"I think that Juventus were in a similar situation a few years ago and they were successful in getting up from a worse postition to a better. Everyone are examining the results, of course, it is difficult to replace great players like Milito and Samuel. You have to take the best you can get for the moment to gradually get better as a team, but these are things we will look at ahead of next season."
Is it irritating that so much have been spoken about Mourinho recently?
"I've already answered it several times, José is a role model, an objective. There is no competition between us. Mourinho is loved in this club and Moratti always speaks the truth to me. I keep quiet about it here, but i'm a little disappointed that these kinds of rumors are used to "fool the fans" by creating false hopes which then leaves a bitter aftertaste.
I try to learn from Jose and the players have not lost focus because of this."
How is Palacio?
"I met him today, he was shaken," Strama said with a laugh. "Playing in La Paz is not easy, but he's Palacio. Tomorrow he will play and he will make it good as always."
Is there a risk that the match against Juventus casting a shadow over the next week?
"I hope that Inter play openly and try to win. A draw, or a victory with a satisfactory game would be important for the table, but not for our morale., It is a difficult game, Juventus is the toughest opposition in the league for all teams, that is why a good performance is needed tomorrow."
Do you believe more in third place after the match against Tottenham?
"Obviously, we believe in our ability to reach the third place, it is important to argue after each match. Now we have Juventus, Sampdoria and then so on., We always prepare ourselves in the best way for each match."
After the away game it all went downhill for Inter. Do you hope to make it the opposite now?
"One can only hope," said Strama with a smile. "Much has changed since the previous meeting, but we must go on to the pitch with the same mentality. Then we let the game speak."
In response to fcinternews.it's question if there could be some surprises Stramaccioni responded like this:
"An unexpected move will if I have to give up some elements of the standard formation I'm using right now, so I hope not."
Have you spoken to Guarin? Will there be any ripercussions?
"Guarin was in the dressing room when I went here., I must assess his form. Same with Stankovic who have felt a little injury, because of that I will not take out the squad until the this afternoon. Regarding the incident with Guarin the Board will decide, at least we are iallfall aware about the cause."
Nicola Rizzoli is the referee tomorrow. Is it a good selection?
"Rizzoli is one of the better referees in the series. Following the last meeting between these teams, we have not been given a single penalty, and I say this with a smile. We have had Rizzoli in the past and he has always judged with personality."
Juventus will play in the Champions League on Tuesday, it is an advantage for you not to play in the Europa League on Thursday?
"I do not think Juventus will think of their match against Bayern tomorrow. My players will not think of the one against Sampdoria, that I guarantee."
Cassano did well against Tottenham,  will he do the same tomorrow?
"Antonio feels good, actually he feels great. If he had not been exchanged against Spurs, we would not have had the discussion that has been. Tomorrow he will lead Inter and do a great performance!"