Forlan remembers: "I lived in a beautiful city and played for a great team like Inter"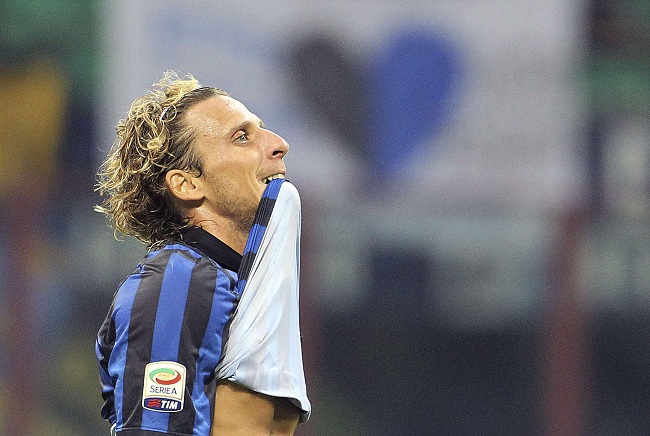 Before joining Inter he was regarded as an international star, the player who had represented Uruguay the most times during the past 20 years, the striker who had an amazing shot and an incredible tactical intelligence. Then everyone knows that not even the strongest can avoid bad luck and Diego Forlan didn't indeed. He joined Inter at the worst possible time, maybe he was too old. He was forced to replace Eto'o and for several reasons he became the symbol of a disappointing season and a failed transfer market. Now he has come to terms with all the expectations, all the injuries, the season when he had three coaches and the fact that he had to play at a position other than his own. In an exclusive interview with our colleagues at fcinternews.it he talked about the time at Inter.
Diego, how is your adventure in Brazil going?
"I'm very happy to be here in Brazil. It is a beautiful country and a very difficult league. We have a good team. At Internacional, I have very good teammates. It is an experience that stimulates me."
What do you remember of your short but intense experience in Inter?
"I have so many memories. I lived in a beautiful city and played for a great team like Inter. Football-wise it was not a good year, but such is football. There are good and bad moments, like last season. I still today, learn from my experiences."
In Milan you were limited by injuries. Still, you performed well in the beginning. Is there anything you regret?
"Yes, I was hit by several more or less serious injuries at Inter. I think I played well in my first five appearances, but after that I could never play more than three games in a row."
Inter continues to lose key players. In the attack there are three starting players missing: Palacio, Milito and Cassano. Can you explain that?
"I don't understand why. It's a shame that these things happen with players at that level. It is a question that you don't know how to answer."
At Inter, two of your compatriots, Gargano and Pereira are currently playing. The public have made them the targets. What kind of players are they in your opinion? What do they have to say about their experiences in Milan?
"Walter and Palito are great players. It's their first season at Inter. Several players need some time to get used to the team and their teammates when things are not going as they should."
In Milan, you had three different coaches: Gasperini, Ranieri and Stramaccioni. Which of these did you like best? What did you think of Stramaccioni?
"I enjoyed working with all three. I have played for many years and had many different coaches. A player must simply do his job: be a professional and play football. With Stramaccioni I felt good then I do not know why, I didn't understand what happened, I was never called again."
How much were your performances affected by the fact that you often played at positions that are not your usual?
"A lot, because I didn't have time to recover and gain confidence on the field by playing at my position. In Brazil, it's different, here I play as a striker."
Finally, do you miss Milan?
"Yes, I miss it a lot. It's a beautiful city where I have many friends. A special thanks to the great Emilio Milella: together with his family they adopted me as if I were a child."
Source: fcinternews.it