Garritano: "Stramaccioni gave me so much, Mazzarri…"Garritano: "Stramaccioni gav mig så mycket, Mazzarri…"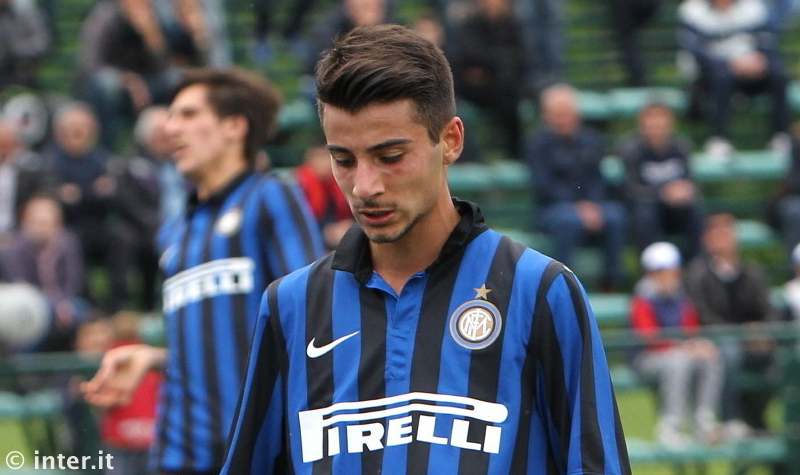 Luca Garritano was interviewed by TuttoMercatoWeb after having been awarded the revelation of the year in the Serie A: "I was given the opportunity to make my debut in the Serie A, it's been a positive season. I'm happy, now I'm thinking about next year where I hope to develop even more."
With what impression has Stramaccioni left you with?
"He gave me so much. Both as a manager and a person. He gave me my debut, I'll never forget him."
Now Mazzarri is in charge…
"It will be a much more hungry Inter, who will want to redeem themselves."
Which match will you remember from this season?
"My debut, Inter – Parma. Unforgettable. Zanetti and Cambiasso helped a lot as well as teaching me a lot too."
Which Inter-youngsters do you believe have what it takes to make it?
"Mbaye and Benassi above all. They will do great things in the future, I am sure."
When it comes to your own future, will you leave now in order to gain more first-team experience?
"Yes, i prefer to be loaned out in order to find more continuity so I can get the most out of myself. I'm co-owned with Cesena so we will se what will happen on the transfermarket."
Palermo is a team that is hot on your trail…
"This makes me happy. I remember when I came on the pitch at Barbera, the stadium was packed. The fans are very passionate, they are one of the best around."
What's your goal for the future? Do you hope to be selected for the Under-21 National team?
"Yes, that's one of my goals. I will do my best to become selected."
Luca Garritano intervjuades av TuttoMercatoWeb efter att ha premierats får att ha stått för årets genombrott i Serie A: "Jag fick möjligheten att göra debut i Serie A, det har vart en positiv säsong. Jag är nöjd, nu tänker jag på nästa år där jag hoppas kunna utvecklas ännu mer."
Vilket intryck har Stramaccioni lämnat hos dig?
"Han gav mig så mycket. Både som tränare och som person. Han gav mig min debut, jag kommer aldrig att glömma honom."
Nu är Mazzarri tränare…
"Det kommer vara ett hungrigare Inter, fylld med revanschlusta."
Vilken match kommer du aldrig att glömma från i år?
"Min debut, Inter-Parma. Oförglömligt. Zanetti och Cambiasso hjälpte mig så mycket och lärde mig så mycket också."
Vilka av de unga Inter-spelarna tror du mest på?
"Mbaye och Benassi framför allt. De kommer göra bra ifrån sig i framtiden, jag är helt säker."
När det gäller din framtid, lämnar du för att få mer speltid?
"Ja, jag föredrar att gå på lån för att finna mer kontinuitet för att få ut maximalt av mig själv. Jag är delägd med Cesena så vi får se vad som händer på transfermarknaden."
Palermo är ett jag som jagar dig…
"Det gör mig glad. Jag minns när jag äntrade planen på Barbera, arenan var full. Supportrarna är väldigt passionerade, de är en av de bästa."
Vad har du för mål för framtiden? Tänker du även på U-21 landslaget?
"Ja, det är ett mål. Jag kommer göra mitt bästa för att bli uttagen."