Inter-Livorno: In honor of the great Armando Picchi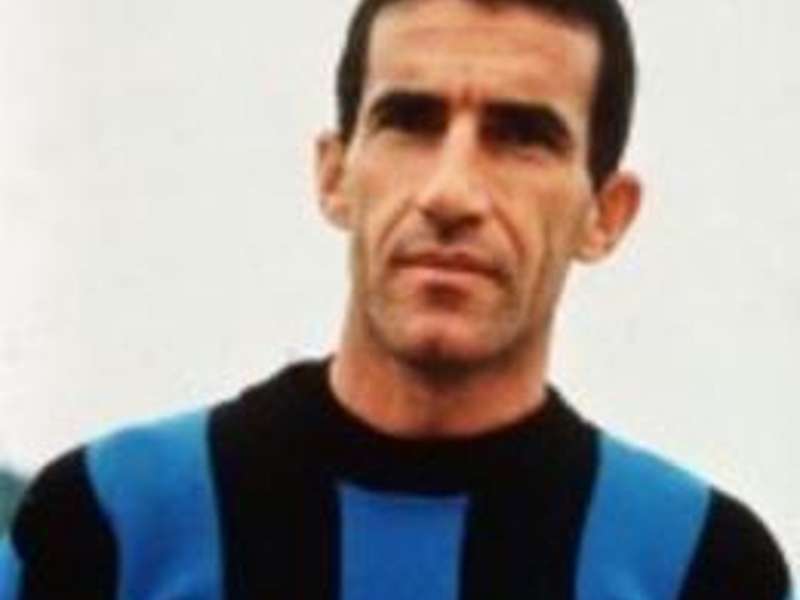 Inter vs Livorno isn't a special game on paper. The clubs have very little in common. The fans are as far apart as you can come. The clubs as well, Inter a great club with many titles meanwhile Livorno is smaller often fighting for Serie A survival. On the field Inter always try to compete for the title and playing in Europe, whilst Livorno are more than happy to be a part of the Serie A and staying in the highest division for more than one year. There is however one man that unites the two teams in a special way and this is none other than Armando Picchi. For those of you who don't know, Armando Picchi was the captain of "La Grande Inter" which won everything in the 1960's with Helenio Herrera as coach.
Born in Livorno the 20th of June he started his career with Livorno, the local team of his town. As a 19 year old he took the step up to the first team where he played 105 games for, scoring 5 goals. After one season at Spal, Helenio Herrera wanted the player to be a part of the defense of what was to become one of the greatest teams ever to step on a football field. Picchi arrived as a wing back, but Helenio Herrera transformed him to a sweeper. By using Picchi's skills as a player and as a leader both on and off the field, Herrera molded Picchi into the key for the organization of La Grande Inter.
"He seemed like an invincible weapon." Nando Dalla Chiesa wrote in his book, Capitano mio Capitano. LA leggenda di Armando Picchi, livornese nerazzurro. Sandro Mazzola remembers his former team mate saying: "He wasn't the captain because the club had given him the armsband, he was the captain because he was our reference point." Another teammate from La Grande Inter, Tarcisio Burgnich who was called "The Rock" says: "We played calmly and serenely, because even if we'd lose he would always assume all the responsibilities. His image is in all of our houses because it was Armando who carried the cup title with everyone running after him. And his face expression was the one of a happy man."
Burgnich's picture of Picchi as a captain who'd take responsibility and defending is strengthened of the story about when Picchi's teammates protested when Helenio Herrera didn't want the team to rest after winning the Intercontinental cup in 1965. The captain called the president Moratti(Angelo) and asked for at least 24 hours of rest because the team was tired, something that became reality. Luisito Suarez tells the story about the tough away games in Serie A against the smaller teams:
"We suffered many hits. Before the games Armando would always say that he prefered to be a goalkeeper because he didn't like to run. But after ten minutes he was out there running like a mad man screaming at us all. He never wanted to lose." At the end of the European Cup final 1963 played between Milan and Benfica Picchi told his good friend Bistecca: "Next time the trophee will be mine to rise towards the air.", a promice than then came to truth when Inter won the title in 1964. Picchi won three scudetti, two European cup titles in a row and two Intercontinental cup titles with Inter.
He played 256 games for Inter and scored two goals. His era at Inter was finished when he was sold to Varese 1966/97 where he played 46 games before beginning his career as a playing coach in the same team. That season ended with Varese being relegated after losing out with just a one point margin. The next season he took charge of Livorno who were last in the championship and finished ninth. A performance that impressed many and shortly after Picchi was on his way to Juventus. He coached Juventus for a total of 29 games before passing away because of Amyloidosis the 27th of May 1971. The day of the funerals, the whole city of Livorno payed homage to a true champion. Even though the family of Picchi had prefered a private funeral, this wasn't possible. 1990 the stadium of his beloved Livorno was named after him and to this day Livorno's stadium is called the Armando Picchi stadium.
After his death even more impressive actions of the captain have been discovered. In a small cabinet belonging to Picchi, letters of gratitude were found from people who Picchi had helped in their tough times. Without telling anyone, Picchi had helped kids in other countries in need of medicine and also the unemployed in need of a job. Why had he done this? Because it was his duty, in his diary Picchi writes a quote that defines him as a man:
"The free moments aren't many and I won't throw them away for silly things. I like to study languages. I don't like seeming stupid when I'm traveling around the world. For this I always keep myself educated in French, English, Spanish and German. I have always been serious in everything I do because without seriousness you can't move forward in this sport that needs sacrifice and a spirit that is far from what's normal. It is always necessary to do one and only thing: Your duty."
Doing his duty on and off the field made Picchi a legend. And it didn't matter if it was in the field for a European Cup Final, off the field for those needing it more than him. A man of his duty and an example to follow. Who knows how much Picchi might have inspired our own Zanetti. Massimo Moratti says:
"A great, very serious and nice player. Very good and carismatic, but first of all a winning captain. He was a winner even before joining Inter. A person who we don't only admire, but a person who remains a symbol. 100 years could pass, but he will always remain a great captain and a man to trust, a good person with great honesty. He had great aucthority and was a good person, two things that aren't easy to combine. Seeing the honesty and how Zanetti lives his life, of course they are similar. We are honored to have Zanetti as a captain now, just like we were for Picchi. I have many memories of Picchi, all of them great, on the field he was very important and off the field as well. "
On another occasion Moratti says:"We are honored to have had him as a captain and leader, his values are the ones of Inter."
On the back of the book "Armando Picchi, a nome già scritto lassù" Moratti is quoted once again: "Armando was a great player, but first of all a strong and good man. A reference for everyone, both in the moments of glory and those of difficulty. He has given us all a lot and I can only say that for Inter having a captain like this will forever be an honor."
Andrea Ranocchia who was honored with the Armando Picchi award for the best defender under 23 years of age in 2001 said:
"Of Picchi I have only read and seen some clips, but when I arrived at Inter I understood that our club has a rich history and respecting the history, even we young players can understand who were the champions who entered history. I talked about it with Zanetti as well who wore a captains armband honoring this unforgettable black and blue champion. Picchi is remembered by everyone as a reference point both on and of the pitch. An example that has written the history of our club and Italian football."
In honor of this great champion and man, the Inter club Interisti Svedesi are proud to give this shirt to Leo Picchi, our friend and the son of the legendary captain in occasion of the game between Inter and Livorno. The game between two teams that have been honored by the great Armando Picchi. A sign of the friendship between the Inter club Interisti Svedesi, and Leo Picchi, who carries on the Armando Picchi legacy inside of F.C. Internazionale.
Sources: https://www.repubblica.it/rubriche/la-storia/2011/11/08/news/picchi_40_anni_libro_documentario-24640702/
Inter.it. Wikipedia.com, The book "c'è solo l'Inter. Cento anni di tormento ed estasi"
Siavoush Fallahi.
Follow @SiaTheMan