Mazzarri: "I will be careful with Campagnaro. Mourinho is great, but we are different. Kovacic.."Mazzarri: "Jag kommer vara försiktig med Campagnaro. Mourinho är fantastisk, men vi är olika. Kovacic.."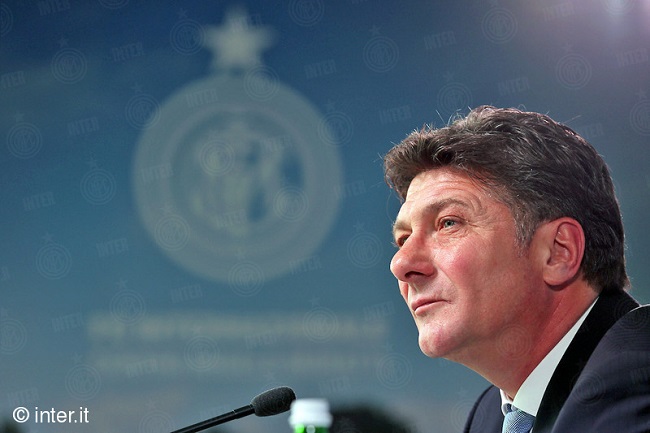 The national team break is now over. For Inter, it is time to start thinking about Bologna. A potentially tricky away game in a stadium where Walter Mazzarri has experienced trouble in the past. But in the hunt for the top spots in the league, the match at the Renato Dall'Ara Stadium is as important as any other. Here is what Inters head coach had to say during the press conference ahead of the game against Bologna:
Bologna have not had a great start to the season, but concentration will be needed, especially after the break..
"There are several factors that will need to be taken into account. The players are returning from their national teams,and after a break like this you have usually lost some of your physical condition. In addition, it is never easy to play an away game in the Serie A. Bologna are on the way up, they have important players like Diamanti, Bianchi, Koné and Pazienza. They have a good team, we need to pay attention but still focus on ourselves because we know that if we play well, we can get a positive result. This is our football philosophy".
How is Campagnaro feeling?
"I still have to evaluate his physical status, the tempo in official games is on a different level than the one during practices. We will see after today's training session, which will include a practice game. We will also do some heavy excercises and after that I will know more".
Is Guarin the right player to play behind Palacio?
"Kovacic is still developing. Football is played with eleven players. The team has important guidelines for how to play, but we shouldn't be to predictable for our opponents. We are still growing as a team. Alvarez can play either behind Palacio or further down as a midfielder. The same thing goes for Kovacic, but he has different characteristics. I also pay attention to who is playing on the corresponding position in the other team. The most important thing is that the players know what to do, that's what we focus on. I can make changes, tomorrow we will see which choices that seem good based on today's practice".
What about Erick Thohir has impressed you the most?
"I got a very good impression of him, he already knew a lot about me and being assured of having his confidence must be a good thing. Other than that, me and my co-workers stay concentrated on what happens on the pitch, just like we will be tomorrow".
Has the target of reaching the Champions League final 2016 reached the expectations on the team?
"I know how logic works in the football world, the link between what the club wants to do and the statements that are made. If the club makes adequate operations and investments, then why not. We need to be smart and make good business decisionsto reach the goals we talk about".
Does Juventus' win over Napoli mean that the balance of the league has been changed?
"Those conclusions cannot be drawn until later, but this is the beauty of the Serie A. However, both teams have enough quality to perform well until the very end".
How much is missing for Inter to be at their level?
"We are in the beginning of a new project. It is still early, we need regular tests to mark our progress. We need to analyse game after game to see how far we can come".
Does it bother you that we're only talking about the club and not about the game itself? Are there any risks with this?
"I haven't brought this up, because then you would accuse me for avoiding questions about the club.. There are certainly some risks, but not for me. It could lead to a poorer level of concentration and focus, but we have been working hard to make sure we don't make this type of mistakes".
Do you prefer to start the game with Campagnaro who has been out for two months, or Andreolli who has played a total of 10 minutes this season? 
"I will make sure that both of them are ready because regardless of who I start with, a substitution will probably be needed. At the moment, neither Hugo nor Marco is ready to play 90 minutes in our tempo".
You gave a realistic answer to the question about the Champions League final 2016. What is needed in today's Inter in order to get there?
"I think it is important to have a clear game plan, and that I know every player in the team very well. Then we always need to keep improving, in line with the observations that I make together with the club. We have an adequate number of players in the squad that is linked to the number of competitions we participate in this season. Both me and the club are experienced when it comes to signing important players who we occasionally look for. This is how you develop a team, this is how I did in the beginning of my time at Napoli and this is how we could do at Inter".
Inter will play both Napoli and Milan before the first half of the season is over. Could those games be decisive?
"They won't be decisive for how this season will turn out for us, but they will definitely tell us something that we do not know yet. I believe that a team's position after 19 league games can tell a lot about how far that team has come. These two games will reveal a lot, but after Bologna we have two home games that we need to win if we want to continue fighting for certain goals. Continuity is important, both against big and smaller teams".
You talked about objectives, and with Branca and Ausilio you discussed the transfer market. Will there be a transfer budget in January?
"I would like to answer the question as it is well put, but we have agreed with Thohir that we will respect our respective roles at the club even more in the future. This is the key to success in all kinds of companies, not just football clubs. Therefore questions like this one will have to addressed to Branca or Ausilio, but I can confirm that we have had a meeting. The budget and everything else is decided by the club. I will send them my wish list (Mazzarri laughs). We have an organisation, I have two-three scouts who are always observing the most fitting players, who are adequate for a certain level. Together we come up with suggestions to the club that evalutes if it is possible, from an economical point of view as well as other aspects".
Is the group the key to success for this Inter?
"Yes, definitely. One of the things that I enjoyed hearing from Thohir is how he managed groups, it indicates the direction in which we are heading. The individual can improve if the group is functioning well, not the other way around. Everything has to be done from the perspective of the group. The new owners work in a way that is similar to how I see things".
Thohir compared you to Mourinho. Is that a compliment or not?
"Mourinho is fantastic, and history proves it. If someone sees similarities between us then I can't complain, but every coach creates his own things. Everyone is different. I don't know if there has been any more comparisons, but I have 10 years in the Serie A speaking for me, with both successes and setbacks. I am not embarrassed by these comparisons".
How are Samuel, Milito and Icardi doing? 
"Milito is fine, we'll see when he will be available to play or sit on the bench. Samuel could feel one of his earlier injuries, I can't give ou a deadline but he is improving every day.. It's not a very serious injury. Icardi is still recovering after his surgery, we are supervising his recovery but I can not answer how long it will take".
Källa: FcInterNews.it
Landslagsuppehållet är nu över. För Inter är det nu dags att tänka på Bologna. En potentiellt svår bortamatch mot en motståndare som Walter Mazzarri tidigare haft problem mot.  Men i jakten på det översta placeringarna i tabellen är matchen på Renato Dall'Ara lika viktig som alla andra. Här är vad Inters tränare hade att säga under presskonferensen inför matchen mot Bologna:
Bologna har inte inlett säsongen bra, men det kommer att krävas koncentration, speciellt såhär direkt efter uppehållet..
"Det finns flera faktorer som måste beaktas. Spelarna kommer tillbaka från sina landslag, och efter ett sånt här uppehåll har man vanligtvis förlorat en del av sin kondition. Dessutom är det aldrig lätt att spela en bortamatch i Serie A. Bologna är på uppgång, de har viktiga spelare som Diamanti, Bianchi, Koné och Pazienza.  Det är ett bra lag, vi måste vara uppmärksamma men samtidigt fokusera på oss själva eftersom vi vet att vi kan nå ett positivt resultat om vi spelar bra. Detta är vår matchfilosofi".
Hur mår Campagnaro egentligen?
"Jag måste utvärdera hans fysiska status, tempot i tävlingsmatcherna är ett annat än det vi har på träningarna. Vi får se efter dagens träning, som även kommer att innehålla en träningsmatch. Vi kommer att göra en del ansträngande övningar och efter dem kommer jag att veta mer".
Är Guarin rätt spelare för att spela bakom Palacio?
"Kovacic utvecklas fortfarande. Man spelar med elva spelare. Laget har viktiga riktlinjer för hur vi ska spela, men vi ska inte vara för lättlästa för motståndarna. Vi blir fortfarande bättre. Alvarez kan spela både bakom Palacio eller längre ner på mittfältet. Det samma gäller Kovacic, men han spelar på ett annat sätt. Jag tar också hänsyn till vem som spelar på den motsvarande positionen i motståndarlaget. Det viktigaste är att spelarna vet vad de ska göra, det är det vi pratar om. Jag kan göra ändringar, men imorgon får vi se vilka val som verkar bäst baserat på dagens träning".
Vad har imponerat mest på dig när det gäller Thohir?
"Jag fick ett mycket bra intryck av honom, han kände redan till mig väl och att jag fick en del bevis på hans förtroende kan bara vara positivt. För övrigt så håller jag och mina medarbetare oss koncentrerade på vad som händer på planen, på samma sätt som vi kommer att vara imorgon".
Har målet att vara i Champions League-final 2016 ökat förväntningarna på laget?
"Jag vet hur logiken fungerar inom fotbollen, sambandet mellan vad klubben vill göra och vilka uttalanden som görs. Om man gör passande investeringar så varför inte. Vi måste vara smarta och göra bra affärer för att kunna nå de mål som vi pratar om".
Innebär Juventus vinst över Napoli att jämvikten i ligan har rubbats?
"Sådana slutsatser får man dra i vår, men detta är det vackra med Serie A. Båda lagen har dock tillräckligt med kvalitet för att prestera bra ända till slutet av säsongen".
Hur mycket saknas för att Inter ska vara på deras nivå?
"Vi har påbörjat ett nytt projekt. Det är fortfarande tidigt, det krävs regelbundna tester för att se hur långt vi har kommit. Vi måste analysera match efter match för att se hur långt vi kan komma".
Stör det dig att vi hittills bara har pratat om klubben och inte om själva matchen? Finns det en risk med detta?
"Jag har inte tagit upp det eftersom ni då skulle säga att jag undviker frågor om klubben.. Det finns definitivt risker, men inte för mig. Det kan leda till sämre koncentration och fokus, men vi har arbetat ordentligt på planen för att undvika den sortens misstag".
Föredrar du att starta med en Campagnaro som varit skadad i två månader, eller en Andreolli som spelat sammanlagt 10 minuter denna säsong?
"Jag kommer att be båda två att hålla sig varma, för oavsett vem jag startar med så kommer det antagligen att krävas ett byte. Varken Hugo eller Marco klarar i nuläget av att spela 90 minuter i vårt tempo".
Du svarade realistiskt på frågan om Champions League-finalen 2016. Men vad är det som fattas i dagens Inter för att nå dit?
"Jag tror att det är viktigt att ha en klar spelidé, och att jag känner till alla spelarna i laget helt och hållet. Sedan måste vi alltid fortsätta utvecklas, baserat på iakttagelserna som jag gör tillsammans med klubben. Vi har ett lämpligt antal spelare i trupen som stämmer överens med de krav vi har denna säsong. Både jag och klubben har erfarenhet av värva viktiga spelare som vi då och då följer. Det är så man utvecklar ett lag, detta gällde när jag påbörjade min tid i Napoli och det kan gälla även i Inter".
Inter ska möta både Napoli och Milan innan första halvan av serien är färdigspelad. Kan det bli avgörande?
"Det blir inte avgörande för hur den här säsongen kommer att sluta för oss, men det kommer definitivt säga något som vi inte vet just nu. Enligt mig så kan ett lags position efter att halva serien är avklarad säga en hel del om hur långt man har kommit i utvecklingen. Dessa två matcher kommer att avslöja mycket, men efter Bologna har vi två hemmamatcher som vi måste vinna om vi vill fortsätta slåss om vissa mål. Det är viktigt med kontinuitet mot såväl stora som små lag".
Du pratade om målsättningar, och med Branca och Ausilio har du pratat om transfermarknaden. Finns det en transferbudget redan i januari?
"Jag skulle vilja svara eftersom frågan är väl ställd, men vi har kommit överens med Thohir om att respektera våra respektive roller även mer. Det är nyckeln till framgång i alla sorters företag, inte bara fotbollsklubbar. Därför kommer denna typ av frågor att behöva ställas till Branca och Ausilio, men jag kan berätta att vi har träffats. Budgeten och det andra bestäms av klubben. Jag kommer att skicka dem min önskelista (Mazzarri skrattar). Vi har en organisation, jag har två-tre scouter som alltid övervakar de mest passande spelarna, som passar för en viss nivå. Tillsammans ger vi förslag till klubben som sen utvärderar om det är möjligt, såväl ekonomiskt som ur andra aspekter".
Är gruppdynamiken nyckeln till framgång för detta Inter?
"Ja, absolut. En av sakerna som jag tyckte om att höra från Thohir var hur han hanterade grupper, det ger en indikation om vart vi är på väg. Individen utvecklas om gruppen fungerar bra, inte tvärtom. Allt måste göras baserat på vad laget behöver. De nya ägarna agerar i linje med hur jag själv resonerar".
Thohir jämförde dig med Mourinho. Tar du det som en komplimang eller inte?
"Mourinho är fantastisk, historieböckerna bevisar det. Om någon ser likheter mellan oss så ogillar jag inte det, men varje tränare skapar sina egna saker. Alla är olika.  Jag vet inte om det gjorts flera liknelser, men jag har 10 år i Serie A som talar för mig, med framgångar och bakslag. Jag blir inte generad av jämförelsen".
Hur mår Samuel, Milito och Icardi?
"Milito mår bra, vi får se när han blir tillgänglig för att spela eller sitta på bänken. Samuel kände av en tidigare skada, jag kan inte ge någon deadline men det går framåt varje dag.. Det är inget som kommer att ta jättelång tid att läka. Icardi däremot återhämtar sig efter en operation, vi övervakar hans utveckling men jag kan inte svara på hur lång tid det kommer ta".
Källa: FcInterNews.it