Hugo Campagnaro: "Zlatan Ibrahimovic is the toughest striker I've played against"Hugo Campagnaro: "Zlatan Ibrahimovic är den tuffaste anfallaren jag mött"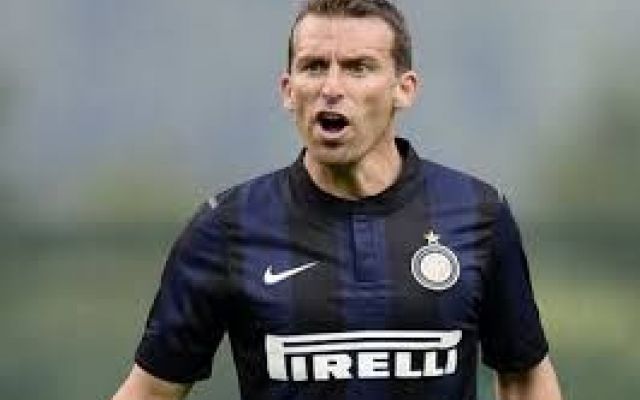 Later tonight Hugo Campagnaro is a guest on the latest episode of InterNos in Inter Channel's studios, but already now a preview of the show has been released on Inter.it.
The Nerazzurri defender spoke first of all about forwards and which ones have been the most difficult to mark: "The most uncomfortable for me was definitely Ibrahimovic. He's a complete forward with no weaknesses. He's quick and technical. You just have to do what you can against him, and I believe he's the one who gave me the most problems."
His playing history reveals a stint as a centre forward in Argentina, with many changes along the way: "It's true, I played a few games up top. Then I came to Italy and played for Agostinelli on the right side of midfield. Then Cagni came along and moved me to the centre of defence. These are little things that can lead to big changes. Now I try more frequently to move forward and support the attack. But then everyone has to do his part, and we have some excellent forwards in this squad."
Senare ikväll gästar Hugo Campagnaro programmet InterNos som spelades in i Inter Channels studio, men redan nu har Inter.it släppt ett smakprov från programmet.
Inter backen pratade först om alla anfallare han mött och då främst vem som varit tuffast att möta: "Den som var mest obekväm att möta var utan tvekan Ibrahimovic. Han är en komplett anfallare utan några svagheter. Han är snabb och teknisk. Du får bara göra det du kan mot honom, och jag tycker att han är den som gett mig mest problem."
Campagnaro pratade även om sin egna historia som spelare där han avslöjade att han spelade som anfallare ett tag i Argentina: "Det är sant, jag spelade på topp i några matcher. Sedan kom jag till Italien och jag spelade för Agostinelli till höger på mittfältet. Sedan kom Cagni och flyttade min ner till mittbackspositionen. Det är sådana små saker som kan leda till stora förändringar. Nu försöker jag att ta mig längre upp på plan för att hjälpa till i anfallet. Men alla måste göra sin del, och vi har några fantastiska anfallare i det här laget."