Adriano: "Italy is my second home. The World Cup.."Adriano: "Italien är mitt andra hem. VM.."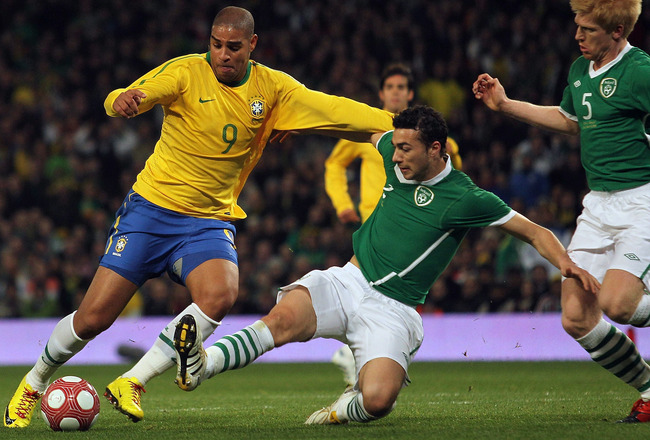 Adriano is once again trying to make his return to professional football, this time with Atletico Paranaense. The Brazilian striker talked to Le Iene in an interview that will be broadcasted on Italia 1 tonight.  
"I am still not in great shape, I haven't trained football for almost two years but now I want to start over with my new team. I still need to lose a few pounds".
Adriano then talks about his "dangerous" childhood friends: "When I was a kid I lived in the favelas. That's where I met my friends who I grew up with. The photos? Everyone can be photographed  with me, even my friends who are drug dealers. I won't turn my back on anyone just because I am famous".
Regarding Italy and the upcoming World Cup in Brasil: "Return to the Serie A? Now I have to recapture my form in Brasil, Italy remains my second home. I hope Brasil wins the cup this summer. I know very well that it will be hard for me to participate in the World Cup, but you never know what will happen. Sometimes God makes decisions you can't understand".
Source: FcInterNews.it
Adriano försöker ännu en gång att göra sin återkomst till proffsfotbollen, denna gång med Atletico Paranaense. Den brasilianske anfallaren talade med Le Iene i en intervju som kommer att sändas ikväll på Italia 1. 
"Jag är fortfarande inte i toppform, jag har inte tränat fotboll på ungefär två år men nu vill jag börja på nytt med mitt nya lag. Jag behöver fortfarande tappa ett par kilon".
Sedan berättar Adriano om sina "farliga" barndomsvänner: "När jag var liten bodde jag i kåkstäderna. Där lärde jag känna mina vänner som jag sedan växte upp med. Fotografierna? Jag kan låta mig fotograferas med alla, även med mina vänner som är knarkhandlare. Jag vänder inte ryggen åt någon bara för att jag blivit känd".
Angående Italien och VM i Brasilien: "Återvända till Serie A? Nu måste jag återfinna min form i Brasilien. Italien förblir mitt andra hem. Jag hoppas att Brasilien vinner i sommar. Jag vet mycket väl att det blir svårt för mig att delta i VM, men man vet aldrig vad som kan hända. Ibland bestämmer Gud saker som man inte förstår sig på" .
Källa: FcInterNews.it