Polo: "I'm thrilled to be here and I hope to achieve great things with Inter"Polo: "Jag är glad över att vara här och jag hoppas uppnå stora saker med Inter"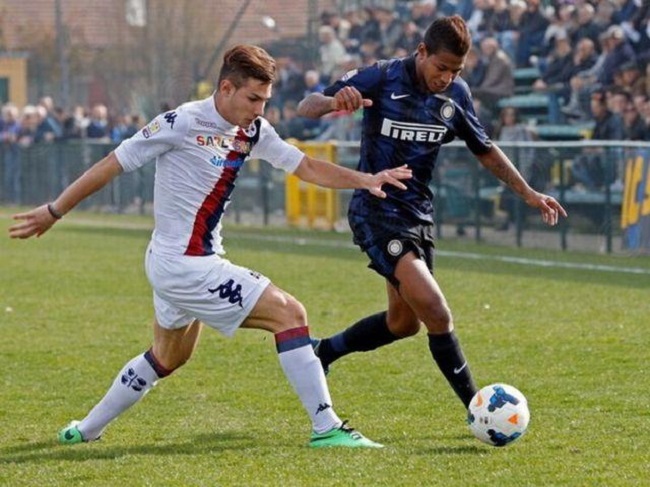 A new language, a new country, a new continent and a new club. Yet six weeks after arriving in Milan, Peruvian striker Andy Polo seems to have taken to life at Inter like a duck to water. Certainly if the performance he turned in on his full debut for the Primavera team last weekend is anything to go by: the 19-year-old not only scored the opener against Cagliari, he impressed his coach and onlookers alike with his all-round display.
Today he spoke to Inter Channel about how he's adapting to his new life in Italy.
He began: "I'm thrilled to be here and I want to take full advantage of this opportunity I've been given. I've noticed that football is very different here but I think the experience I accumulated from playing in the Peruvian top flight for three years will really serve me well. I know that you can improve all aspects of your game in Europe, there's no limit on how far you can go. So I'm delighted to be here and to have the chance to go as high as possible."
On his transfer to Inter: "When I found out that Inter were interested in me… well, it all went off so quickly. Everything happened in the last few days of the transfer window. It came completely out of the blue but I tried not to get carried away. There's a lot of talk about me back in Peru now that I've joined Inter but I think you have to prove yourself on the field, so I'm concentrating on doing just that."
Asked about his aspirations of breaking into the first team, he replied: "I think that's something everyone dreams of but it's only right that you should take it one step at a time. Things come about of their own accord."
"Who do I try to emulate? No one in particular. I observe players who play in my position and I try to pick things up from everyone."
Finally, the youngster had a few words of thanks: "I'd like to thank everyone for all the good-luck messages they've sent me. As I said, I'm just happy to be here and I hope to achieve great things with this team."
Source: inter.it
Ett nytt språk, ett nytt land, en ny kontinent och en ny klubb. Redan sex veckor sedan han kom till Milano har den peruanska anfallaren Andy Polo anpassat sig till livet i Milano som en fisk i vattnet. Om insatsen han levererade i sin riktiga debut för Primaveran förra helgen är något att gå på: 19-åringen gjorde inte bara det inledande målet mot Cagliari utan imponerade även på sin tränare och åskadare med sin mångsidiga uppvisning.
Idag pratade han med Inter Channel om hur han anpassar sig till sitt nya liv i Italien:
Han inledde: "Jag är glad över att vara här och jag vill ta till vara på den möjlighet jag fått till fullo. Jag har märkt att fotbollen är väldigt annorlunda här men jag tror att erfarenheten jag samlat på mig från att spela i den peruanska högstaligan under tre år verkligen kommer att vara till nytta för mig. Jag vet att du kan förbättra alla aspekter av ditt spel i Europa, det finns ingen gräns för hur långt du kan gå. så jag är överlycklig över att vara här och att ha chansen att gå så långt som möjligt."
Om sin transfer till Inter: "När jag fick reda på att Inter var intresserade av mig… ja, det hände så snabbt. Allt hände under de sista dagarna av transferfönstret. Det kom från ingenstans men jag försökte att inte ryckas med. Det pratas mycket om mig hemma i Peru nu när jag anslutit till Inter, men jag tycker att du måste visa vad du går för på planen, så jag koncentrerar mig på att göra just det."
När han fick frågan om sin strävan att ta sig in i a-laget svarade han: "Jag tror att det är något alla drömmer om, men det är inte mer än rätt att du ska ta ett steg i taget. Saker och ting händer av sig själv."
"Vem jag försöker efterlikna? Ingen speciell. Jag observerar spelare som spelar på min position och försöker att snappa upp saker från alla."
Slutligen hade den unga spelaren några att tacka: "Jag skulle vilja tacka alla för de lyckönskningar de skickat mig. Som jag sa, jag är glad över att bara vara här och jag hoppas kunna uppnå stora saker med det här laget."
Källa: inter.it