Vidic: "Progress through hard work and good training session"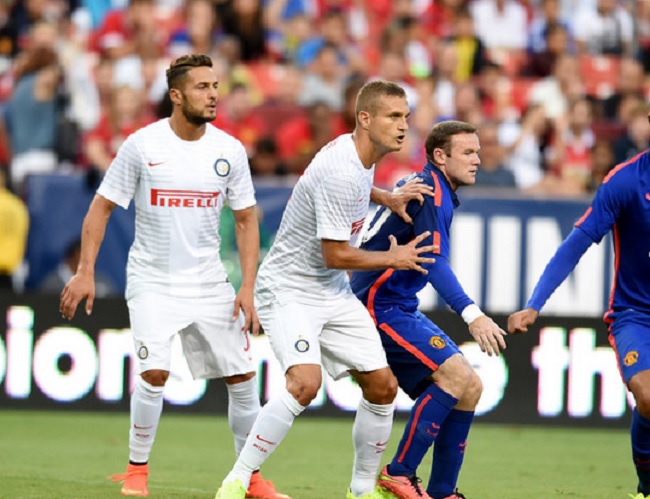 Inter defender Nemanja Vidic spoke to Inter Channel ahead of the final pre-season friendly in Greece.
We're here with Nemanja Vidic. How has your first month at Inter been?
"We have been working hard, we've had some good sessions, I'm trying to adapt to the way we play and so far I think it's gone well if you don't include the game we played in Germany but everything else was good."
We've seen you adapt to the three-man defense very quickly and talk a lot with Samir Handanovic…
"I think it's important for the defenders and the goalkeeper to speak because we see the whole game and we can help the players in front of us. That's what I've done my whole career and I'm trying to do it here. Trying to help the players with what I see on the pitch."
A good goal in America, a great header. And you often get in ahead of the rest from set-pieces…
"I try to attack the ball, I'm good in the air and I'm trying to score more goals and maybe I should score more. But it was a great cross from Dodò, I was in the right place and it was a good goal. But like I said, it's important to improve, to work hard in pre-season and the most important thing is when the season starts and hopefully we'll be at 100 percent and play good football."
Not good in Germany, as you said. Now for PAOK, a different style of football and another no doubt fiery atmosphere.
"Yes, I think it's important to have a game as soon as possible after a disappointing night against Eintracht. We play at PAOK, it's not an easy game. Last year I played against Olympiakos with Manchester United and we had a really hard game, we lost I think 2-0. And it's not going to be easy but.. I hope we're going to be better this time."
These matches are also important in preparing for the two-legged tie in the Europa League. Have you ever played in Iceland?
"I don't think so. I don't think I've ever played there before but it's a good experience and the most important thing is getting a good result. When we come back home we can relax and have a good match."
The country that never sleeps.
"Yeah, I know. It may be nice to see, you know? But yeah, it's a new experience and hopefully it will be a good experience."
What matters is going through?
"Of course. That's the main thing."
Source: inter.it