Mazzarri's press conference: "Tomorrow we can accomplish the first goal of the season"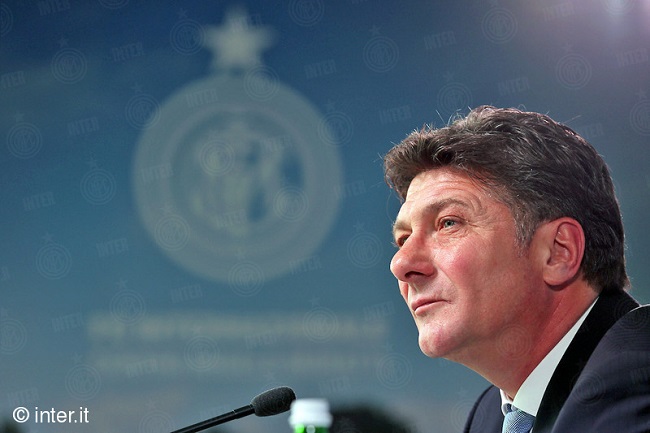 Walter Mazzarri and Juan Jesus addressed the media on the eve of the club's UEFA Europa League second leg match against Stjarnan.
Inter performed very well in the first leg having prepared meticulously for the match. How important is tomorrow's game? A big crowd is expected…
"We're very happy, we're back at home and there will be a great atmosphere. I hope that helps us to get through. They gave us some problems in the first leg with the score at 2-0, and you can't take anything for granted in football. I've already asked the lads to play like Inter so that come the final whistle we can celebrate our first goal of the season, making the Europa League group phase."
Do you already have one eye on the season opener against Torino?
"When you have responsibility you can never take anything for granted. We'll begin to think about Torino tomorrow night. If we make the group stage though I know you'll ask me who will play before every match. Obviously you need to rotate the squad when you play every three days. It's not a case of ringing the changes but a selection policy which you have to adopt when you play in three competitions."
It appears there will be a big crowd in tomorrow night. What sort of performance do you want to put on for the fans?
"I felt that at the end of last season, listening to famous fans and shareholders that they want a team that fights and never gives up. A team with character. A united team that keeps going until the 95th minute. That's a hallmark of my teams. You can win and lose in football but I think that's ultimately what the fans want to see."
We're at the end of the summer and the feeling is that Inter have strengthened. A coach is obviously never 100% happy but do you think Inter have changed for the better?
"I don't want to make comparisons anymore, last season is done with. I think we saw something in America. This side, regardless of who plays, has a great team spirit. We only underperformed in the first half in Germany but I've seen that the lads buy into this approach. That's the way modern football is going, you can't achieve anything unless everyone pitches in at both ends of the pitch."
We look a bit light up top, so will you try to sign a new forward ahead of the new season? Or will you try to blood a youngster in the first team squad?
"In the past I asked the club to have two players per position. 22 players, all of whom are potential starters. We don't need a squad of 26 or 27 players. You can't ever pick more than 11 to go out there. We're covered in terms of numbers, the most important thing is that the four players are fit."
Can you tell us tomorrow's starting line-up?
"I've still got three question marks over tomorrow's side that I'll figure out during today's training match. It's a case of assessing whether certain players will be fit again for Torino, based on people's varying pre-seasons. It's not easy to explain, I have to consider things from a technical and physical perspective. There will be some changes. The lads know that sometimes they are picked based on how they train. What I can tell you is Carrizo and Osvaldo will play tomorrow. The latter needs to show how match fit he is. The same goes for other positions. Nagatomo will play, while on the other flank I'll asses D'Ambrosio and Jonathan. Andreolli deserves to start at the back, then I'll decide on the rest of the side."
Medel was unveiled to the media on Monday. Do you like what you've seen of him as a player? What are your thoughts on him? What position will he play?
"He's made a really good first impression on me. I knew what he could do on the pitch but he's shown he's a lovely bloke and a real warrior. He's trained well despite having been injured of late. I'm very happy with him so far. He looked in such good shape that he's in contention to start at Torino."
Do you think the squad is complete in terms of quality?
"We've begun this season in a certain way, we said we want to improve and the club made moves based on the financial parameters that have always been established. They've also acted based on our targets. These lads will progress because we've reduced the average age of the squad. Dodò, Juan Jesus and Icardi and young players. The first thing we want to prove is that we're a real team that can be a match for anyone."
Let's talk about Medel and M'Vila. Will only one of them play or can they operate together?
"I can tell you what I've said to the lads. I plan to alternate between three or four systems this season. Our basic system can be a 3-5-1-1 or a 3-5-2 like we played last season. We can also move to a 3-4-3 and this year I like the idea of a 4-3-1-2 or a 4-3-2-1. Should we need two holding midfielders, Medel and M'Vila could play together. In a midfield trio with one player advanced and two players either side of him, I need to decide who's better suited to playing there. But they can both operate as deep-lying playmakers."
What would happen should you meet Napoli in the Europa League?
"I'm only concerned about Inter and that we do well in the Europa League, regardless of the opponent."
When will come the time to publicly state that Inter can compete for trophies this season?
"There's a player here and he can tell you. Ever since I met up with the players this year I asked them a few things. Juan Jesus will be able to tell you how angry I was during the match against Eintracht Frankfurt. The team needs to take on a mentality befitting of a big club. Tomorrow we need to forget we won 3-0. We have a to put in a big performance like we did in America. I think the lads have taken on board what I've said and in the end we'll be able to compete with anyone."
What are your thoughts on Conte? Have you met him? What do you think about his new role?
"I'm pleased. When you're a club coach everyone goes all out to win and that was the case when we met. Now he has a new position and I will give him a warm welcome. I still need to meet him but I will, just like every coach in Italy, do my bit for the national team."
Source: inter.it