Vidic at Inter's press conference: "Mazzarri and Ferguson have the same approach"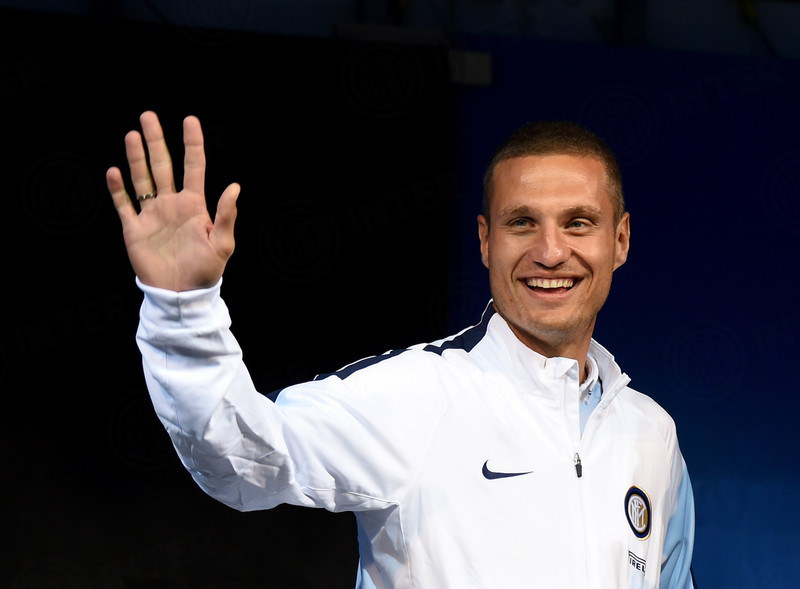 Nemanja Vidic was all smiles when he turned up in the press room for his news conference today ahead of  tomorrow's visit to Palermo. The stalwart defender is putting his experience to good use at Inter and helping to build a group that he feels must be aiming high.
After two wins in a week against Sassuolo and Dnipro, what sort of Inter do you expect to see tomorrow?
"It was good to win our last game and it's important to get into the winning habit. It gives us more confidence so we can enjoy our football. It's vital to get a few wins under your belt at the start."
What's your impression of Italian football after these first few months? And can Inter aim to win the Scudetto?
"I still have to adapt because I've come to a new country. I'm learning about Italian football and the way the referees manage the game, but also the players and how they play here. As for Inter, as I said it's important to win the next match. That must be our mentality: win the next one and see where it takes us. We'd like to have a good season and finish in the top three – if possible even win the Scudetto. But let's just take it one match at a time and see how it goes."
Have you had the chance to speak to Andrea Romeo, Inter's refereeing official, about the different way of officiating in Italy compared to England?
"I think sometimes players make the referees' job difficult by creating situations, asking for penalties and fouls. I have to say I don't think that happens as much in England as it does here and obviously it's not easy for referees. That's why I have to adapt to the players as much as the referees. Andrea explained to me what things I shouldn't do here and what will be punished. Hopefully I'll get used to it as soon as possible."
When people like Eto'o and Lucio joined in 2009, people said they were players used to winning who brought along their experience and charisma. Do you feel a bit like that? Someone the others can look to?
"There are several experienced players here who can be an example for the younger ones, showing them how to train and behave. I don't think one man makes the difference, it's always about the whole team. We have to be a good group and then we'll have a chance of achieving our targets."
Have you noticed any similarities between Mazzarri and Ferguson?
"They are similar managers in that they both want to build a good team spirit – it's more about the group than the individuals. As for the way of playing, at Man United we played 4-4-2 or 4-5-1, whereas here we play differently. But the most significant thing is that they have same approach."How are you adapting to a three-man defence? "I worked very hard in pre-season and I'm doing lots of tactical work still now. I feel more and more comfortable. I think we've looked solid in these first few matches and defensively the whole team has worked really well as a unit."
You were with Stankovic at the last game in San Siro. How do you think he's doing in his new role as vice coach with Stramaccioni at Udinese? Would you like to go into coaching yourself one day?
"Yes, he's enjoying his new role as vice coach and he's very excited. I think he'd like to go on to become a head coach one day. He's very experienced and has had lots of good managers. I think he's got a good future ahead of him. Hopefully in a few years' time I'll get my Pro Licence and can try my hand at coaching too. Then maybe we can face each other in opposite dugouts!"
What was your first feeling when you realised you were joining Inter player? And what surprised you when you arrived here?
"My first reaction was that I was excited. It wasn't the first time I'd had the chance to come to Italy but this time it was the right choice. Inter is a big club and it's a great place to come and show that I can still cut it while testing myself in another league. On the first day I was welcomed by everyone when I arrived at the training centre. It was strange at the start because everything was different. It was quite tough for the first few days but now I feel at home and I'm comfortable here."
Is it true that Man U tried to persuade you to stay at the club? Do you think it's easier to get into the Champions League by winning the Europa League or through Serie A?
"Leaving Manchester United wasn't something I decided by myself. I spoke to the club about it. I had good relations with them when I was there and I'm still on good terms with them since leaving. As for the second question, either of those situations would be good for us – getting into the Champions League by winning a trophy or by finishing in the top three. But as I said we'll take it one game at a time. I don't want to think that far ahead. We have lots of important matches coming up and we want to head into the international break in a good position."
Sometimes in England if a player takes a dive it's his own fans who get his back, whereas here in Italy they're more likely to urge him to go down. Is that something that needs to change in Italy to bring the game more in line with Europe?
"I didn't come here to change the mentality. I'm here to adapt to the way football is played here. If you ask me what I prefer, it's the way they play in England because I believe it's more honest and respectful, although it can work for you or against you of course. I also think it affects the tempo of the game because you waste less time on fouls and so on."
Is the fact you haven't conceded any goals yet a nice feeling or could it perhaps end up weighing on your minds?
"It's important for the team to be solid as it means the strikers aren't under pressure to score two or three goals. But we're not setting out with the aim of keeping a clean sheet all season. The main thing is that we win the game – although obviously it's good if you can do that and keep a clean sheet as well!"
Source: inter.it