Mercato Player Profile: Dani Osvaldo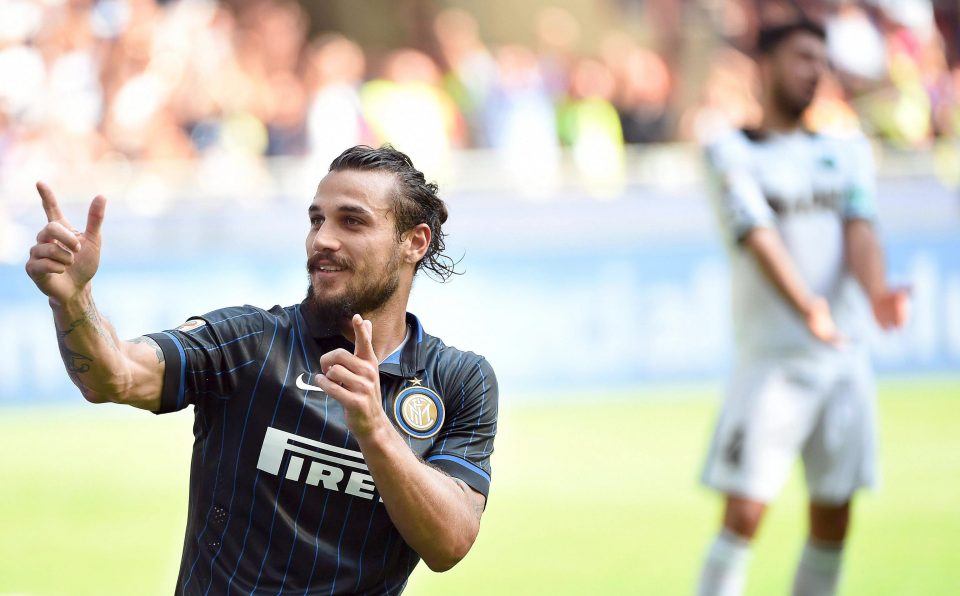 WARNING: The following article is not for the faint of heart. It is longer and more in-depth than most sane individuals would care to read into, although…since we are Interisti…I think it fair to guess all sanity has long since left us. Proceed with caution.
Welcome to Mahdi's Mercato Player Profile for Pablo Daniel Osvaldo. 
What a ham. You know you wanna read about this dude.
Hello Interisti. Take a seat. I have come back from the abyss to…okay it's Mahdi, and I'm back to writing on SI. I've been doing lots of behind the scenes stuff (editing, formatting articles, etc) over the summer and then have been busy with life since, but I'm back. I used to write more of this kind of thing and many of you may be knowledgable of that but for those who aren't; here is my Mercato Player Profile on Dani Osvaldo. An in-depth, and highly detailed look at all things concerning a particular player we have purchased in the last transfer window; this one pertaining to everyone's favorite Johnny Depp look-alike.
Since his signing for us, I have wondered exactly what kind of player we are getting, and to what extent I should be optimistic. I remembered him from his Roma days, and then read a lot of nasty things in the tabloids, so I got curious. I do wish I could have had this ready earlier, but with a few glimpses of potential on show so far from Dani, I'm sure you are all quite curious if he is the real thing as well. That, or if he's simply putting on a show against minnows early in the season.
"Yo yo, read all about me guise, cuz I'm super cool & stuff."
Sit down, put some tea/coffee on the pot, and get in your comfy chair; you're about to become an expert on Pablo Daniel Osvaldo. 
There is lots of detail to love here. So please, sit down, put some tea/coffee on the pot, and get in your comfy chair; you're about to become an expert on Pablo Daniel Osvaldo. Trust me, the amount I've learned, I would only wish for you all to know as well. The way I go about my research for these includes watching several full games, tracking just that player, majority of which being more recent, at least one from a couple years back. Every youtube video there is of the player has been watched, all goals, assists (in context) have been noted. I have pages of notes on playing style taken from the game tapes I have watched and draw my conclusions from trends I find throughout those notes. I then compare those to popular forums of knowledge on players that are included in my sources, and add my own insight and opinion to the facts I find.
Anyway, I just note all that so that you guys don't think I'm talking from my Kardashian…I mean…my a…you know what I mean. Onward fratelli, onto what you're here to read about. The man, the myth, the guy who dresses like a mix between Justin Bieber and Russell Brand; the one that gets all the girls, but only some of the goals; the dude who plays like that one guy one your Sunday-league team who can score bicycles when he wants, but hardly ever knows what he wants… Yeah, that guy. Here's the low down on the enigma that is Signore Pablo Daniel Osvaldo.

Dani Osvaldo
Player Profile
Full Name: Pablo Daniel Osvaldo
National Team: Italy
Clubs: CA Huracán (2005-06),  Atalanta (2006), Lecce (2006-07), Fiorentina (2007-09), Bologna (2009-2010), Espanyol (2010-2011), Roma (2011-13), Southampton (2013-14), Inter (2014-15)
Age: 28
Born: 1/12/1986
Nationality: Argentine with Italian passport
Place of Birth: Buenos Aires, Argentina
Right-footed
Celebration: (imaginarily…) Machine-gunning own fans (Gabriel Batistuta tribute)
Height: 182 cm / 6.00 ft
Weight: 81kg /179 lbs
Position: Striker/Left Forward
(Projected) Value: €12.2 million euros
Contract (Inter): €2 million euros net (after tax) for one year loan till July 2015
Deal: One year loan; right to full redemption for approximately €7 million
On recent national squad prelim call-up?: Yes
On recent national squad match-day call-up?: No
Career Senior Club Appearances/Goals/Assists: 237/75/16
Career Serie A Appearances/Goals/Assists: 114/38/13
Career Senior National Team Appearances/Goals/Assists: 14/4/2
Career Total Senior Appearances/Goals/Assists: 268/88/20
Concise Biography 
A journeyman striker with a bad-boy image, Dani Osvaldo has shown both his talent, and his err…unique…demeanor at several clubs. He is known for his eye-catching style, impressive goals, and his unpredictable on field & off field antics. He started out with CA Huracan in Argentina afer graduating from their youth system. After just a year, he was swooped up by then Serie B-side Atalanta and quickly loaned out to fellow Serie B-side Lecce for play time.
"DEEZ NI..um..PLAYERS CANT HOLD ME BACK!"
Inter acquired him because:
We need depth in attack for three competitions
Milito is gone; we need an experienced goal scorer
He provides competition for Palacio. I will be honest…I had Icardi written down originally, but with his recent form…there is no doubt in who is fixed for starting between Palacio and Icardi…and it is no longer the man with the magic braid.
Very capable of getting back in Azzurri starting lineup & shining there; something rare & necessary for Inter's image in Italy
Cheap yet tried and true in Serie A with potential
Possible coup as his buy-out clause has been set well below his current value, 1/3 of his value last summer
Inter has been missing "cult figures" that the media follows, & that outsiders will be drawn towards, he could become one
Is not past his prime, yet has loads of experience
Marketing: tied to England via Southampton, so he'll give Inter exposure to curious readers, and he is well known for his iconic image
THIS guy…
Past Performance
Osvaldo had a great first year in professional football with CA Huracán in Argentina after progressing from their youth ranks. In 2005 he made 33 appearances and scored 11 goals along the way, averaging a goal every three games, not bad at all for an 18 year-old. This caught the eye of Serie B's Atalanta, who quickly picked up the young forward for an undisclosed fee.
During his brief time at Huracan.
Football in Europe: Here begins a list of analyses for every season he has played professionally and under given clubs. I personally derived parameters that I felt were most relevant without being too dependent on outside circumstances. The paragraphs under each stat-list give further context as to why the stats show what they do. Neither set is technically accurate without the other. I wish I had a stats list like this for every lady I wanted to get to kno…NEVERMIND. ANYWAY…here we go.
Atalanta (permanent) 2005/06
Age: 19/20
Appearances: 3
Starts/subbed on: 0/3
Goals scored/assists: 1/0
Goals/appearance: 0.33
Goals/90mins: 1.52
90mins/goal: 0.65
Minutes played: 59
Minutes/goal: 59
Yellow/red cards: 0/0
Yeah, age did good things for him…
The striker's stay at Atalanta would consist mostly of acclimating to the climate of Italian football and adapting to the culture. He would only make three appearances from the bench during this season and would do well in the time he was allotted by scoring. He was loaned out to the fellow Serie B side Lecce at the season's end with an option for 50% acquisition by Lecce.
Lecce (loan) 2006/07
Age: 20/21
Appearances: 31
Starts/subbed on: 19/12
Goals scored/assists: 8/0
Goals/appearance: 0.258
Goals/90mins: 0.37
90mins/goal: 2.65
Minutes played: 1,912
Minutes/goal: 239
Yellow/red cards: 8/0
During his time at Milk FC…
His early Serie A career comprised of loans and season long stays in search of play time. He didn't get a proper look in at Atalanta where in 2005 he only played three games, while scoring once after his transfer to the peninsula. The forward did however make a definite mark on his loan stint at Lecce. Of the 31 Serie B appearances he made in 2006/07 with Lecce, the then 20 year-old scored seven of his eight goals in games he played more than one half in, although when subbed on he played a sizeable average of 28.25 minutes.
The fact that he only found one goal in that total of 339 substitute minutes showed early on, he was a player that favored continuity. His average play time per start at Lecce stood at 82 minutes, showing good stamina and a will to work. He did also, tellingly, earn as many yellow cards in his first productive season in Italy as goals. His appearance length would wane in the second half of the season, a trend we'll look into later as well. His efforts earned him a switch as Atalanta reclaimed full rights in order to sell the starlet to Serie A side Fiorentina for a fee of €4.6 million.
Fiorentina (permanent) 2007/08
Age: 21/22
Appearances: 25
Starts/subbed on: 15/10
Goals scored/assists: 6/1
Goals/appearance: 0.24
Goals/90mins: 0.41
90mins/goal: 2.42
Minutes played: 1,306
Minutes/goal: 217.67
Yellow/red cards: 3/1
Shots/on goal: 31/16
Fan favorite.
At Fiorentina, Osvaldo would gain valuable experience playing in the top flight and in European competition. He showed great ball control and considerable strength for a young forward. His first Serie A goal was an incredible volley against Livorno. He also scored an iconic late winner at the Stadio Delle Alpi in the 93rd minute to give Firenze a 2-3 win against Juventus.  He would imitate the legendary Fiorentina striker Gabriel Batistuta's famous goal celebration, machine-gunning his own fans. Showing a knack for scoring in Turin, the new star scored a stunning bicycle kick goal away at Torino. His goals helped lead La Viola to the Champions League and he was quickly a fan favorite, showing flashy skill and cheeky confidence along the way. He scored all but one of his goals in games he started, scoring once in 214 substitute minutes.
Osvaldo's overall minutes per goal average improved, reaching an average 32 minutes of playtime less per goal. His first season also saw a drastic improvement in the number of cards he received, with two coming in the game away at Juventus, one for a foul, the other for removing his shirt in celebration of that extra-time winner…sign of things to come in more ways than one… Still, not a bad first Serie A season at his age at all. His assistance in the team's European fortunes would come back to haunt him the following season however.
Fiorentina & Bologna (loan) 2008/2009
*Sniff* … Hey look it's…*SNIFF*…I'm hopeless…
Age: 22/23
Appearances: 25
Starts/subbed on: 10/15
Goals scored/assists: 0/1 (I know mates, hang in there, he gets better if you keep reading…)
Goals/appearance: N/A
Goals/90mins: N/A
90mins/goal: N/A
Minutes played: 1,064
Minutes/goal: 1,064/0 … (bear with me folks)
Yellow/red cards: 4/1
Shots/on goal: 35/7
Positive first season followed by one better? Not so much. His second season in Florence would force him to the fringes of the team as the new-look Viola competed for European glory with new players. Our hero and fellow young striker Giampaolo Pazzini spent the majority of the season on the bench as former Milan forward Alberto Gilardino paired up with Adrian Mutu in the starting 11. The forward completed 90 minutes only three times total in the season. Desperate for playing time, Osvaldo transferred on loan to Bologna in January of 2009.
Things weren't all rosy anymore for ol' Ossy.
Although he was afforded more playing time towards the end of the season, he still failed to score, but did manage an assist, as he was played in the second striker role from time to time.  His creativity and will to set up teammates could be noticed as his position in the team fluctuated, dropping into passing lanes to turn provider at times. Fiorentina had not been convinced enough to retain him from his performances on loan, and with their new shiny firepower up front, it did not look as though they needed Pablo any longer. Later that summer, Bologna would buy him outright for a further €5 million in addition to the initial €2 million outlay to take him on loan.
Bologna (permanent) 2009
Age: 23
Appearances: 13
Starts/subbed on: 4/9
Goals scored/assists: 3/0
Goals/appearance: 0.23
Goals/90mins: 0.41
90mins/goal: 2.44
Minutes played: 660
Minutes/goal: 220
Yellow/red cards: 1/0
Shots/on goal: 30/11
Dude…the hair…
With a fresh buzz-cut (crazy, I know) and vengeance in his veins, Osvaldo started the 2009/10 season with aplomb, aaaand then didn't do all of much after. In the first game of the season, he scored a powerful header against former side Fiorentina, then refused to celebrate (if only he'd keep up that kind of class in all areas of his career…ANYWAY…). He was afforded further starts and play time early in the season but was soon overshadowed by others. He began competing yet again for play time, this time with veteran forwards Alberto Zalayeta and the late blooming Adailton. All vied to occupy the space next to captain Marco Di Vaio.
Once upon a time in Serie A. Oh Brocchi. Thought this was simply too funny to ignore.
By week 10 of the season, our protagonist played an average of 57 minutes per game, not too bad; but the remaining nine weeks he would only play a dismal average of 19.25 minutes per game. He did improve in two areas in this lackluster six month period; his minutes per goal ratio was restored to the levels in his successful first Firenze season, and he only received one yellow card. During the winter of 2009 I counted three times he didn't even make the 23 player list. Transfer season rolled around and once more, Dani would be looking for a club that could assure him good minutes consistently. He found just that in Spain with Espanyol de Barcelona.
Espanyol (loan) 2010
Age: 24
Appearances: 20
Starts/subbed on: 17/3
Goals scored/assists: 7/1
Goals/appearance: 0.35
Goals/90mins: 0.44
90mins/goal: 2.25
Minutes played: 1420
Minutes/goal: 202.8
Yellow/red cards: 7/0
Shots/on goal: 66/26
Beginning of many good things to come.
In January of 2010, Pablo Osvaldo transferred on a six-month loan to Espanyol. He finally found game time again, and would gain valuable experience playing full games agains the likes of Real Madrid and Barcelona. He provided a much needed attacking focal point for the Barcelona outfit. In 20 games he notched a lively 66 shots taken and 26 on goal, giving him a commendable average of 39% of all shots on goal. His seven goals would more than double the next best goal tally on the team; that of Luis Garcia who contributed three. His impressive charge convinced Espanyol to take up another loan for the player for €500,000 in June of 2010, but would eventually pay €4.6 million to Bologna on deadline day for his full services.
Espanyol (permanent) 2010/2011
Age: 24/25
Appearances: 26
Starts/subbed on: 23/3
Goals scored/assists: 14/3
Goals/appearance: 0.54
Goals/90mins: 0.68 (This is a really, really good number for a box striker, especially on a small team)
90mins/goal: 1.47
Minutes played: 1,860
Minutes/goal: 132.86
Yellow/red cards: 4/1
Shots/on goal: 68/45
Emblematic of an incredible personal season.
The season opener at home vs Getafe would show Dan the Man's (think he'd like that one…) intent for what would come the rest of this season, as he scored two goals in a 3-1 win. Start as you mean to go on, and go on he did. Dani boy's (will he punch me if I call him that?) 2010/11 season would put him on the map, both for club and country. Finally having found a a club, a home rather, where he was deemed a real favorite and indispensable, Osvaldo made the absolute most of the chances he had  to play. The fan's hero did however lose out many of those chances by missing 12 games due to injury with a pulled ligament and torn abductor muscle, respectively. Nonetheless, he scored freely both before and after his major mid-season injury.
His numbers this season are quite…um…delicious. He scored an average of a goal every game and a half during this year. He scored goals against bitter rivals Barcelona, strong Sevilla and Valencia sides, home and away against Bilbao, and three total against Atletico Madrid. 45 of his shots were on target of the 68 he took, that means 66%. That is a great rate, but he could have done even better had he converted more than his 31% of shots on target into goals. Nonetheless, D.O. showed that he was fo'sho…okay, I mean…um yeah, he showed he could score against the big boys… So yeah, young player, big season, at a small team? That means get ready to pack your bags. Again. Dani, *just hold on, you're going to Rome…Going to Ro-ome* … Aw yeah.
Roma (permanent) 2011/2012
A name they'd come to remember.
Age: 25/26
Appearances: 26
Starts/subbed on: 24/2
Goals scored/assists: 11/5
Goals/appearance: 0.42
Goals/90mins: 0.47
90mins/goal: 2.1
Minutes played: 2,088
Minutes/goal: 189.8
Yellow/red cards: 3/2
Shots/on goal: 74/26
In a move whose fee was €17.5 million total after bonuses, The Ozzmonster (yea? nay?..nevermind..) would solidify his name into the ears of football fans. Finally a starter at a club known worldwide, playing alongside such names as Totti & De Rossi (however you feel about them, they're still pretty good players…). Osvaldo had made it to the big times! …In a season where he would finish in 7th place… STILL…his 11 goals in this campaign would make him top scorer on his team. Osvaldo began his campaign with a goal against his former club Bologna in the first match of the season, and scored a goal a game from the 4th through the 7th week.
He's fast when he wants to be. True story.
He took a total of 74 shots with 26 being on target, giving him a 35% shots taken/on goal rate. Quite telling compared to those of his in La Liga, aye? Serie A, always testing the mettle of strikers. Of those 26 on target, 11 finding the back of the net translates to 42% of shots on goal beating the keeper, improving in that area. Playing for Luis Enrique in the Barca-esque 4-3-3, he played many games as the left forward in a trident attack alongside Francesco Totti as the false-nine and Fabio Borini. He scored five of his 11 league goals playing from initially non-central attacking positions. "Initially" because he would make expertly timed runs from those initial wider positions into the central space left empty by Totti dropping into the hole.
Roma (permanent) 2012/2013
Hug me, I score goals and have sweet pit stains
Age: 26/27
Appearances: 31
Starts/subbed on: 26/5
Goals scored/assists: 17/2
Goals/appearance: 0.54
Goals/90mins: 0.64
90mins/goal: 1.55
Minutes played: 2,384
Minutes/goal: 140.2
Yellow/red cards: 6/2
Shots/on goal: 91/34
The first goal of a defining season came against Catania in what was a early goal of the season contender; a brilliant run finished off with an incredible overhead effort. The second game of the season was away at Inter, where he would score a classy chipped goal, and then go on to collect two yellow cards by the 90th minute for his only red of the season.  In the next two games he would feature in, he scored a further three; one against Juventus and a brace against Genoa. He proved a clever penalty taker scoring three in the campaign, while heading five into the goal.
King of the castle, king of the castle
He scored against Milan and Napoli in back to back games. A hat-trick against Siena with two of his finishes coming off his left foot further proved his versatile worth late in the season. His final of the season was an extra-time winner against Fiorentina in the third to last week.
Kinda really want to see his first one of these for Inter soon. He's good at them.
He did receive a three game suspension after scoring in the Coppa Italia against Atalanta. After the final of that competition, which was a derby loss against Lazio, Osvaldo tweeted angrily to temporary manager Aurelio Andreazzoli. "You would do more good if you admit to being incompetent…go and celebrate with those of Lazio," he did not last long in Rome after that…
pewpewpew pew pew 
Osvaldo Roma Rap Sheet:
His goals were not the only story on his return to the peninsula. We all know about the odd and often temperamental nature of Pablo Daniel Osvaldo now, but before his Roma move, there were few signs of anger issues from the striker. His stay in Rome would change all that.  After the 2-0 defeat to Udinese, Osvaldo slapped then-team-mate Erik Lamela across the face for not passing the ball to him at one point. As one would expect, he was fined and suspended for his strong-armed actions.  He called in sick after returning from Argentina during the season's winter break, consequentially missing Roma's US winter camp, which angered Roma's American owners.
Osvaldo knows the refs pretty well…maybe even as well as Agnelli? JK, nobody knows them as well as Agnelli.
Osvaldo won a penalty against Sampdoria which captain Francesco Totti naturally stepped up to take, but the Argentine-born striker argued to take it instead. He did so, and missed, much to the repulsion of the Roma faithful.
When he scored in his first Rome Derby he removed his shirt showing "I have purged you too" underneath to recreate Totti's famous "I have purged you again" celebration … a premature and disrespectful gesture in the eyes of the Giallorosi officials and tifosi as they went on to lose 2-1.
Expressive, yet a tad tasteless…
Further episodes that left negative memories in the minds of Romans included staying in a hotel in London while the rest of the team fought for their colors in the Roman derby and tweeting derogatory messages to his coach. The list goes on a little further but you all get the point. He was a naughty lad at Roma. That would continue into his next adventure, the goals however…well…not so much.
Southampton (permanent) 2013 
Much promise. Such style. Very mislead.
Age: 26/27
Appearances: 13
Starts/subbed on: 9/4
Goals scored/assists: 3/0
Goals/appearance: 0.23
Goals/90mins: 0.31
90mins/goal: 3.16
Minutes played: 855
Minutes/goal: 285
Yellow/red cards: 3/0
Shots/on goal: 28/12
"It was hard to adapt to English football at the beginning…" lamented Osvaldo about his time at Southampton while speaking in his first press-conference with Inter.  The Saints would break their transfer record and dish out a total of just under €20 million for the then Roma striker in the Summer of 2013. Much hype surrounded the Johnny Depp doppelgänger before the season, with his bad-boy, rock-star demeanor and outlandish style covering the tabloids. While his impact on the media was heavy metal, on the pitch, he simply looked heavy.
When you realize you left your keys in your car. Or that you haven't scored in months. Either one.
He wasn't adapting to English football as quickly as his manager Mauricio Pochettino had wished. Pochettino had coached him during his prolific time at Espanyol, and so aimed to bring someone he knew from past coaching experience would deliver under his methods, a la Jose Mourinho style. The results were anything but special though. Dani claimed the defending was much more physical and brute, hindering his style of play.
He mentioned the physicality and pace of the English game took some getting used to. That's his "getting used to" face.
His first goal was a beautiful left footed finish from the 18 against Crystal Palace. Games passed and he simply couldn't make his mark. The game was quicker and he wasn't receiving the kind of service he had from Totti & Co. Still, in classic Osvaldo style, he would go on to score one of the goals of the season against Manchester City with what was a brilliant long range solo effort after turning several defenders. Sadly however, seeing the words "goal" and "Osvaldo" while he was in England was as rare as is going on Instagram and not seeing a NSFW picture of Icardi and Wanda…okay, he didn't score much. On the pitch at least…
He wasn't a happy camper in England. Maybe he just missed the sun? Yeah, sure. That.
Game after game, he simply could not get into his stride.  He totaled a very underwhelming three goals total in his half-season stay in Hampshire. 42% of his shots (12) were on target, but only a poor 25% (3) of those chances were converted. He very well may have stayed longer than a single half-season initially, if it weren't for his unfortunate behavior.
Mortal Kosvaldombat
He was found guilty of instigating a touch-line brawl against Newcastle and was suspended for three games for his participation. While he wasn't making things easier for himself during games, in between games, he made it all the worse. During training in January of 2014, he was on the receiving end of a rough challenge from Saints captain Jose Fonte. His reply to the tackle culminated a fight with the well-respected center back, and Southampton's response to that action was that loan move away to Juventus. Ew.
Juventus (loan) 2014
Osvaldo's face when he either found out that he missed the AC/DC concert, or that he's going to start the next game on the bench, again. Probably the first. He got used to the bench at Juve…
Age: 28
Appearances: 18
Starts/subbed on: 8/10
Goals scored/assists: 3/1
Goals/appearance: 0.16
Goals/90mins: 0.12
90mins/goal: 7.7
Minutes played: 696
Minutes/goal: 232
Yellow/red cards: 1/0
Shots/on goal: 23/6
Metaphorically trying to break through into the Juventus squad, unsuccessfully of course. Or maybe just breaking past two opposing players…I'll stop with the poetry.
Brought in to give rest to their more prominent attackers for the Europa League, Osvaldo was never going to play much at Juventus. This stay did have one huge impact and successful factor though: Antonio Conte. At this turbulent moment in Osvaldo's career, a strong leader was necessary to keep him in line and return him to professional ways. Conte did just that, and Osvaldo grew into a more mature player in his time at Turin. He scored against Turkish outfit Trabzonspor twice home and away in the Europa League. His most memorable goal however would surely be the last minute winner against Roma away at the Olimpico that sealed the Scudetto for Juventus. 26% of shots on target is a poor stat, although half of those on target being converted kinda makes up for it I guess kinda sorta…meh. Juventus smell.
Azzurri
Age(s): 25-28 (currently eligible to return)
Appearances: 14
Goals scored/assists: 4/2
Goals/appearance: 0.28
Goals/90mins: 0.10
90mins/goal: 2.4
Minutes played: 865
Minutes/goal: 216.25
Yellow/red cards: 0/1
The current team is missing all the bad-boy flavor it had not so long ago…for better or for worse…
Osvaldo made his international debut for the senior Italian national team In September of 2012. Osvaldo scored his first, and second international goals, both coming against Bulgaria in a 2-2 draw in Sofia. He scored his third against Armenia, and one year later, his forth against Denmark. The presence of Balotelli has always been hard to overcome, but with Mario out of the loop, Osvaldo definitely has a chance to stake his claim on a starting spot. His minutes at Inter have helped him get back into the game-day squad. He has since re-entered the Azzurri fold with recent Conte call ups after being dropped from the squad for the World Cup. A lack of game time at Juventus was an obvious reason for this, but further more, his antics at Southampton surely didn't help his chances. He can change all that in the next couple months at Inter.
Two Inter players desperate to cement their places again in the Azzurri starting lineup under a certain coach…
Concise Peer Comparison 
Icardi: D.O. dribbles more often and to greater effect than Icardi, although Icardi plays more centrally anyway.
Both are box strikers, but Osvaldo will drop a little deeper or further wide to receive the ball and affect play.
Osvaldo likes to create plays as well as finish, whereas Icardi is better suited to simply finishing them. The two have since shown that they can play together and create space with layoffs and runs into space for each other.
Chicharito: Chicharito, opposite of Osvaldo, is the quintessential super sub, whereas PDO has shown he does best with consistent minutes.  Both are great on the counter, a style that Inter has always thrived on, although the Mexican has an obvious edge in speed. Osvaldo has much better on the ball ability however.
O has Serie A experience in loads. While the "Little Pea" is as big a marketing magnet, Osvaldo was much cheaper and safer option for Inter. Given the offer Real made to bring him to Madrid, it seems there never was too great of a chance to bring the Mexican star to Milano.
Playing Style
Fast on the break, positions well to both contribute to, and then finish the counter
Plays with flicks and flair
Likes to drift wide left & make runs in behind
Tries to occupy & split the central defenders
Makes runs from the far post to the penalty spot
Enjoys cutting onto his favored right foot from the left past defenders
Acrobatic
Capable of running channels depending on strike partner
Very physical
Likes to set others up
Looks for 1-2′s and layoffs
Brings the ball down for self & others with chest & head

A taste for creativity as well as lethal ability.
Pros
Very strong, physically imposing
Aerial threat
Sublime first touch when peeling away from the back line, sets himself up well to face goal
Experienced, calm, and composed finisher, something we've lacked since Milito of 2012
Another player to add to the new-look grinta face of Inter
Can quickly become a cult figure at the club
Unselfish if other players are in better positions
A real individual, media icon
A player whose celebrations, hairstyle, etc could be emulated by kids in the parks & streets
Great positional sense in the box. Right place, right time.
Cons
ugh…so typical…
Very poor disciplinary record; career total 40 yellow cards, 5 red cards… 
History of fights against other teams, and worse, within locker room
His dreams of being a rock star individual can translate to disrespect among his own team & their fans
Poor offsides awareness
Can be lazy at times off the ball
My Assessment
For one, I love this deal in economic terms. For a 28 year-old striker that was valued at upwards of €20 million less than a year ago, one who has all the reason in the world to show his top worth again, I think we all have to applaud Ausilio for this deal. Whether it proves fruitful or not, that is not up to him. However, a free season loan, a salary of €2 million, with the right to buy for €7 million is a steal. If Mazzarri can pull a Conte and keeps him in line (which I think he definitely can) I don't think we have to worry exceedingly about his behavior. We have already seen glimpses of talent from him and I believe his hunger to return to the Azzurri and to the top of the scoring charts will show in his outings for Inter.
He does need minutes however, and that may become an issue. That depends on how Icardi does, if they can continue their strong partnership, how he does with the initial chances he's given, and what kind of form Palacio is in this season. The disappearing act "Mr. X" pulled on us all as transfer deadline day came and went may prove a magical opportunity for the effervescent striker. So far, he has done very well with those opportunities with three total goals already, all classic poacher's goals, finding the right space at the right time. He's chipped in four assists in those four appearances as well, so all the playmaking I spoke on earlier in the piece definitely has shown even this early in the campaign. He's had three goals and four assists in 365 minutes so far. Great early numbers.
Danger duo.
What's that you say? Against bottom-feeders? Perhaps. But with someone that has shown he has what it takes to succeed against top competition, that is no issue. The issue is him being comfortable in order to express himself, where he has been able to do so, he's been dynamite.
He has fit right into the team setup, has been training smoothly and amiably, and is just another one of the boys. If he keeps up his current run of form, he will definitely sell shirts, and become an icon at the club. There is no sign of the laziness some lamented as he has shown a hunger to chase down the ball up the pitch, and he has yet to show any immaturity.
I am more than optimistic about this move and in the faith that he will succeed with us. It's all for him to mess up, which is the best we could hope for. The ability is there, the drive is there, the authoritarian figure (Mazzarri) is there, the creativity behind him is there, and the hunger in a young and motivated squad is there. Kovacic and Hernanes/Guarin could fulfill the role Totti and Pjanic played for him at Roma, or of Verdu and Sergio Garcia at Espanyol, supplying him and creating space. He has shown drive, he's shown playmaking, strength, great ball control, and his classic improvisations. He's shown he means business, and we can only hope it continues, because so far, he has done well with the chances he's been given.
Hopefully the first of many of his machine-gun sprays into the Curva Nord this season.
What do you think? Will the good stop now and will the Southampton demons take over? Or will we see the return of Espanyol/Roma Osvaldo? I'm betting on the second. As long as the current conditions continue, I'm not worried. Given minutes, but still, with adequate rest. I am running late to my internship however. So I'll be off now. Ciao fratelli, and I hope you enjoyed your time if you made it this far, probably the longest thing I've ever written, in, or out of school…for whatever it's worth.
PS: What a game at Palermo… The more things change, the more things stay the same huh? Mourinho's handcuffs come to mind all over again…
In any case. Onward to forever bogey-team Atalanta.
Dai ragazzi!
Sources: asroma.it, whoscored.com, dailymail.co.uk, squawka.com, transfermarkt.co.uk, uefa.com, espnfc.com, goal.com, bbc.co.uk/sport, bolognafc.com, saintsfc.co.uk, soccerway.com, gazzetta.it, juventus.com, skysports.com, Rai Sport