Deutsche Bank and Inter continue partnership together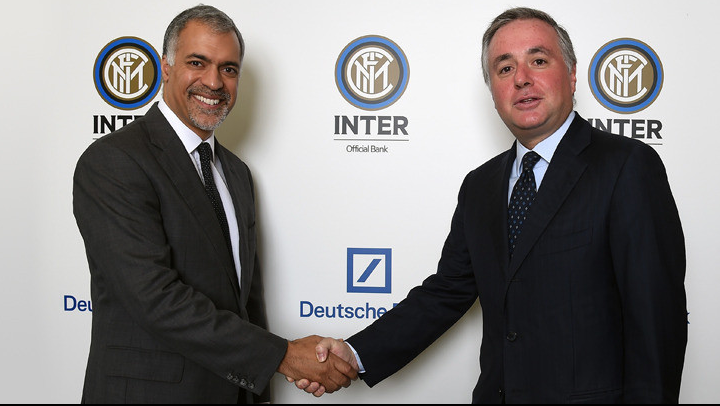 A partnership between F.C. Internazionale and Deutsche Bank has been confirmed for the 2014-15 season and the bank will remain Inter's top sponsor. Here is the official statement released by the club:
The partnership between Deutsche Bank and FC Internazionale has been confirmed for the 2014/15 season. The bank will again be one of the club's Top Sponsors and its Official Bank. For the second consecutive year, the two companies, who have common distinctive features such as brand solidity and an international vocation, will work together to develop products and services for the bank's clients and the club's fans.
On signing the extension to their sponsorship agreement with Deutsche Bank, Inter CEO Michael Bolingbroke said: "We are very proud to extend our relationship with Deutsche Bank. The agreement reflects perfectly our strategy of partnering with premium international brands and market leaders, as we are in the football industry. This is our second year of partnership and after a first phase focused on establishing a strong brand association, we will now concentrate on an activation program aimed at creating additional value for all Inter fans."
Flavio Valeri, Chief Country Officer Italy, Deutsche Bank stated: "We are delighted to work alongside FC Internazionale again as Top Sponsor and the club's main bank. Both of us have a long history of excellence and professionalism in our own areas. Working together is a byword for success and bears witness to Deutsche Bank's commitment to Italy, the Group's main European market after Germany."
Deutsche Bank confirms its platform of products and services for the football club world and is already at work to enrich its product offer with a free Nerazzurri ATM card coming with DB Privilegio Inter current account.
As Top Sponsor, Deutsche Bank will, among other things, enjoy increased visibility for the bank during matches at the Stadio Meazza.
Source: Inter.it