Walter Mazzarri: "We have many problems"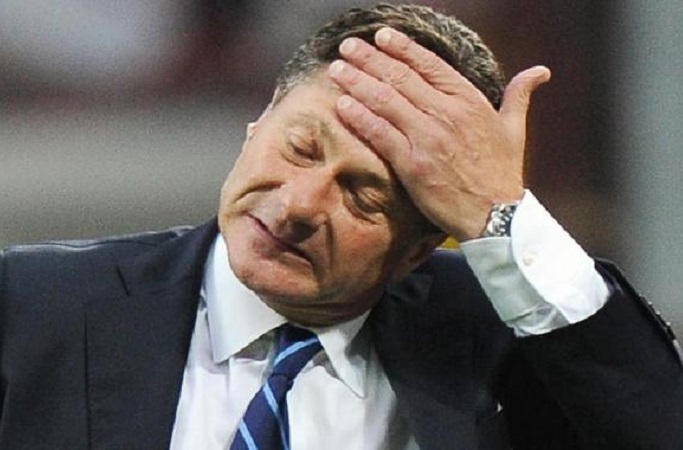 Walter Mazzarri was interviewed by Radio Rai and BeIn Sports after the heavy defeat against Fiorentina away at Stadio Artemio Franchi.
"Words are of very little use today. I've already spoken to the boys as so many of them are called away for international duty so we have to only work in order to solve the many problems that we have. I've already told them what I want to say, we are all angry with the result and with how the match went and how it finished."
"I'm sure that we will come back soon, but we have to work in order to resolve the problems in the shortest time possible. The tactical line-up? It doesn't depend on that at all, I didn't like the way the match went, but I don't want to talk that much about the match. We know what the problems are and we have to work, as I mentioned, in order to resolve them. Talking now doesn't do any good. We thought that some could perhaps be overcome by a psychological shock but it didn't turn out like that. We're looking forward."
Moments later he was interviewed by Sky Sport where he continued on the path he'd started in the previous interviews.
"Whoever speaks after a 3-0 defeat suffered in this manner would be making a mistake. Everything is clear to us, I've already spoken to the players. We have problems, you can't hide this fact. We were able to mask them a little bit in the Europa League match but tonight they were there for all to see. I tried to give them a shock but I knew that we weren't in a great physical shape. I've said that we need to work in a certain way during the upcoming 15 days, we have to enter the pitch in a different condition in the upcoming match."
"If it's an error in the tactical system? We changed things round but sometimes we were out of luck and sometimes we weren't good enough. When you go 2-0 down you lose faith and confidence, it's difficult to be able to react in a difficult place like here. Everything went bad. I think I know what is needed in order to improve. If we're missing a game plan? You make mistakes also due to lucidity. Up until the first goal by Cagliari we played some very good games. I know our world. Why isn't there a reaction? I could say what is happening but that would be like trying to find excuses. Then it's back to saying that I'm looking for excuses. I've been through moments like this many times before, I think the less I say the better it is. The important thing is that the players know. They are determined to come out of it."
"Palacio? Rodrigo know himself that he isn't feeling good. If he was feeling good then he would certainly play. We hope that we can use these 15 days to get him back into a good shape. It's not only him who has had these problems. For example, Medel arrived with an injury. These things make you pay when you have so many commitments."
In conclusion Mazzarri was asked about these problems he kept referring to, if they were only physical or due to other reasons to which he responded: "Not just physical issues, there are other problems. But I can't say any more. Luckily we're only 6 days into the championship so there is time to repair this. We've started a new cycle, we were hoping not to have these mishaps."