Terzo Tempo – Late Game Mayhem at the Meazza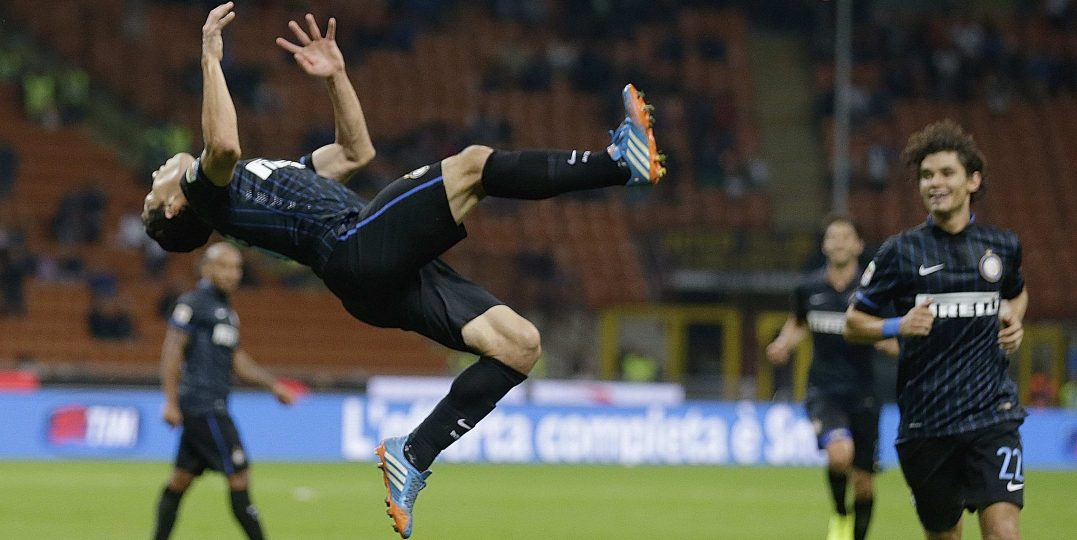 Inter took on an opponent today that has similarly under-performed this season. Napoli travelled to the Meazza just 2 pts up on Inter in 8th position, with the Nerazzurri occupying the 10th spot in the table. Moreover, Napoli's coach Benitez seems to be under similar pressure to that of Mazzarri, although both clubs owners have recently given their coaches a vote of confidence. Inter entered this match off the back of two poor performances against Cagliari and Fiorentina and looked to turn things around. Notably, Kovacic overcame fitness concerns to start, with Palacio supporting Icardi and Obi getting his first start of the season on the right wing.
The first half started well and both Inter and the Curva Nord were performing admirably. The players were running and the Curva's voices were echoing throughout the Meazza. Importantly, for the first time since the Sassuolo match the Nerazzurri came out of the gates with a degree of intensity and put Napoli under pressure. This Nerazzurri looked like a different team when compared to the games vs. Cagliari and Fiorentina, as the players were taking up good positions in defense and moving the ball forward quickly. Moreover, Inter were getting to the ball first all over the pitch and every Napoli counter-attack seemed to end in the same way, with an Inter player recovering the ball immediately and Gonzalo Higuain throwing his hands up in frustration. Napoli was reduced to a series of shots from distance and some poor long balls.
Inter's first half was almost perfect; however, a variety of chances all ended without the ball in the back of the net. Both Icardi and Hernanes were unlucky to not have scored with Mauro's volley tipped over and Hernanes hammering his shot off the woodwork. On the wings, both Dodò and Obi were getting forward and Obi was doing well to recover balls and help out in defense. Furthermore, Kovacic was making great runs, Gary Medel was omnipresent defensively and Ranocchia was performing like a captain. Although I wondered if we could keep this up or if our lack of finishing would cost us.
The second half started differently for Inter than in the first, as they seemed to be playing a more cautiously. The Nerazzurri were lucky to not go down from an Insigne shot but Inter were also getting their chances; however, their counter-attack lacked numbers compared to the large group of Napoli players defending. Vidic was unlucky to head over the bar from a corner but you felt like the game was just waiting to spring into life.
The game began to open up and both teams did not seem willing to go home without the points. A couple of defensive errors from Ranocchia and Vidic led to Callejon volleying past Handanovic. The Callejon goal was immediately responded to with a Guarin goal, which came off a great flick from Icardi. Inter were smelling the victory and Inter began to press heavily but Callejon once again put the visitors up 2-1 against the run of play. However, Inter were in the fighting spirit tonight and would not go home without points, as a superb header from Hernanes ensured that Inter would take at least a point from this clash.
Inter were nowhere near as poor today as they were against Cagliari and Fiorentina but they need to finish their chances better. I saw improvements in the pressure and intensity at the start of the match but the team was not able to maintain this tempo throughout. I also liked the performance from Joel Obi, as he made runs behind Napoli's defense and always got back to help. Moreover, it was good to see Palacio back at it, making runs into the wide areas. Sure, Inter walked away with an important point against Napoli tonight but I cannot help but feel like there were three points for the taking.