Sam Olsen – Mazzarri Fiddles As His Club Burns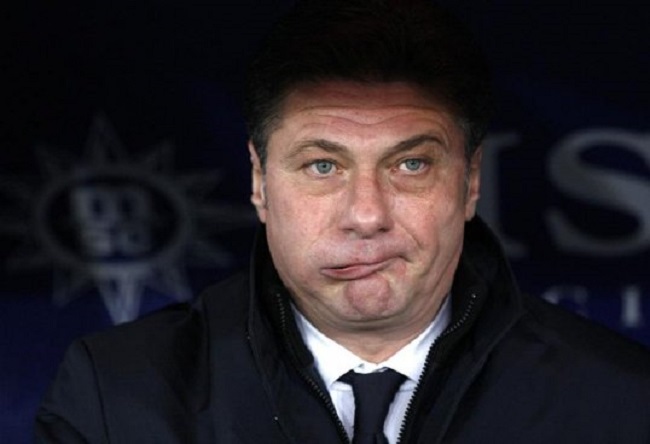 In his regular weekly column Inter fanatic Sam Olsen dives deep into the stories that matter to Inter's fans looking to keep the spirit of discussion and dispute alive and well on the pages of Sempreinter.com.
"If after two victories and a draw with Napoli these things are being discussed, then I really don't care what they say" Walter Mazzarri stated in a typically robust manner after being told of the banner that flew in Parma's Stadio Ennio Tardini calling for the return of Roberto Mancini; and why would he care? He is Walter Mazzarri after all, perhaps the most underrated, completely misunderstood manager in the history of the Serie A! It isn't his fault that things are not going his way after all he is just the coach. But for a raft of unfortunate events that constantly thwart his most technical and ingenious plans his team would have been headed toward a record run of draws. Inter after all had seemed to be flying after their miraculous last minute equaliser at home against Napoli, their uncomfortable 0-1 win away to the mighty Cesena and fortuitous 1-0 home win courtesy of a last minute penalty against high flying Sampdoria. A succession of results that any team would be proud of surely?
Mazzarri seemed to have got his team playing exactly how he had wanted to; do nothing all game, look as likely of scoring as the local geriatric home residents taking a short walk to the moon, and pick up the point via a penalty (Cessena/Parma) or the team deciding to actually play football rather than the usual tika taka for dummies (Napoli). Let's face it, Inter have pretty much been poor in virtually every game except for the walloping of a Sassuolo side whose capitulation looks all the more incredible for every performance this Inter side has put in since, and a couple of efforts against a ragtag bunch of amateurs from Iceland.
Against Parma, Inter under Mazzarri managed to somehow scrape a little more grime from the bottom of the barrel. Unfortunately anyone who listened to last weeks SempreInter podcast Studio Inter, will realise that the result itself was all too predictable. Why wouldn't it be? After all, we were playing the worst team in Serie A, who had managed to lose 8 of their last 9 games and who had looked to be already planning where they would head to for their summer holidays before the start of next season's Serie B challenge. Against Mazzarri's Inter however, they were suddenly transformed into world beaters; magicians weaving spells with their wondrous little feet. It was reminiscent of the match against Cagliari where Zeman's team, barely able to comprehend how to kick the ball prior to the home match against Inter, was suddenly turned into an attacking machine at the San Siro. In that match you could almost see Mazzarri's eyes cross as his brain struggled to figure out what was going on. In this match the shambolic manager showed he is a magician whose only trick is to make his own team disappear.
But what about the 70% possession I hear people scream, at least Inter won on that scorecard! Perhaps Mazzarri is turning this team into his own version of Barcelona, capable of passing the ball around in both a completely pointless and aimless fashion for 90 minutes. This Mazzalona's sole ambition will be to bore both the opposition and fans to such an extent that the game will be called off, giving Mazzarri the much wanted draw. The simple fact is that over the entire 90 minutes all this beautiful possession that Mazzarri seems to value so much, secured one solitary shot on goal in the entire match, a fact that most sane people would realise means that something is not working with whatever strategy is being employed. Unfortunately Mazzarri seems to have ruled himself out of the 'sane' category, with his oft repeated post match comments in which he once against blames all and sundry for the performance and resolutely sticks to his well used, but under firing, guns.
What the players must be thinking is anyone's guess. Some have said that the manager must have the support of his players for them to react so emphatically once going behind such as against Napoli, or to fight for a late winner against Sampdoria. That could be one explanation; the other is that on they are professional football players, who, despite what people say, are actually quite good at their job and want to win. Against Napoli, Hernanes, after spending the bulk of the match plodding around the middle of the pitch like a senile turtle, suddenly became a soaring eagle and flew into the box late knocking in the equalizer. Why he wasn't charging into the box like that for the other 85 minutes of the game is anyone's guess, well maybe Mazzarri knows, because he probably told him to sit deep and control the Mazzalona passing cycle.
And what of Icardi? I am sure he often forgets he is actually playing football when he wanders the pitch like a lost child, such is the dearth of opportunities that come his way. He stands up there making his runs, probably knowing that they don't matter because the ball will not be coming to him unless he goes back and gets it himself. He must surely be on his phone every night to his agent asking if Sampdoria are after a new striker because he wants to move on to a bigger club, rather than feed off scraps at this mid-table battler that Mazzarri is turning Inter into.
The sad thing facing all Inter fans is that, despite everything Mazzarri says to the contrary, Inter are not getting any better, they are getting worse. The fatigue, the injuries, they are all smoke and mirrors. Sampdoria, Parma, Cagliari, Torino, Palermo, Saint Etienne, none of these teams are world beaters; far from it in fact, most of the players in these teams would not even get customised heads in football computer games, they would simply be a bunch of generic drones bouncing around your screen. If someone gave me the choice of having Inter's playing roster and schedule, injury list included, over any of the line-ups of these teams, I would take Inter's faster than Moggi fixes a match. Yet Mazzarri still complains about the tough hand he has been dealt.
A quick look at the fixture list only appears to exacerbate a bad situation, after another potential bore fest against St Etienne and a banana skin against Verona, this Inter must play Milan and Roma before the month's end, two games that could potentially heap more Mazzarri induced embarrassment on the club. With the coach burying his head in the sand and refusing to change either his tactics or formation, but putting his faith in the hope that doing the same thing over and over and over again will suddenly create change, there seems little hope of Inter putting up a challenge for the top five let alone the top three this season. The only hope is for Thohir, who must bear some responsibility for the crisis with his ill advised gift of a new contract to Mazzarri, bites the bullet and lets him go, a scenario that most Nerazzurri can only pray will happen.
Do you agree with Sam? Discuss below.