Mancini's press conference for Inter-Dnipro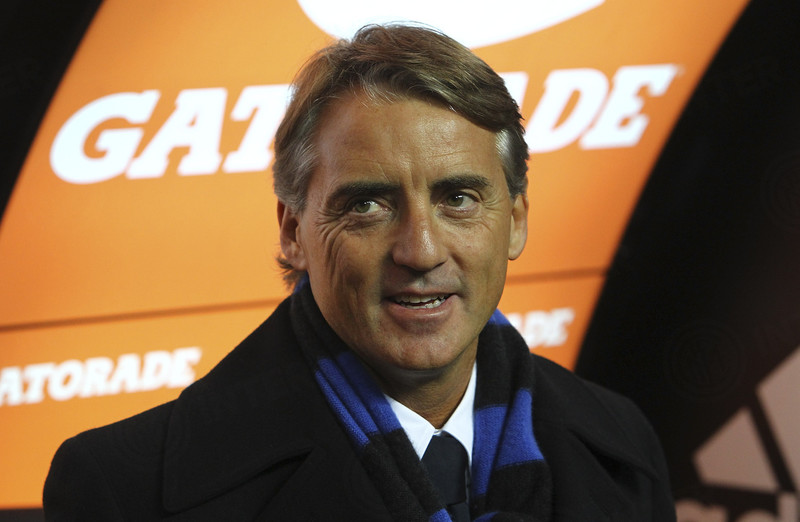 Inter will prepare for their first UEFA Europa League match vs Dnipro tomorrow.  Here is what Roberto Mancini said in his press conference:
What did you see in the derby?  What do you expect to happen tomorrow?
"We have done some good things and made some mistakes. This is the current situation.  After 90 minutes I was happy with how the team played.  Tomorrow we must be alert because Dnipro is a tough opponent that have done better away this season.  We must win at home and qualify.
Are you already preparing for the match against Roma?
"We will probably make some changes.  We must prepare for matches one game at a time.   On Thursday evening we will prepare for Roma."
How's Vidic doing? Were you convinced by the squad that was chosen to play in the derby?
"Now we have to put together different things, it is not easy to be compact and unscrupulous in the field. We need a few games, some positive results that give belief to the team. That's no time, sooner or later they will. Vidic missed two workouts for a little problem, I think he is  good now. I know him well, we were 'cousins' and I saw him play often. He has experience and will give us a hand. "
"Now we have to focus on different things.  It is not easy to be compact and attacking on the pitch.  We will need some more positive games to give the players more belief.  In not a lot of time, the players will have more confidence.  Vidic missed a couple training sessions because he has a small problem.  I think he is doing well now.  I know him well because we used to be 'cousins' and I have seen him play a lot.  He has a lot of useful experience."
How important is it guide the team on the pitch even though Inter could be banned?
"I'm very sad because of this, I got to know three days ago that I wouldn't be able to coach the team because my team entered the field late in the champions league against Chelsea.  Those are the rules."
In an interview you said that you made Balotelli. You have already seen some talented Primavera players.  Which ones would you bet on, for example Bonazzoli?
"Bonazzoli has been training with us.  He is young and has quality. He still has a lot to learn.  I've seen other talented young players.  Will I play young players in the Europa League? We have a lot of young players and I like to play them every now and then.  It is important to have the young players ready for the first team."
Would it be easier to bet a euro for inter to Inter qualify for the Champions League and coming 3rd in the league or winning the Europa League?
"I never bet (laughs). These are the two different competitions, we must manage both. We must work hard and give the Uefa Europa League a lot of attention."
In Italy is the EL snubbed, does it counts as much as the Coppa Italia?
"This year the competition will be even more important.  The Europa League is a competition that cannot be snubbed because if you end up in the knockout stage you have a chance to win the cup and end up in the Super Cup.  It is important."
Will Vidic retire at Inter? What do you think of Kovacic, who has interest from Real Madrid?
"The offers for Kovacic are normal, all good players get offers.  Inter must try to make him grow and make a difference in the coming years.  I have not seen Vidic play so far.  He used to play in the Premier League.  He is still settling in and it will take time to understand Italian football more. "
What was said during the meeting with Moratti?
"I met Thohir and Moratti because we had not met in a long time. We had a chat."
What do you think of Konoplyanka? How is Osvaldo?
"Osvaldo is doing very well, we will decide how to use him tomorrow.  Konoplyanka is a great player.  We must pay attention to him tomorrow.  He is one of the best players in Europe and could do well for any top team."
Have you outlined a strategy for the market with Thohir? Has he had a positive influence? You have a lot of young players as well.
"The meeting was quick, we only spoke on the phone. We talked about everything, we will have time to see each other again. This was the first meeting with Thohir. I believe in young players, especially in a team in trouble like the Italian national team. When we find young players, we help them grow and play with the team. "
What type of game do you expect tomorrow?
"We must try to win and confirm first place. Dnipro is better away from home.  They play aggressive football and they have technical players. They are dangerous on set pieces and on the break. It will not be easy, we must have a good game to beat them."
A month ago you organized a party for turning 50 years old? Will you cancel the party? What will you try to do at 50 years old?
"Yes (laughs). We should tell everyone who was invited. Who can do this work while being with young people who grow throughout the years? As a child my father who was 40 years old seemed old, I now I am 50 … I turned 40 and 50 while at Inter.  This is amazing."