Mancini's press conference for Roma-Inter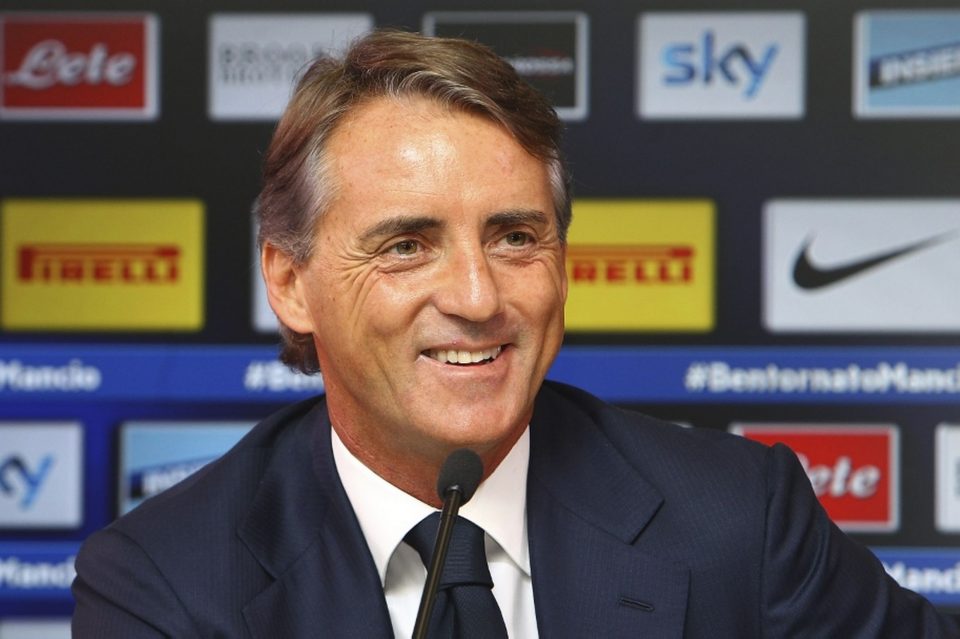 Inter will play Roma tomorrow in the late evening kick off at the Olimpico.  Roberto Mancini spoke to the press about his thoughts on the upcoming match.
Do you think Roma's draw in the Champions League will affect them tomorrow? "No, Serie A is another competition and I don't think it will affect them"
What things do you have to say about this Inter game?
"I think they are better than us, they have more confidence because they are in better form .  They have a great coach. This is a classic of Italian football, we have to be ready from the start."
What did you think of Medel? How's Kovacic?
"The Chilean has done well, as have the whole team. I still believe that we can improve. Mateo took a hit his small toe. He has been having some problems, but he has been training, so I think he will be available."
Will it be hard to not play Osvaldo?
"He is facing his former side.  Everyone wants to play these important games such as Icardi and Palacio."
Why do you think Palacio is struggling to score?
"It can happen, against Milan he did very well but he must eventually need to score a lot."
Can you explain the experiments you made for the Europa League?
"All of the offensive players should be able to play anywhere.  There are great strikers that have become great wingers.  Dodo can also be used there.  We will need time." Have you  seen Camara yet? "Not yet, but I've been told that he's very good." How much of a chance do Roma have to win the Scudetto? "They have a big chance.  The league is long and they have a strong foundation and signed good players." What memories do you get from this match? "I have had a lot since I'm 50 years old! (Laughs). I lived in Rome, I played for Lazio and I played in many derbies. They were the opposition, but I have never had special feelings towads the match. The matches against them have always been great."
Are you surprised by Totti? You still have never trained him?
"I'm not surprised, he is a champion. But I never had the chance to train him."
Will Totti have a place among the best of all time?
"Surely, there is no doubt. He has won less, but is a bit like me.  He has been marries for many yeas, but is still satisfied.  The entire city loves him."
What difficulties have Ranocchia and Juan Jesus encountered?
"It takes time, but I am convinced that they will form the perfect partnership. It it is crucial to defend with a back four."
Is Handanovic the best goalkeeper in the world?
"There are so many good ones, surely he is on the highest level. He is definitely one of the best, maybe the best in Italy."
Is having only three strikers a problem?
"No, I knew I had to work on this. I have three strikers, but we also have Bonazzoli and Kovacic".
Pjanic said that Napoli and Inter can will he Scuddetto. What do you think?
"Now we must not look at the standings, the season is a very long stage and things can always change. Roma and Napoli could win it."
Should we expect a few surprises from the training ground?
"Kovacic has important technical qualities, he is young and can play anywhere: in midfield, on the wings, and in other roles. He should not just play in one position.  He can be like David Silva, who became one of the best wingers in the Premier League.  Mateo must have different roles.
" Which answers will await you tomorrow?
"I want to see some good things, because this is a classic of Italian football which is important. Roma is ahead, but we must have the right mindset. We have to play like a real team, this will be a very challenging match for us."
How's Nagatomo?
"I do not think he will recover in time, but he could be available next week."
There are not any wingers.  Will this changes the team's formation?
"Within a few games the players will adapt.The players have to get used to different roles. The formation is never decisive."
Source: FcInternews.it