Dodò and Juan Jesus: "We want to honor the shirt every game"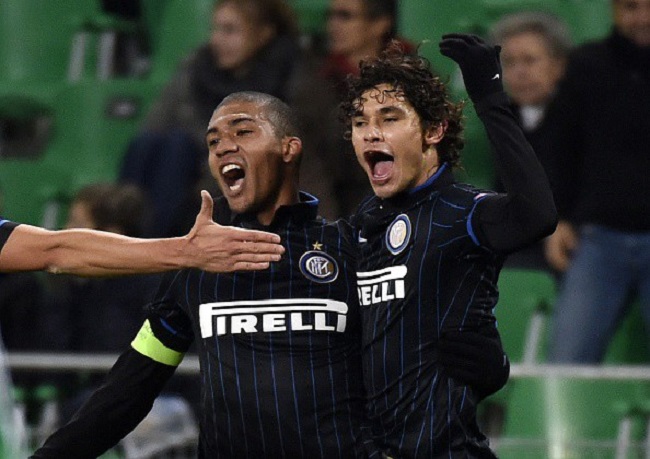 A pleasant surprise for the Nerazzurri fans: directly from the withdrawal of Marrakech, the Inter defenders Dodò and Juan Jesus were available to supporters answering their questions via the official Facebook page of the club. Here are some of the most interesting and curious questions answered by the two Brazilians just hours before the game against PSG:
What will change for you two from a defense of 3 to 4?
Both: "It's a change but you adapt quickly.  We have played both already, in fact we played more with a defense of 4 than 3."
Will Inter reach the Champions League at the end of the year?
Juan: "We hope so and we will try until the end. Knock on wood!!"
Dodò, what position would you prefer to play?
"Fullback in a back four."
What do you think of Mr. Mancini?
"The coach is good. History speaks for itself."
Dodò, how heavy is the number 22 on the shirt weighing?
"A number is a number, even thoug Milito was a great player for the club."
How long will you stay at Inter? Are you loyal to the shirt?
"We will do our best, in the meantime, we want to honor the shirt every game."
Which Brazilian player would you like to see with our shirt?
Both: "We both played with Neymar and we can't do anything but say him."
Juan: "Even if my heart says Coutinho."
What is the most exciting game, or most important for you at Inter?
Juan: "Juventus – Inter 1-3 the most beautiful and Inter Tottenham 4-1 the most exciting."
As an old supporter cheering for Inter for forty years I only have one request and that is: maximum commitment from here until the end of the season, by the whole team, then whatever will be will be, but I want to see much heart. I'm sure I won't be disappointed.
Both: "You can count on it!".
How about Bonazzoli?? I think he was born a bomber.
Juan: "He's a good kid! And you will see that he will give satisfaction to Inter."
Which players of the past (or perhaps current) inspire you?
Juan: "Lucio"
Dodò: "Roberto Carlos".
Will you give everything against Juventus? Can we win some silverware like Coppa Italia or Europe League with Mancini? Will we reach third place?
Juan: "They say that Warsaw is a beautiful city." (Warzaw will host the final of the Europa League 2015 ed.)
The best player of PSG?
Juan: "Ibrahimovic"
Dodò: "David Luiz."
On the match tonight:                                                                                                                                                                                                                                 Both: "A good test to start preparing for the match against Juventus, we want to play a great game."
Source: fcinternews.it