Mancini's press conference: "Shaqiri is not ready to play against Genoa"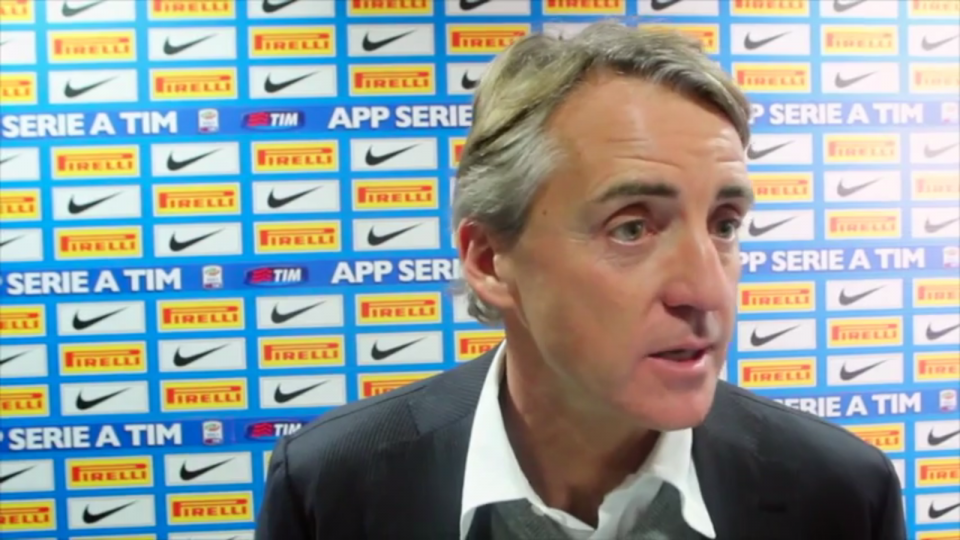 After the positive draw away against Juventus on Tuesday Inter is now ready to play the last home game of the first half of the season. Tomorrow's opponent at Giuseppe Meazza is former Inter coach Gian Piero Gasperini's Genoa, one of the revelations of this season with 27 points in the first 17 games and is only three points away from the pair Napoli-Lazio.
To not lose further ground in the fight for reaching the Champions League, Inter will have to win, also to give the perfect welcome to the newly arrived Xherdan Shaqiri and Lukas Podolski who has, however, already worn his new number 11 during the trip to Turin. As usual, to analyze the matches in the league, coach Roberto Mancini met the journalists in the press room at Angelo Moratti Sports Centre.
What kind of match will it be tomorrow against Genoa? From where will you start over?
"We must try to improve as a team and make things right, trying to make as few mistakes as possible. When we make mistakes, we conceed goals immediately."
With the new reinforcements, is this team the one you want?
"It has not changed much, in Turin we were the same except for Podolski. The team is numerous, some deserve to play, others less so. It 's normal that some may stay out, the important thing is the victory and that players give their maximum. Inter is still not close to that of my ideas."
What happened with Osvaldo? Has his fate is now been sealed at Inter?
"I don't want to talk about it, sometimes you talk about things you don't know anything about."
Which weighs more: The absences or the suspension of Kovacic?
"The absence weighs on everybody, now is the time to prove they can play."
Can Shaqiri play?
"Only 3-4 minutes (laughs). I don't think he can play, he hasn't played since December 19 and I don't want him to get hurt."
Who deserves the Golden Ball?
"I believe Neuer, the goalkeepers are hardly ever rewarded, but even Buffon and Zenga never won won. He would deserve it."
Where did the idea of paper messages come from?
"To make things right, only for that. In England and Turkey it was difficult to communicate at times, and reading could make it easier for players to understand the ideas."
Montella said he does not understand the FFP of Inter.
"If Vincenzo wants to he can go to our offices to ask. Our players here on loans, then we'll see in June."
What do you fear from Genoa?
"They are very dangerous as a team. It will be a tough match, we will have to give everything to beat them."
How is Vidic doing?
"It's been a month in which he hasn't played, he is not 100%, but we have no alternative. Vidic is experienced and thus he knows what he must do, even going through difficulties."
Thohir wants to make Inter a top team and the new arrivals bear witness to that. Do you hear the noise of the enemies?
"The tapir is cute, it's been years since I received it (laughs). We need to improve the team, but it takes time and sometimes we have to endure the difficult days. I am convinced that Inter will return to fight for the Scudetto."
Inter interested in Mario Suarez, what can you tell us?
"He is not only liked by us, but also other teams. I thought you said Luis! (Laughs). He remains a great midfielder."
Will there be more operations carried out on the transfer market?
"I don't know this, for now we have these two deals, but much will depend on the opportunity."
How did you convince Podolski and Shaqiri to come to Inter?
"I spoke to them, saying that we are a great club, and there are few clubs like ours. We have great appeal, perhaps some saw a club in difficulty, but new arrivals can help us get back on top."
What will be your next role?
"I don't know, first I focus on winning tomorrow."
Will Palacio have to undergo surgery?
"I'm sorry for his condition, he endured the pain and I see it every day getting better and better. I hope that this 'cleansing' can be done later. He has played for years and it is normal to have problems."
How much does this problem affect him?
"A little yes, of course. I repeat, I see him getting better though."
Could Bonazzoli play more?
"We have two boys, also Puscas, who are very good. We have many solutions."
FcIN – Will something be done also in defense? Considering that Nastasic looks close to Schalke 04.
"Juan Jesus will be out for many games, so we'll see if there's any chance to do something in defense."
Source: fcinternews.it