Richard Hall's Nerazzurri Classics: "Can Podolski repeat Klinsmann's hattrick in Verona?"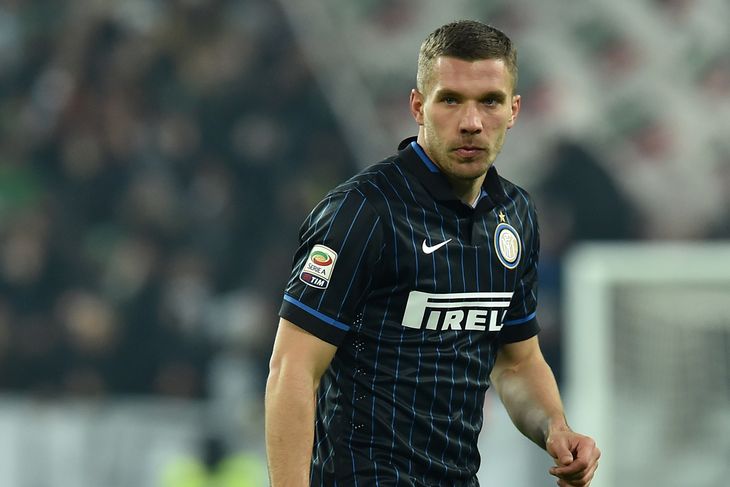 Every week SempreInter.com editorialist, Richard Hall, takes a look back at the glorious history of Inter by highlighting a certain match, hero or any other event in Inter's history worthy of being labelled Nerazzurri Classic's. Ahead of tomorrow's match against Hellas Verona, Richard looks back to the 1989/90 season where Jürgen Klinsmann gave a masterclass. 
When Lukas Podolski arrived in Milan's Linate Airport, he ended a 22 year separation between Inter and their habit of signing players from Germany. More that habit, it perhaps is in fact a love affair that started with Horst Szymaniak and ended with Matthias Sammer. The latter's exit perhaps tainted the memory of these Teutonic warriors due to the manner of the departure but it certainly did not erase the memory of the Nerazzurri's favourite German trio, Lothar Matthaus, Andreas Brehme and Jurgen Klinsmann.
Matthaus was an outstanding midfielder and had power, pace, and a devastating shot. This goal scoring central player was the engine room for the Nerazzurri and could change a game on his own. He was two footed and could dictate the play and create from nothing or form and lead a counter attack at will. His goal scoring (especially is penchant for the spectacular) was perhaps his greatest asset and he netted 40 goals in 115 appearances over four seasons. A spectacular return for a central midfielder but even more impressive when the goals he scored were often so crucial.
Brehme who had also arrived as part of the deal was brought in to play in a role we do not often see today. He would play in a deep laying left wing-back role that operated in front of a back three and year behind the deep lying midfielder. He has no counter-part on the right and was mainly due to Matthaus's engine and ability to cover the opposite side. Brehme quickly became an integral part of Giovanni Trapattoni's side and his pace, power and dead ball specialities saw him play 116 times over four seasons whilst picking up eleven goals. One of the best players in his position for his time, the German International left back could switch easily to midfield and this meant he was incredibly important to Inter during his stay.
A year after Andreas and Lothar had signed for Inter another German appeared. Jurgen Klinsmann (Bundesliga player of the year) added the contingent, signing from VFB Stuttgart and made an instant impact. Klinsmann threw himself into life in Italy and learnt the language quickly. The 24 year old was popular with the local population and integrated well on and off the pitch. His lanky frame and gazelle like running made him strange to watch but his finishing ability was second to none and 13 goals in his first season was impressive.
It was this trio who in the 1989/90 season travelled to a notoriously difficult Stadio Marco Bentegodi to play an ailing Verona side who had won the league only three seasons previous. Inter would finish third this year but at the time of this match all was still to play for.
The story was one of total Inter domination with Klinsmann single handedly destroying the opposition. His first goal came when a cross from Matthaus bobbled around in the box and was not cleared properly. The ex-Stuttgart man reacted first and volleyed home from close range to open the scoring early in the first half.
Towards the end of the first period Matthaus combined with his national team counter-part again to slide through a glorious pass that left the Verona defence static. Jurgen was rushing head on with Veronese keeper but managed cleverly to divert the ball past him for two.
His hat-trick was complete in the second half with probably the best goal of the lot. The pass to Klinsmann was a good one but (as was seen often with him) the fact that he got the ball tangled up at his feet helped him. In a manner only known to the German he kneed the ball into his own path before confidently rounding the keeper. It was his seventh of the season in only week 11.
Podolski may not even start against Verona this weekend but Inter fans will be hoping that if he does, the ghost of 'Jurgen's Tripletta' still haunts the Bentegodi.
Share your thoughts below & follow Richard on Twitter: @Gentleman_Ultra