Terzo Tempo: A Solid Performance and Three Points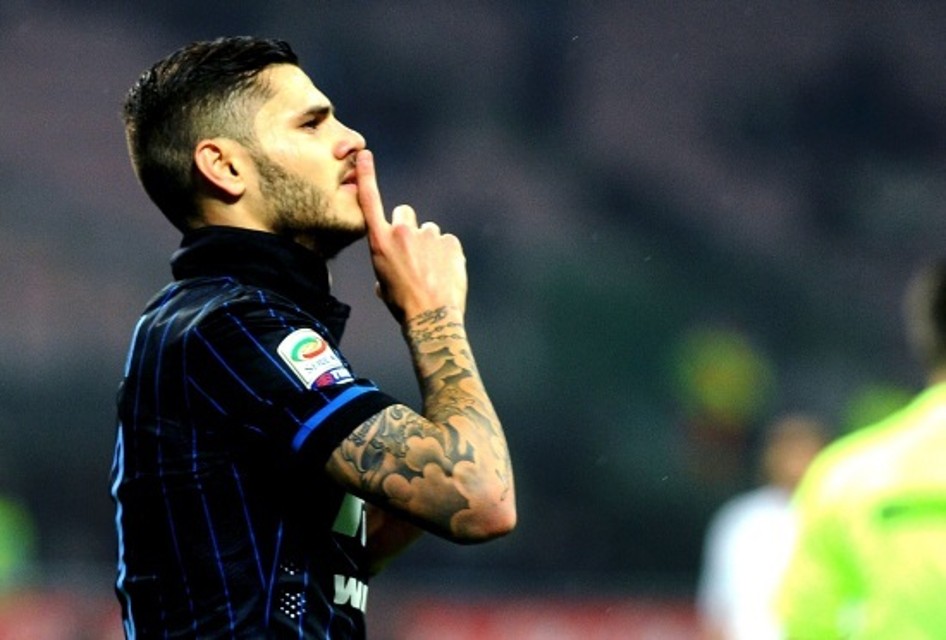 Inter welcomed a stuttering Roma side to the Giuseppe Meazza Saturday night in an important match for both clubs. The Roman side was looking to build up ground against city rivals, Lazio, who have leapfrogged Roma into second place in the table. As for the Nerazzurri, this match was an opportunity to put in a good performance and salvage some pride after a disappointing season, with Europe seeming less and less likely. Mancini relied on a similar lineup to last weekend with Gnoukouri keeping a place in the midfield and Hernanes holding down his starting position over Shaqiri. Moreover, Danilo was chosen ahead of Santon once again. Notably, Ibarbo and Gervinho started on Roma's wings and with that pace up front Inter would need to be smart at the back.
The match began cautiously at both ends with Handanovic stopping a De Rossi stinger and Icardi making a few good runs into the Roma box. Inter were not getting overrun in the midfield like in the previous encounter and youngster Gnoukouri was holding his own, keeping it simple and doing his job intelligently. Moreover, Inter were dominating possession. Inter's smart work and Mancini's choices eventually paid off with Hernanes making a profeta style play, taking a step at the top of the box and rifling a shot into the Roma net that would be heard all the way back in Rome.
The first half had a mix a positives and negatives for the Nerazzurri. For the most part they moved the ball well; however, concentration levels dipped after the goal and Inter started to cede space and possession to Roma. Moreover, the balls into the box lacked quality and Icardi was often the lone player making runs into the 18, with the midfield walking into the offensive third. Defensively Inter have begun to look much more solid than after the winter break and the partnership of Vidic and Ranocchia has improved on the previous tandem of Juan and Rano. Whereas previously we had either Ranocchia or JJ jumping out of possession to chase the ball, Vidic has brought a cooler head and better positioning to Inter's defense. Gnoukouri and Hernanes looked like the best two on the pitch for Inter in the first half in my opinion. Specifically, Gnoukouri deserves praise, as it is not easy for a youngster to walk into the middle of a three-man midfield and play so well. I am looking forward to seeing him develop.
The second half began with a couple of great chances for Icardi but the striker could not quite get his shots on goal. Unfortunately Inter missed a bunch of chances to kill off the game and Franceso Totti was replaced with a midfielder, which would in turn make it more difficult for Inter going forward.
Inter were also beginning to come under pressure from the visitors and they desperately needed to make some changes on the pitch. The Nerazzurri got lucky once with Florenzi firing over and Vidic saved us with a great tackle on the counter but Inter would soon pay as Ranocchia gave the ball away in the final third and Nainggolan made no mistake with his opportunity. Ranocchia deserves serious blame for his role in the goal; however, Roma were building up to this for a long time and Mancini did not react with a sub, which the coach could rightly be accused of many times this season.
The subs did finally come though with Kovacic replacing Brozovic in the 71st minute, quickly followed by Shaqiri replacing Guarin. With this, Inter slowly began to take more and more of the ball but Icardi, once again, missed a sitter in the Roma box. Mancini, seemingly sensing a vulnerable Roma, looked to the bench and made his final sub bringing on Podolski for Gnoukouri. With the Nerazzurri faithful on the edge of our seats, the substitute Podolski placed a slick pass into Mauro Icardi who fired Inter in front after a cool turn in the Roma box.
Without the few psychological errors this was a solid match from Inter, who certainly were not lacking anything compared to Roma. Notably, Vidic was very impressive in the second half and Kovacic looked great off the bench, making an incredible tackle on Iturbe. Lastly, Icardi missed a bunch of chances but he didn't let it get to him and buried one to seal all three points. The Nerazzurri have now played a few quality matches back to back and hopefully Inter can finish this season by giving us something to look forward to next year. Avanti cosi.