Headlines: Inter vs Juventus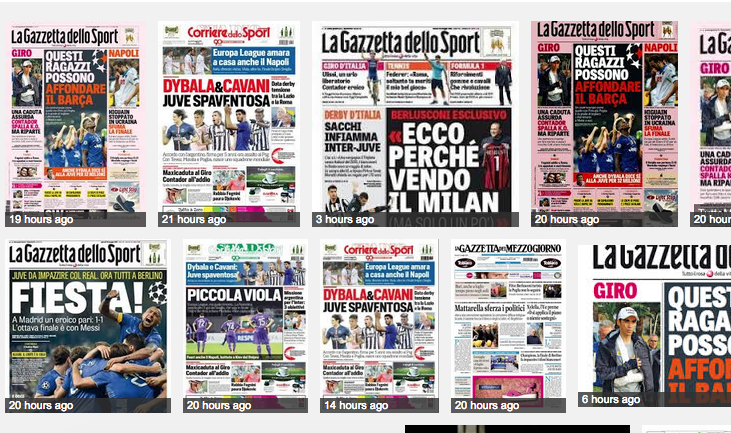 Here are the headlines of the three sister papers of Italy before Inter – Juve.
La Gazzetta dello Sport reports on the words of Arrigo Sacchi related to his claims of too many foreigners at Inter, fanning the flames of the rivalry: "Sacchi inflames Inter-Juve. Moratti asks for a gift for his 70th birthday." The photo cover is dedicated to the duel between Alvaro Morata and Mauro Icardi.
Il Corriere dello Sport focuses instead on the decision of Massimiliano Allegri not to include several starters for the match at noon: "The reserves of Juventus against Inter."
Tuttosport (Provocatively, paraphrasing from Allegri's point of view): "Sorry Inter, I have another commitment." They add: "San Siro, at 18:00, Allegri thinks only to Barça. The Juve coach looks to the Champions League final: 'I will leave Buffon, Evra, Pirlo, Vidal, and Tevez home. There is also the Italian Cup.' Icardi wants to take the opportunity to  catch up to Carlitos among the top scorers."
What do you make of the headlines? What catches your attention the most? Comment below!