Mancini's pressconference ahead of Genoa match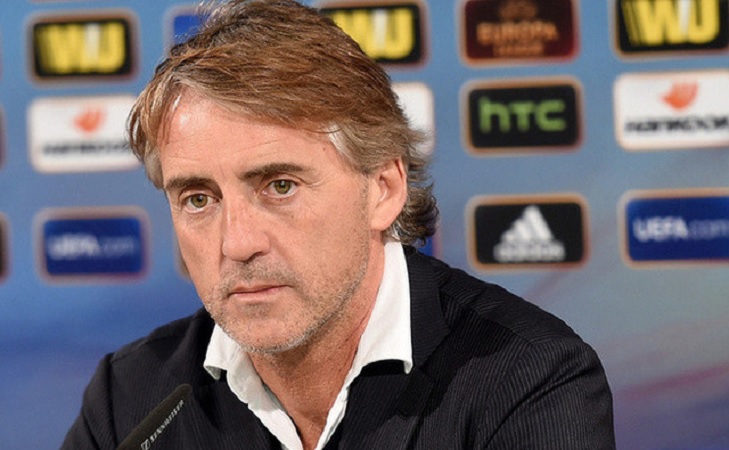 Inter will take on Genoa tomorrow at the Stadio Luigi Ferraris with a spot at Europe at stake.  The Nerazzurri sit four points behind the Grifone in the Europa League chase. Today, Roberto Mancini asked reporters' questions:
Since Genoa have not been granted a UEFA license, are Inter expected to make Europe?
"We have two games left, and our destiny is not in our hands.  If we win our next matches and Sampdoria slip up, we will have a good chance.  Despite losing undeservedly against Juventus, we still have hope."
Apart from Touré, is the club going to bring in defenders and strikers of the same caliber?
"We must bring in quality players because they can give the team what we are missing.  If we can sign players with the right qualities we will improve a lot."
Allegri has called his Juve a tiger, what animal does Inter remind you of?
"This Juve are like the Inter of 5-6 years ago.  They are the strongest team that have dominated the league.  It is pointless to relate the teams with animals.  We know that we cannot afford to make mistakes in the mercato."
How important are experienced players, and how has the team changed after parting was with the treble heroes?
"It is not easy to find these types of players, and sometimes you think that a player you know well can help the team.  It takes a lot of time to find players like that, but we are on the right track.  We need to find players that can bring important qualities to the team.  We must be 100% sure about what we are doing, and we must avoid taking risks."
Are you optimistic after your meeting about Touré with Thohir?
"The President is devoted to make a great team that will not only please me, but the fans as well."
Is Fekir ready for Inter, and what qualities would he bring?
"He is young and has great ability.  In his first season in Ligue 1 he has done very well.  He would be a great addition, but he is a Lyon player.  The fact that they will be playing in the Champions League will make it difficult to sign him.  He is definitely a quality player."
Will the match against Genoa determine if Inter make the Europe League? Is it the biggest match of round?
"It is out last chance, and hopefully other results will go our way.  I hope that in the future we will play matches with more at stake.  We are playing for Europa League Qualification. It will not be easy because Genoa are in good form and they play well.  We also play well away from home. "
Who is the leader in the back four?
"The defense has improved a lot in recent months.  I believe that it will get better by giving more players chances."
Do the lost points at home reflect the team's mentality? 
"The San Siro sometimes intimidates the players.  It should be a stadium in which we do not drop point like we have this season.  The team has now acquired a good mentality in order to play at the San Siro, but sometimes we have lacked the technical quality.  This can be seen against our absurd loss against Juventus.  If you dominate the match for only 45 minutes then you are missing something."
For the Champions League final will you be rooting for Juventus, or will you give Barcelona some pointers?
"It will be a beautiful match between two great teams.  It will be fun to watch."
Is it better to use the young players or the established team that can help the team qualify for Europe?
"Inter must always take the option that provides more guarantees, even though the young players have great potential.  Both things are important."
When you first came in, you were optimistic about qualifying for the Champions League.  Now do you think that you qualify for Europe?
"I am naturally an optimist.  We have a chance to get sixth spot against Genoa and we must do everything to win."
Will Vidic return to the center of defense? Could D'Ambrosio and Nagatomo play? What has happened to Santon?
"Davide has played some great games, and perhaps too many in a row, which has caused a decline in his physical condition.  Now he is not in the best condition, but he might play tomorrow.  He is a player that we will use in the future.  Playing so much has caught up to him."
If Handanovic leaves, would you prefer to bring in a young goalkeeper, or a 'low cost' one?
"We have a couple good young goalkeepers that we can call back.  Hopefully Handanovic will stay.  If he leaves then we will try to get an experienced goalkeeper."
If Vidic does not recover in time, will Juan play in the center with Nagatomo on the outside?
"Vidic has been training a little bit.  You will see tomorrow."
Will Alvarez be redeemed by Sunderland or will he return?
"I am not quite familiar with the situation, but I think that he will stay at Sunderland."
Xherdan Shaqiri is the first player of Albanian origin to play for Inter.  How have his first months been here?
"I know him well, and I have been following him ever since he was at Basel.  We are happy that we got him, and like Santon, his physical condition has declined.  He played some matches without even training.  Next season he will be very important.  His position? We have invested in such a great talent like him.  He can play on the right and in the middle.  Now we are focused on finding where he is the most effective."
Source: FcInternews.it