Terzo Tempo: The season is finally over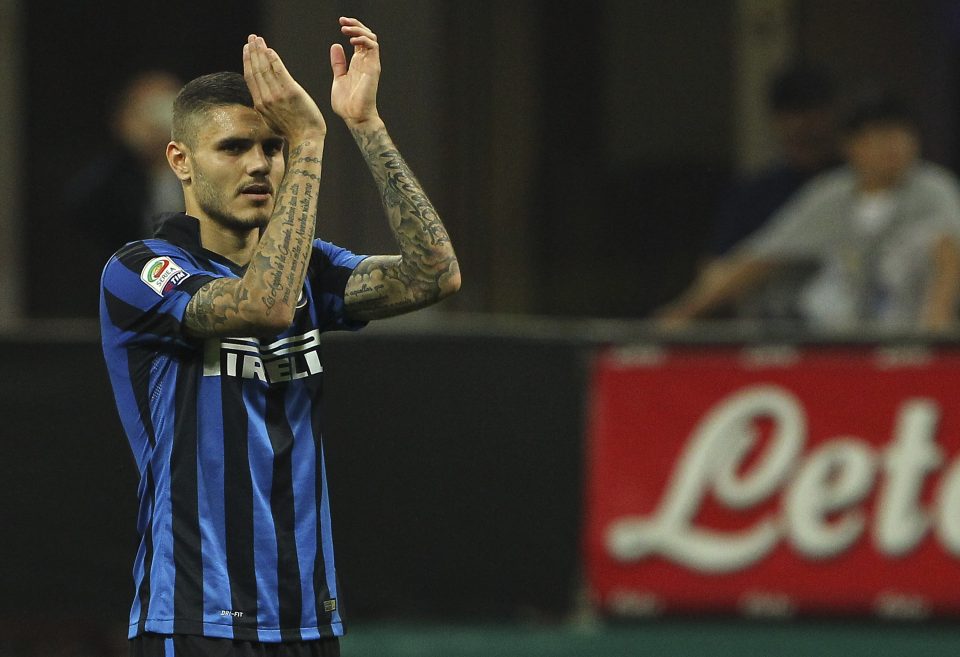 Seeing Inter marching into the San Siro with their beautiful new kits and having an Icardi that chased the top-scorer title at least made me feel excited before the game.
The coming 45 minutes of anti-football took away all this excitement but as bad as the first 45 minutes were, the starting ten minutes of the second half from Inter's side were great to match. The players came out the tunnel with fires lighted under their bottoms. Suddenly everyone was running, creating chances, and all kinds of havoc for an Empoli side that has been extremely solid in the defense this season.
Palacio scored the first one after Kovacic's pass reached Icardi. You'd expect the young Argentinian, chasing the capocannoniere title to finish when he was free with the goalkeeper, but instead he passed to Palacio. To remind you, this is the player that many people consider a selfish bad boy diva. A couple of minutes later another beauty from Kovacic found Icardi who scored to make it 2-0.
Here I really thought that Inter would finish the season calmly and greatly. Instead Inter showed all the problems the team has had during the season. Empoli crossed their half for the first time of the second half and scored a ridiculous goal to make it 2-1. The worst hadn't came yet and Empoli made it 2-2 before I could say Juan.
Empoli were close to making it 3-2 but a great save from Handanovic and a great block from Ranocchia saved Inter from going down and a couple of minutes later Brozovic gave Inter the lead again. I believe it's key to underline the importance and the qualities that Brozovic shows in every game. He is keen on joining the attacks, crossing, and creates chances (seven chances created today, most at Inter) and gets into good scoring positions.
Last game against Genoa the bar kept him from scoring but today he finally got his well-deserved goal. I believe that Brozovic might very well come to be one of the best deals Inter's has made during the last few years. With Inter back in the lead we were back into chasing that final goal for Icardi and after a great combination with Hernanes the Argentinian buried his 22nd goal of the season.
Inter let another goal in, created a few more chances and the match finished with a victory. Icardi is a joint-top-scorer in the Serie A together with Toni and Inter finishes 8th. The positive note on finishing 8th after winning this game is that Inter won't have to qualify for the Italian cup as we did under Mazzarri's first year. I also believe that missing out on the Europa League is a huge advantage for Inter the coming season, but I'll discuss that in a coming text.
Even though Kovacic was brilliant today, I expect more from a kid with his talent and qualities. He is rightfully praised after today's game, but to be honest more is needed than one good game against an Empoli side that didn't have anything to play for in the last round. This Mateo is the Mateo we need to see in every game he plays. Only then will he become the world class player he has the talent to become.
More than that, Inter has a solid young ground to start from the coming season. Juan ('91), Shaqiri ('91), Brozovic ('92), Icardi ('93), and Kovacic ('94) should all be central parts of this project. With Murillo ('92) coming in it seems like Inter has an exciting team to start from and the only thing that is missing are leadership qualities and experience. I hope that the mercato can bring this starting with the defensive midfield role and also the defense itself.
If Inter could sign Thiago Motta it would be crucial. The Italian midfielder has personality, balls, experience, and doesn't suffer from San Siro as many of our players do. If Inter can sign Yaya Touré as well, he will be of great importance and we need at least one good CB. The mercato will also be discussed during the coming three months so I will get back to that as well, but the feeling for the coming season is positive with Mancini as coach and with a proper pre-season we can go far.
It will be strange to go through Sundays and weekdays without suffering with our beloved black and blue team, but to be honest it feels good that the season is over. It feels good that the players, the coach and the fans can get a bit of vacation before another season begins. The fans need to unite with the players and their coach to make Inter great again. With a shirt worthy of our history, with a coach worthy of our history, I have my hopes up. The only thing that is missing is a team worth Inter's winning history and whilst the fans, the players and the coach enjoy their vacations, Thohir, Ausilio, and Fassone will have to work their asses off to give the Inter world a team that can bring us back to glory.
Glory is what we've enjoyed throughout our history, glory is what we deserve, and glory is what this club will return to.
It's only a matter of time. Forza Inter.
Follow me on twitter: Follow @SiavoushF