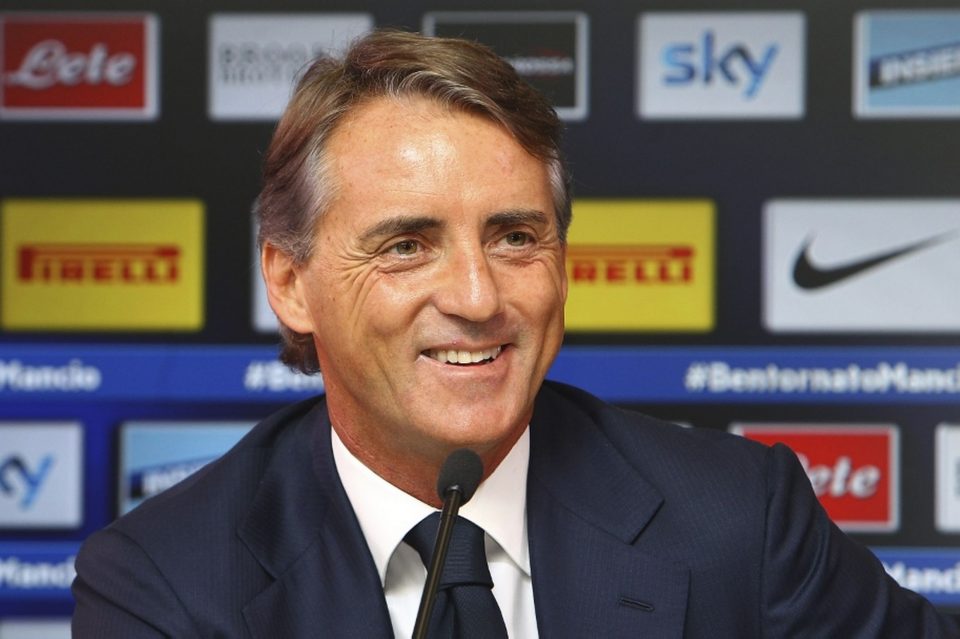 Inter coach Roberto Mancini has held his first press conference ahead of the new 2015/16 season this afternoon and as you might expect, the hot topic was the club's transfer business.
Here is what Mancini had to say as he met the assembled press:
"I think the club has worked well thus far and that we're on the right track in terms of building the team. We've achieved the objectives we set for ourselves. The president has made a big effort to improve the squad and I thank him for that."
Asked whether Geoffrey Kondogbia was the signing of the Summer?
"Geoffrey can become one of the best players in the world. Aside from the two or three superstars in his position, he's already up there. We had to do a lot to sign him but we've got a really great player."
Mancini is under no illusions that the Inter fans expect a title push this season:
"We're Inter and our objective is always to aim for the top prize. We have to perform well. We're behind Juventus, the holders, but we'll do everything we can."
"Our performances will show where we are, you can change half your squad but at the end of the day the results will speak for themselves. I'm pleased many players from last year have stayed. I hope we can cut the gap. We have a strong opponent ahead of us but our mentality will be important."
Mancini also spoke about the appointment of his personal friend Sinisa Mihajlovic as coach of derby rivals AC Milan:
"That's football, I think they've got themselves a great manager. I hope he does well, but not as well as us."
Rumours linking Inter to Salah, Perisic and Jovetic:
"They're great players but they belong to other teams. Salah is a good player but until his situation becomes clear it's not right to speak about him. Finding players who can play on the wing and as a centre-forward would be good for us, as we're quite short up front."
Speculation on players who may be leaving Inter:
"Kovacic is an Inter player and we have a lot of faith in him. We have to move some players on, if we're being asked about Santon and Shaqiri that's because they're good players. I think they'll do even better than last season because they'll be with their team-mates from the word go."
Will any Primavera players travel to Brunico for the training camp?
"Puscas, for example, is a young lad and will be among the best there is in a few years. He needs to play."
Mancini then looked ahead to the new season starting with who will wear the fabled captain's armband:
"We'll see what's best for the team, we have more experienced players now who'll give us a hand. If Andrea plays he'll be a starter and the captain. We'll see."
"I'd have like to have been involved in Europe. Having said that, playing on a Thursday in the Europa League can cause some problems for those involved."
Ricky Alvarez discussion:
"I'm not sure of the situation but I think he's a Sunderland player. They stayed up in the Premier League and the clause dictates that the move must become permanent now."
Mancini ended by talking about Inter's ongoing season ticket campaign 'Nothing Beats Being There':
"It represents what it really means to be a fan. The fans are telling me they're buying season tickets in their droves and it'll be really important for us to have them with us. After that, it's up to me and the team. We need to play well to keep them alongside us."
Source: inter.it