FCInterNews: The options for the attack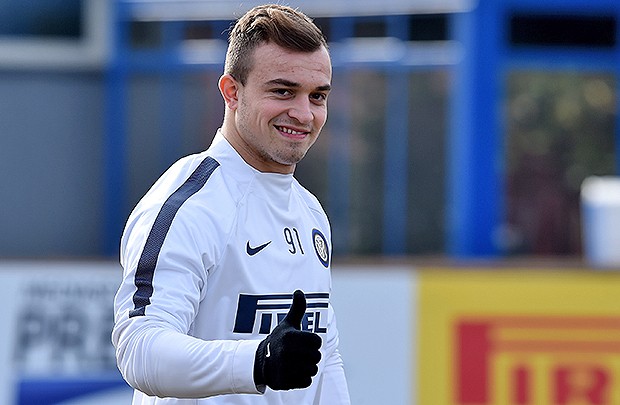 The Inter market revolves around the name of Xherdan Shaqiri. The Leadership thinks of the new players that could be brought in to (maybe two) to be made available to Roberto Mancini. Until the situation is resolved with the former Bayern Munich player, here's the other names  in the offensive market for the Nerazzurri.
Mohammed Salah– Inter have not give the pursuit for the Egyptian national, who also has strong competition from Rome. Before accelerating the leadership will however operate outbound: scheduled a summit in China between the coach and the executive staff, during which he will speak especially of the latter. President Erick Thohir claims it to be materialized  very quickly.
Xherdan Shaqiri – The impending sale of Jefferson Farfán to Al-Jazeera, as well as the strong interest of Juventus for Julian Draxler, Schalke 04 are approaching the arrival of Shaqiri. The German company is approaching the request of Inter and a deal looks to be finalized soon. Meanwhile, the Swiss National is located in China with the rest of his companions not to lose the conditioning, Shaqiri has given his ok to the new destination, but has yet to find the economic agreement with the leadership. The relationship with the coach has worn out and he knows that he will be sacrificed to reach the objectives for the attack.
One or Two? – The number of new purchases will depend on the sale of the former Bayern Munich player. Should he remain at Appiano Gentile only one player would arrive, otherwise it would be two. There have been continuous negotiations with Wolfsburg for Ivan Perisic, although it will not be so easy to tear the player away from the Germans who are not obliged to sell the Croatian. Now Inter raise its offer to change things.
Stevan Jovetic: Manchester City maintains a high price tag, although they are opened to loan repurchase obligations. Inter have offered a figure of less than 20 million Euros required, but with a very clear strategy to continue negotiations until August.
Source: Fcinternews