Terzo Tempo: Three points and many good signs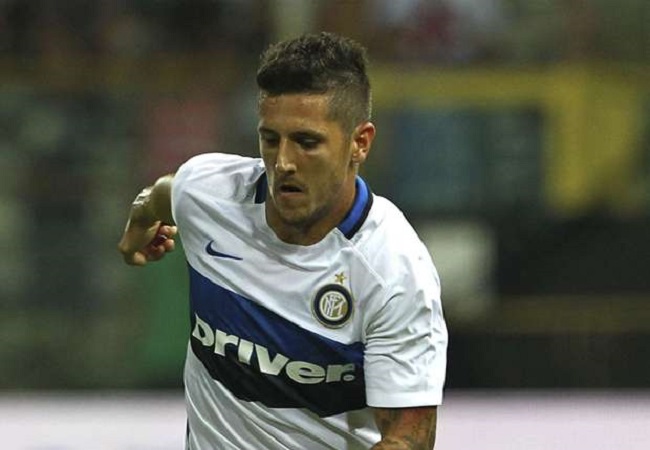 Inter dominated against Atalanta at home but even though the away team played with one man less, Inter failed to win the game. A frustrating 90 minutes of dominance against a team that had no intention whatsoever to play football. In the end of the game Atalanta even came close to winning at the San Siro, but Inter managed to get away with a point.
If you haven't thrown your computer out of the window thinking I'm a complete idiot, the sentences written above is probably what I would've been writing the last few years. In the 91st minute I was there thinking about Inter's pressure against Atalanta being something else than we had seen in a very long time. Every time we attacked it felt as if we were going to create something dangerous and when even Miranda was moving up trying to win it for Inter, with San Siro charging the team up as if this was a CL-final, I almost had a Mourinho-esque feeling about the team.
I don't doubt the desire of Inter to win games during Stramaccioni, Mazzarri, Gasperini and Ranieri. However, I doubt the capacity of those teams to do so under those coaches. Today we were given many good signs and the most important sign of them all was that we were throwing everything we had at Atalanta, without even risking a single opportunity or scare in defense. Miranda and Murillo were rock solid in defense and even Juan and Santon looked good in defense today. It feels good to have seen 90 minutes of solid defending from two Inter central defenders. The first person who can remind me of the last time that this happened will be offered a beer.
It wasn't only the defense that was positive but Kondogbia was bossing all over the midfield. After all the critisizm he has received in the pre season this was definitely the performance that was expected from the French midfielder and with a bit of luck he could've scored a goal as well. It feels it was clear why Mancini wants Melo or another midfielder because I don't feel as if Gnoukouri or Medel had good games. The Chilean was to sloppy in his passing and Gnoukouri was rightfully subbed after 45 minutes. Hernanes came on at the half and didn't manage to do much better. However, even though these players could've performed better, it felt like the midfield was stable and Brozovic came into many scoring positions. The Croatian should've scored at least once but had a good performance nontheless.
Inter played well but the attack failed to create great chances. One problem was that most of our chances fell to Brozovic or another midfielder, rather than Jovetic or Palacio who were too isolated and had to fight through Atalanta's catenaccio. The attack can(and will) improve and I think it's easy to see what Inter has been working on during the summer. After a couple of years of coaching myself I know that organizing a defense, whilst not playing with 11 men in your own half and closing down on space, but organizing so that a back four, or two central defenders and two central midfielders can defend whilst the others attack, is the hardest thing in football. It's what top teams have to do in order to win games and championships. It was clear today that this is what Inter has been working on during the summer and it went well. You can expect more from the attackers, but attacking is more about individual performances than the collective effort in comparison to the defense. When the defense is stable and working good, there will be time to work on the attacking movements.
Getting that goal was of great importance for Inter and also for Jovetic. Icardi went out injured very early in the game and I will be eagerly waiting for the Argentine striker to come back. It will be interesting to see how he teams up with Jovetic and talking about Jovetic, he showed exactly what a player with #10 is supposed to do. Step forward in the last minute of your debut and bury a great goal to make the Meazza explode.
The most important thing for Inter now is to keep their feet on the ground and be very humble. There are still a lot of things to do and there are still loads of elements to improve. Mancini and the players will have a calm week where they'll be able to work hard and I'm happy that the introduction to this article didn't become the reality and that Inter might be changing. In order for Inter to return greatness, the San Siro needs to return as a fortress and instead of us being afraid of conceding from counter attacks, the opponents need to fear facing us in our house.
We need the opponents  to feel that they are never safe because even in the 93rd minute, Inter could invent a moment of magic that gives them three points.
Make sure you follow me on Twitter: Follow @SiavoushF