Roberto Mancini press conference ahead of Palermo vs Inter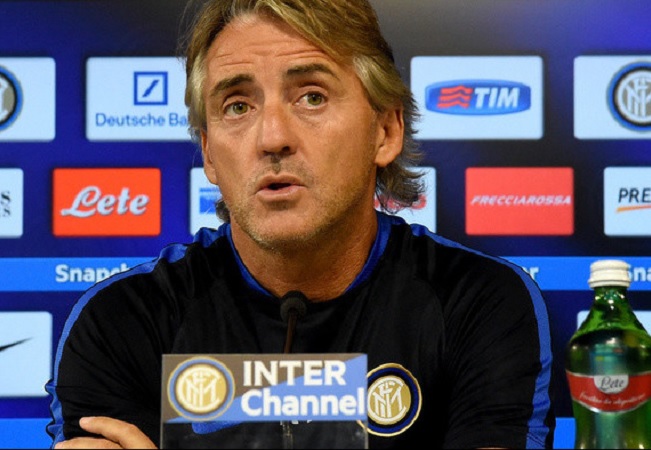 Roberto Mancini has been talking to the media today in his pre match press conference ahead of Inter's trip to the Stadio Renzo Barbera to face Palermo on Saturday 24 October 2015 (kick off 20:45 CET).
The win is missing for a month, you have to get back to doing well?
"There were 15 days of rest! The important thing is that the ranking is good, we hope to continue to win in two away matches this week."
Kondogbia may start?
"I have no doubt, but he could be on the bench once more as well. He did well on Wednesday, but if he plays it does not come from those 45 minutes against Milan, but because we believe he is a great player."
Zamparini said that Inter has a coach for the Scudetto. To win it do you needed reinforcements in January?
"We have not talked with Thohir, maybe later, we will see the situation in a month and a half. It's up to us to get into the title shake up."
How's Ljajic? Do you expect something more?
"We signed him because we believe he has extraordinary technical quality. This must be combined with other important things. He has played little to prove his worth, for injuries and national games. He will be very useful, he is not 100% and we will decide tomorrow . Between now and Tuesday he will be on the bench or play. "
After 8 matches, compared with forecasts and with nine new players, at what point are you?
"We have large margins of improvement, being able to be there without being at maximum is positive. We need all, we think we can improve in so many ways. Mauro will score soon, at this time he has scored 2 and when he does the team will benefit and everyone will help over time. Sunday against Juventus we showed we have character, we suffered when it was necessary and had chances to win. Game very important for us. "
You have lit up the games when you play with a real 10, do you think this team is missing a player in the middle that has inspirational ideas?
"Jovetic can do it, has done 4-5 times on Sunday as an example. Even Perisic, with different qualities. There are 3-4 players who can play in that role, but they've been here for two months and it takes time."
Lately there has been a decline in marking and also in the shots. How do you explain it?
"A game we were down to 10 after half an hour and this is important. In Genoa we shot 9 times suffering only on the break. With Juve we could have created more. I'm not worried, we have a striker who will continue to score goals, we need to feed him but Icardi will return to score soon. With the help of the wide players and the fullbacks we will solve the problem. "
Hazard said he prefers to Kondogbia to Pogba. Your thoughts?
"Said the brother of Hazard. Pogba has had three years to grow in Italy, Geoffrey has been here for three months and he needs time but eventually he will become a great midfielder, a fortune for the French national team. We have great respect and confidence, he should feel comfortable. Van Basten, Platini and others have had difficulties beginning in Italy. "
How are Murillo and Biabiany?
"Biabiany is improving a lot, needs minutes in him. I enjoy watching him, he can give us more solutions. Murillo is fine."
Icardi has responsibilities or is a victim of the situation?
"Neither one nor the other, in football it happens that at times an attacking player touches the ball or misses a chance."
When we talk about the Scudetto Inter is not mentioned, is it a stimulus?
"I am very pleased, I think so too. Napoli, Roma and Juventus are best equipped."
A comment on the possible departure of Moratti?
"I do not know the situation, it is difficult to judge."
You can turn over tomorrow or Tuesday? What was behind the selection of Brozovic?
"He played as well as Kondogbia and Guarin have played. We have five midfielders and one can stay out. All the normal things. Brozovic is young, he isn't 27-28 years. And from less than a year, can be on the bench but he is very good. He has to feel comfortable and be ready. He and Guarin are the most likely to play outside. In the two games we will change things, it will be three tiring days. Maybe already in Palermo ".
That player is Antonini? What did he say?
"I know Antonini as all the boys who took to the field in the second half in the derby. Many have trained with us last year, have perspective and quality. The same goes for Baldini and Delgado, you have to let them grow slowly, they had the chance to play at San Siro and it was good for them. "
Mihajlovic under pressure?
"I saw him Wednesday, I love him and I hope that things will go well. He has enough experience to overcome a time not so positive, is a friend of mine and I hope he has an answer to everything."
FcIN: Melo could rest tomorrow night? The draft form is 4-2-3-1, have you the ideal players or in January will you look for a winger?
"We have Biabiany who is recovering, Ljajic who can do it, Perisic who can play on the right. We could go on like this. Melo? Someone will go on the bench, we'll see today and tomorrow. In two games all will get their chance."
The defence is working?
"Yes, when it's our first choice it has always worked."
What do you think of the performance of Ranocchia? Santon is often found in the list of departures, why?
"We have not made any list (laughs). Santon arrived in January and is a player that grew up here, much improved and can do even more. He is absolutely not in the list of departures. Ranocchia played very well, he is a great player. We all make mistakes, I regret that at the moment he is on the bench. But I always hope he will be able to play because he is a great guy and a great player. I have nothing against Andrea, frankly. "
Palermo returned to winning last time out?
"Great team, they had trouble at home but away did great matches and has 10 points. He has young players of great quality, it is never easy to play in Palermo. But it's an important game, with 3 points there are things we need to do well, such as the same application had against Juve. Iachini is a great coach. Vazquez? He has great quality, he's physical and times his runs. Then there is the expert up front Gilardino and many young people running. We have to work well " .
You said that against the small teams you have to attack more, there may be against Palermo and Bologna a tactical approach more offensive?
"We will go there to win, we want to make three points in Palermo. We must be good but we can succeed only with the same mentality we had against Juve. You have to attack to make more goals, one may not be enough. After 8 games the team is finding their feet but to date that part of our game isn't good enough yet."
Source: FcInterNews.it