Terzo Tempo: Three points needed, three points taken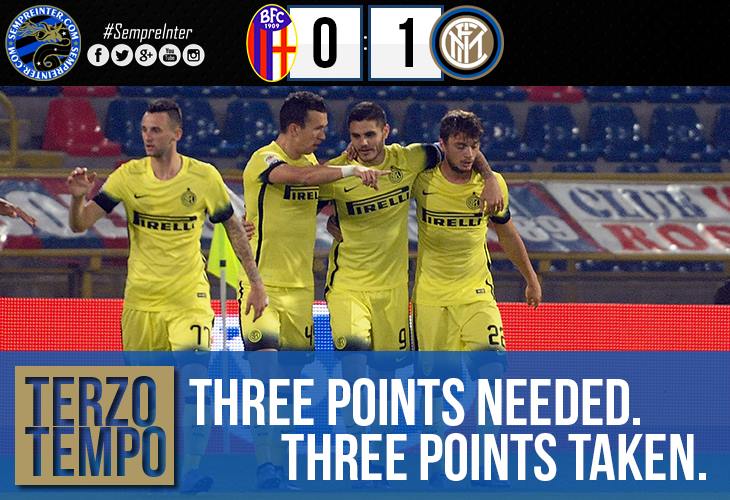 The first half was worrying itself but more worrying was the performance of Geoffrey Kondogbia in this half. The French midfielder should have the energy to dominate the midfield in a game like this but probably played his worst half in the Inter shirt. As if Kondogbia's doubters weren't many already, this half didn't help to change the opinions of those critisizing him and Kondogbia still has a lot to show. Perisic also struggled in the first half and didn't get his crosses in. In defense, Ranocchia suffered a nutmeg so big from some player called Ferrari. To be honest I don't even know who this Ferrari guy is but that nutmeg was so enormous I would've considered subbing myself out if I was Ranocchia. Santon saved his co-national this time and as the second half was about to start it felt like things surely couldn't get worse.
The start of the second half was similar to the first half. Felipe Melo was shown a yellow card early on and already there it was sure that the Brazilian would miss the game against Roma. One could wonder why Mancini left Melo on the bench against Palermo instead of starting him in Sicily, in order to avoid the suspension against a big team like Roma where Melo surely would've been needed. Sloppy play from Brozovic and Ranocchia put Melo in a situation where he received his second yellow and Inter was playing ten men once again this season. Mancini said after the game that football isn't basketball and that players have to be able to touch other players without receiving yellow cards. And this is true in my opinion. Melo can't just disappear and the second yellow card seemed exaggerated. Mancini was furious and even though the coach is needed on the sideline, I can't help but loving to see the coach blast everyone and everything. It sent a signal to the players as well and just as you all know, when Inter wants to succeed in the Serie A they have to be better than the referees as well.
The red card, the anger against the referee and Mancini's sending off seemed to be just what Inter needed to wake up. Suddenly the players started to run more and to play the ball with a higher tempo which put Bologna into problems. Icardi who has proven to be Inter's best crosser doesn't miss out on the opportunity when it's given to him and when Ljajic slipped through after Brozovic's great pass, Icardi was there to finish it off.
In these days Icardi is being very critisized and I'm always keen on defending him. As I've written before Icardi is a player who needs to be activated by his teammates. He needs to be fed with passes and crosses to make the difference and when he's feeded he will score or open space for his teammates. When Icardi is not feeded with passes and crosses he fades away from the games and who can blame him. Many people claim that Icardi isn't moving enough to get the ball or isn't moving right and I want to deny this as well. I don't know if the TV-camera's fail to show Icardi's movement off the ball but if it's one thing that makes Icardi a great striker more than his ability to score it's his movement. He is always on the move and is always taking a run to either create an opportunity for himself or to open space for a teammate. When the passes don't arrive, Icardi might look lazy and selfish but he is everything else than that and it's really up to Inter to start activating Icardi. Today he got a goal and I'm sure he will score more if the passes arrive to him.
It was great to see Ljajic get an assist as well. The Serbian has been doing great the last few matches and in difference from others, he hasn't been crying over being put on the bench. He has been quiet, he has worked hard and he has proven on the field that he deserves to play. When he has entered the last games he has always created chances and today he took the opportunity to do well from start. Ljajic has incredible talent and together with Jovetic and Icardi, Inter could have an interesting trio if they need to mix things up or if Perisic needs a rest.
I'd like to praise Jonathan Biabiany who came on from the bench and did perfectly in his short substitution. He is playing with great confidence and is doing exactly what he's good at. Considering that Biabiany was very close to have to stop playing football due to his heart problem it is great to see him back on the pitch and Mancini is really having great use of the French striker. Another former Inter-primavera player was close to make it a draw in the end. Mattia Destro could've and should've made it 1-1 at the Dall'Ara but failed to convert his great chance in the end of the game. For Handanovic, who almost caused the loss against Fiorentina by himself this match winning save was of great importance and this win shouldn't be underestimated. Getting three points here with one man less was exactly what Inter needed.
Three points needed, three points taken.
Make sure you follow me on Twitter:
Follow @SiavoushF