Richard Hall's Nerazzurri Classics: Is it really Marco Branca's idiosyncrasies we miss the most?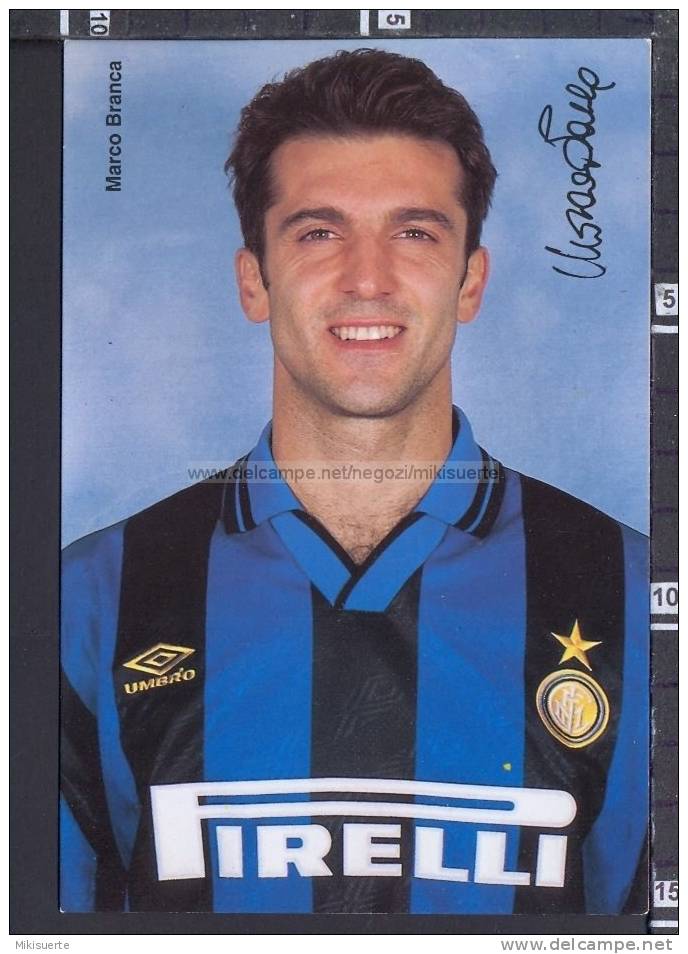 SempreInter.com editorialist, Richard Hall, takes a look back at the glorious history of Inter by highlighting a certain match, hero or any other event in Inter's history worthy of being labelled Nerazzurri Classics. Ahead of tonight's match against Roma, Richard looks back to the 1995/96 campaign when a certain Marco Branca made his name for the Nerazzurri. 
Imagine a relationship that began with passion and for some time developed into what seemed an excellent match. As the years went by the pair realize that perhaps things are not as special as they had hoped. They part company, yet despite spending time apart, years later they decide to give it another go. This time, despite some success at the start as before, it turns sour and they part company once and for all. Perhaps in these situations it is better to remember the good times, life to short after all, so with that let's remember Marco Branca and his destruction of Roma.
Inter saw three coaches take the reins in the 1996 campaign, Ottavia Bianchi, Luis Suarez and Roy Hodgson and their early elimination from the UEFA Cup and 7thplaces finish represented this. Even so the summer was an important one as Javier Zanetti arrived along with Paul Ince and Roberto Carlos. Amongst the big name players Marco Branca also arrived in a swap deal for Marco Delvecchio, ironically he arrived from Roma.
Roma would finish above Inter (5th) and lead by Carlo Mazzone they had built a very capable side. Abel Balbo, Daniel Fonseca, Jonas Thern and Aldiar provided the backbone whilst Giuseppe Giannini and a young sprite names Francesco Totti gave the Roman crowd their local heroes.
The Giallorossi went to San Siro in impressive form. Back to back victories against Napoli and Juventus was followed up by a credible draw at home to Fiorentina. Inter on the other hand were quite comically inconsistent to the point of ridiculous. They followed up a 1-0 defeat to 'The Old Lady' by thumping Cagliari 4-0 before being quite handsomely clubbed to death by Bari 4-0. One thing was for sure, nobody knew which Nerazzurri was going to turn up.
Roma started the match at break neck speed and created chance after chance. Inter defended in a disorganized yet effective (or haphazard) manner, clearing the ball against their own players and desperately throwing themselves in front of shots.
Inter did eventually settle and some good work on the right released the young Javier Zanetti, he crossed perfectly and Branca made an intelligent run and headed the ball in from close range in front of the Curva Nord. This seemed to anger the Romans who fought back with vigour. At half time however the score was 1-0 still and Inter arguably should have had a penalty.
The second half saw much of the same with the home side looking like they would soon become victim to the circling Fonseca. If it had not been to the exploits of Gianluca Pagliuca the game would have been level but then something extraordinary happened.  On 66 minutes Roma made the same mistake on the right hand side they had made in the first half, Benito Carbone managed to get the cross in and Branca was there to head the ball home in emphatic style.
The game ended Inter 2-0 Roma and the home fans praised their new hero, however, the dream would last long. In 1998 Branca left for scenic surroundings of Teesside but this would not be the end of the story.