La Grande Inter & Eusébio: The impossible dream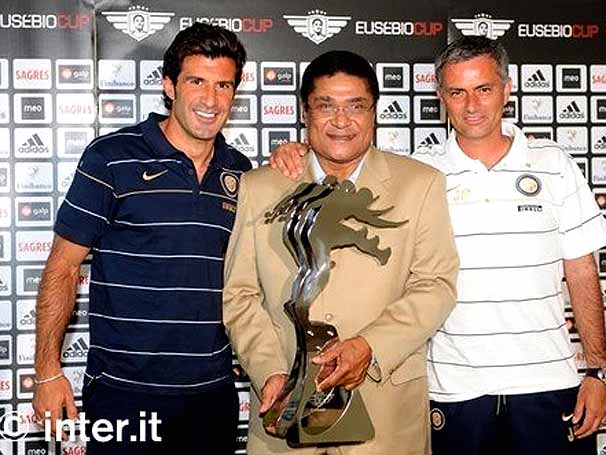 La Grande Inter of the 1960's and '70's had only to present the shirt and take the press pictures to complete a deal bringing one of the world's greatest players of the era to Milano, but it wasn't to be. Eusébio da Silva Ferreira, the winner of the 1966 World Cup Golden Boot was almost a Nerazurro that same year, when all was erased at the last moment. Eusébio was one of the greatest players of all time, and Angelo Moratti was in the process of putting together one of the greatest teams of all time. Unfortunately for Inter, so important was the attacker to his nation, that then Portuguese dictator, Antonio Salazar, passed an act prohibiting "O Rei" from leaving the nation. But it wasn't the only time such an act would prevent a legendary player from joining that legendary team. His situation was the same as that of Pelé, both were disallowed to sign for Inter, or any other foreign team who came knocking, until they found themselves in the United States late in their careers.
In the Brazilian's case, contract talks couldn't even begin as he was named an "official non-exportable national treasure," preventing him from leaving the country until his retirement from Santos in 1974. Pelé, however, at least knew of his inability to leave the country before the biggest offers arrived. Not the case for Eusébio. In 1966, a year after the second of Inter's back to back European Cup triumphs, both the player and Benfica had accepted the offer made by Angelo Moratti to further enhance and establish his great Inter. He wished to keep Helenio Herrera's Inter at the very pinnacle of world football for years to come with these two signings. Although an offer for Pelé was a hail-Mary attempt due to his well-known status as "national treasure," the move for his Portuguese counterpart was much more possible, or so thought Moratti.
Eusébio revealed in an interview that the story of his being barred from playing for Inter was "unfortunately true" and that he "even got as far as signing a contract with Inter Milan when the 1966 World Cup finished." He continued, "I signed the contract through my wife, who was in Italy, and at the time it was for $3 million. It was a lot of money. In one month in Italy, I would have been able to earn the same as I made in three years at Benfica. I'd have been able to buy half of Lisbon!" When Eusébio explained to the leader that he had the chance to achieve great success at Inter, Salazar said "No, you are part of the patrimony of Portugal – you cannot leave," as the Mozambique born great quoted to FourFourTwo magazine in 2008. Incredibly, his contract offer of $3 million at the time, when adjusted for inflation to current value, equates to over $21 million, or just under €16 million!
If only he could have played for us, both for his sake and ours, and if only we still had that kind of buying power, aye?? Oh to dream. One year before Moratti's offer, in 1965, Inter had defeated Eusébio's Benfica side 1-0 to win the European Cup for the second time. Perhaps if politics did not intervene and Inter signed him or Pelé, we would not have gone down against the attacking Celtic side that defeated Inter 2-1 in the 1967 European Cup final, that was ironically held in Lisbon, Portugal. One cannot help but wonder how many more trophies would have been added to the achievements of that already great side, if either one, or (well, while we're dreaming…) both of those deals could have became reality in the end. If only that dream were to come true, doubtlessly endearing the name of Inter in the hearts of further millions who loved those timeless champions.
And so it was that Angelo Moratti's dream would forever remain just that, a dream, and never more. One that was so close, yet so far from becoming an incredible reality. Pelé said today in a statement: "I mourn the death of my brother Eusébio. May God receive him with open arms." The "Black Panther" scored 733 goals in 745 appearances. He passed of heart failure at the age of 71. We wish eternal peace for an eternal legend.