Tactical Analysis : Torino F.C. 0-1 F.C. Internazionale Milano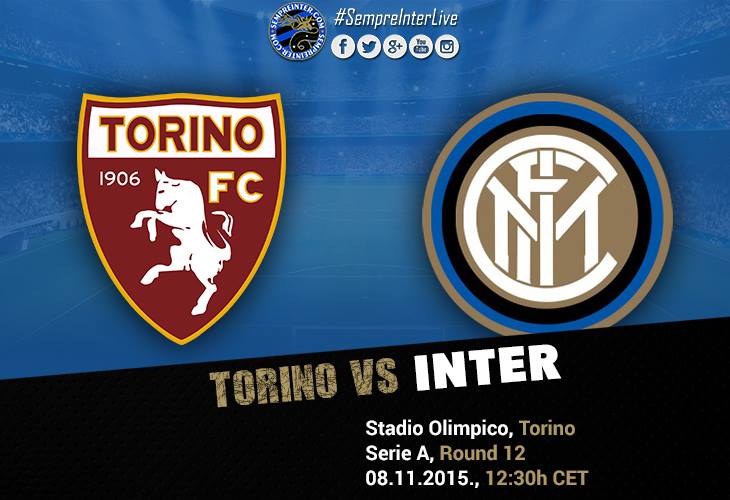 Date : 7/11/2015
Venue : Stadio Olimpico di Torino
Competition : Serie A 2015/2016, Matchday 12
Starting line-ups:

Roberto Mancini chose to line-up his side in a 3-5-2 formation with Juan Jesus, Miranda and Jeison Murillo as his 3 CBs in front of Samir Handanovic. Gary Medel was protecting the defense with Felipe Melo and Kondogbia on either side of him. Nagatomo and D'Ambrosio were chosen again for the starting line-up playing as wing backs this time and occupying one flank each. Up front Palacio played just behind Icardi, moving sometimes sideways or down the field in order to connect with his teammates.
Giampiero Ventura chose once again his favourite and trusted 3-5-2/5-3-2. In front of Padelli there was a 3-man defense of Glik, Silva and Moretti, with the Polish captain of the Granata playing usually slightly deeper in order to either cover the other two CBs on defense or in order to recycle the circulation of the ball on offense. Vives was the defensive midfielder with Benassi and Baselli next to him (or in front of him). Peres and Molinaro were occupying the flanks with Quagliarella and Belotti being the attacking duo.
Both teams were content with sitting behind and waiting for the opponent, looking for chances to counter-attack, to the point where even after they conceded the goal, Torino continued with the same approach.
Torino on Defense
As it can be seen on the above image, Torino's main approach on defense was focused on protecting the centre of the pitch (yellow area), with Benassi or Baselli putting pressure on their side's CB when they had the ball, and their side's WB following and putting pressure on the opposition WB.
The three CBs stayed primarily centrally, in order to create an advantageous 3v2 against Inter's forwards. This positioning created a lot of space to be exploited between them and the wingback on the side of the ball, but Inter's lack of either movement or ability to take advantage of this space and Benassi's and Baselli's work to cover them had the Granata not facing any serious problem.( The same spaces occurred on Inter's defense too, with Kondogbia and Melo covering those spaces and keeping the abovementioned Italian duo very quiet during the game)
Torino also ,even man-marked(?) on some Inter Goal-Kicks in order to force them long.
Inter presses Torino to force them long

Each arrow indicates wich player will be pressed when the ball moves on that side. (Notice also Nagatomo's position which is (falsely), not close enough in order to press Peres if he receives the ball.

Inter's problems when pressing
When it came to Inter pressing, sometimes players started from deeper than they should have had, arriving late on the player with the ball and leaving him enough space to think and pass. There were other times, like on the below image, were more than one Nerazzurro were moving towards a Torino player in order to mark him or cover a passing lane, leaving behind them space to be exploited( In this example, Medel's positioning offers nothing to the pressing but leaves a Torino(red) player alone on space ready to receive the ball).
There were, also, two or three times when Inter seemed like they wanted to force the ball centrally where there was no space for Torino to exploit and force them to lose the ball. This plan, though, never had any results as Inter's forwards did not cut passing lanes effectively.
The red triangle indicated were Palacio should have moved in order to cut the passing lane and keep the ball centrally where Vives could have been pressed from behind.

Inter also faced many problems with their offside traps.
Against a team with forwards capable of playing next to the shoulder of the last defender waiting for a pass behind the defense, Inter faced some problems which Torino though never managed to materialize into goals, with Handanovic playing a big part in that.
The biggest mistake though can be seen on the image below, where only part of the defense moved some steps up in order to set up an offside trap, the rest of the Nerazzurri stayed behind and covered Torino players who saw Handanovic making an incredible save.
Torino on the other hand, made only one mistake on their defending of set-pieces and conceded a goal.
The Torino player on the blue circle seems occupied with the Inter player waiting on the edge of the box for a rebound, and does not follow Kondogbia who runs behind the last opposition defender and scores after a header-pass from Palacio(red).
Second half
Torino's approach on the game changed in the second half.
On defense they tried to force Inter on long balls, when they had the opportunity, instead of sitting back and waiting for spaces to be created and counter-attack.
On attack, they tried many more balls behind the defense, trying to find the Inter defense unorganized.
Mancini's first move, was to replace the static Mauro Icardi with Ivan Perisic. The Croat not only did he press with more energy when needed, but on offense he moved or started his attacks on the left flank in an attempt to stretch the three opposition CBs and create big spaces between them.
Palacio was also replaced 8 minutes later(75th minute) with Ljajic who managed to make the first unblocked and dangerous Inter shot in the game.
Giampiero Ventura used his last card when he replaced Baselli with Amauri(Maxi Lopez had replaced Belotti a little bit earlier. Torino now played something like 3-4-1-2 with Quagliarella behind but very close to Amauri and Maxi Lopez.
Amauri and Lopez acted as target men, trying to combine with the oncoming Quagliarella. Unfortunately or them with no results.
Conclusion
It was another cynical approach by Mancini's chameleon-like Inter. The nerazzurri were once again hard working, defensively organized and disciplined but offered almost nothing on the offensive side. Ventura saw his players once again making the least mistakes they could but lost.
Follow me on twitter.