Terzo Tempo – "Boring" Four Star Inter Go Top Of The League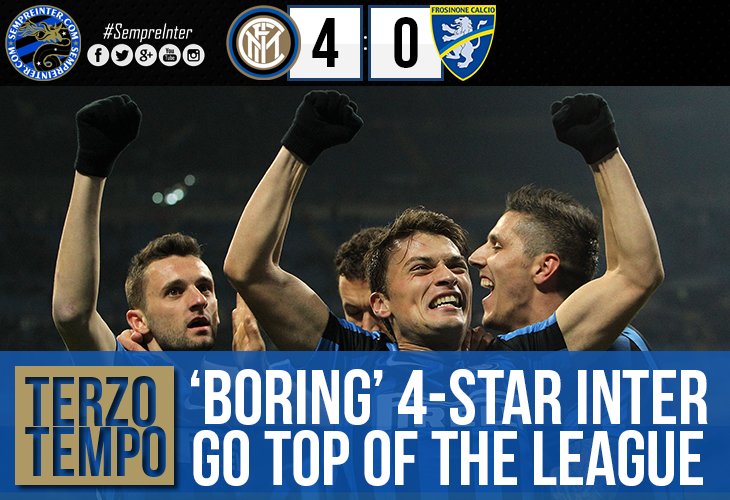 "Boring" Inter put 4 past Frosinone to go top of the league after a "boring" Man of The Match performance by "boring" Adem Ljajic who made 2 "boring" assists and was behind another "boring" goal. Bored yet? Not me, not even close.
Whoever claims that they thought before the season started that Inter would be top of the Serie A after 13 matches is either a liar or owns a time machine. No-one expected Inter to be this solid defensively, play with such composure in midfield and grind teams down the way Mancini's boys have done so far. Sure, the team has only scored 16 goals in 13 matches but have conversely only conceded 7 where 4 of those goals came against Fiorentina, so 3 in 12 matches gives a better idea of how well Mancini has got Inter playing defensively.
This has made experts and pundits in Italy brand Inter as a boring team, a quite laughable accusation given the big problems the Nerazzurri have had defensively the past 4 years. It's not even a "is the glass half full or half empty" discussion as Inter are playing like a big team for the first time in 4 years, in defense as well as in attack. Well, now Inter are 2 points clear at the top of the Serie A after having crushed Frosinone 4-0 at home, after Adem Ljajic made 2 great assists as well as being behind basically everything Inter did in attack.
Mauro Icardi looked well up for the match and managed to get a goal as well as finally being able to start to link up with Stevan Jovetic, who never came up to the usual high standards we've grown accustomed to. Melo and Kondogbia dominated the midfield physically and helped out Murillo and Miranda in defense who both gave another faultless performance with the former scoring his first goal ever for Inter after being assisted delicously by Jovetic.
The hammering finished when Marcelo Brozovic came on late and finished proceedings off with a gorgeous 4th goal. By then Inter really were 'Intervic' as the team had 5 players on the pitch simultaneously from the Balkans: Brozovic, Perisic, Ljajic, Jovetic and Handanovic. The Balkan formula seems to be working very well as all of these players have been playing very well and consistently under Mancini, but how far can Intervic go? Hard to say but one thing is for sure, Mancini and his Balkan boys have got the team playing like title contenders although it's at least 17 matches left until anyone can realistically even begin to start to talk about a Scudetto. The pundits may be bored but Thohir, Mancini & his Balkan boys and yours truly are all just bored by the experts negative opinions about an Inter that is finally again acting like a big club on and off the pitch.