Terzo Tempo: Amazing Higuain punishes a great Inter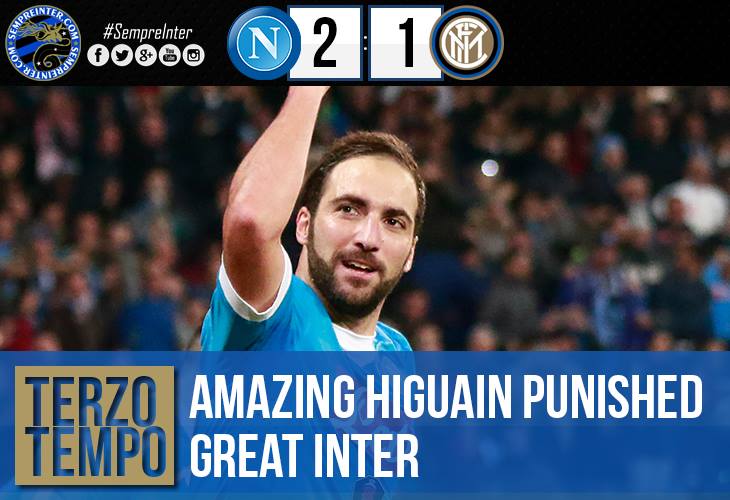 Inter traveled to San Paolo to play against Sarri's much praised Napoli. Before the game Napoli(counting with Europa League) hadn't let a goal in for seven games and the odds were very much speaking for the home side. And seeing how the game started the odds seemed not to go wrong. Higuain made the whole Inter defense look ridicolous when he smashed in 1-0 after less than two minutes had been played and I don't believe I was alone in believing that this would end up in a slaughter.
For the coming 15 minutes Inter struggled to get past Napoli's first pressure but when the Nerazzurri found their way into the game it never really felt like Napoli could create anything dangerous. Guarin had a dangerous shot that went just wide and Perisic also had a good opportunity to score the 1-1 goal. As the first half was drawing close to the end and Inter could go to halftime with the feeling that it was very possible to get a result, Yuto Nagatomo got booked for the second time in the game and left his teammates to play 10 against 11. Before trashing Yuto's decision I'd like to give Guarin an "honorary" mention for being sloppy with the ball and putting his teammate in a dangerous situation. Not the first time it happened, not the last time it happened. Now onto Yuto. We can discuss until the end of time if he really deserved the yellow cards or not and if the referee made a mistake or not, but concrete and simple facts are that a professional football player at this level can NEVER permit himself enter with a challenge like THAT, in a top-game like THIS so little before halftime.
Inter went to halftime with 0-1, being one man less, away at Napoli. Beautiful, eh? Life felt shit at this moment. Alex Telles came on at halftime and Mancini will ask himself if he shouldn't have played with Telles from the beginning. Seeing how Nagatomo did against Roma, and against two very tough opponents in Salah and Gervinho. I think Mancini wanted to see the same attachment from Nagatomo today but it just didn't go his way. Whilst defending the choice of Mancini someone on Twitter wrote me: "One good game against Roma doesn't take away a big amount of shit games" and that is a very fair point about Nagatomo.
More worrying than Yuto was Icardi. In the first half we didn't create a lot and struggled to get any attacking movements going but when Inter created something, Icardi wasn't a part of it. Not that Ljajic or Perisic was splendid in the first half, nor was any other Inter attacking player, but in these games Icardi gets beaten by the defense to easily. One would expect Icardi to keep the ball on the offensive half and let the team rise but none of that was seen today. It's negative that Icardi isn't scoring neither is he being activated, but I also think it could be positive for the team to have a situation where no player is 100% sure of getting to start. Icardi can't be sure that he will start and the competition could be good for everyone.
The second half started with an Inter attack and whilst Inter were building up some confidence, Higuain struck again. A bad free-kick from Handanovic and a lost duel and Higuain was once again running between Miranda and Murillo towards Inter's goal. The Argentinian made no mistake and a class finish made it 2-0 to Napoli and it felt as if the game was going to end. Instead, Inter proved everyone wrong and put a great performance in. The team showed will and strength in ten that no-one had expect. The mighty San Paolo was almost quiet in chock of seeing Inter play as they did and when Ljajic scored, the players really got their hopes up. Ljajic who was Inter's best player on the field was truely leading the striking forces at the San Paolo and if he wasn't dead tired in the end I believe he would even have done more.
Inter kept creating chances and every player was fighting to get a draw. In the end, the team hit the post two times in one minute. I couldn't believe what I had just witnessed and as I stopped everything I was doing just to see the replays again and again and again, in this moment of extreme anger and frustration I couldn't help but feeling extremely proud. Sure, one point would be more important, but I believe Inter showed all of Italy and everyone who was watching that the team can cause problems for anyone this season. With one man less on the field, a great Inter was only stopped by an amazing Higuain at a ground where we haven't won since 1997.
Inter may have lost the points, and Napoli might've passed us in the table, but today we showed fighting spirit, attitude and some great football that at least gave me hope that this Inter will fight for something important until the end of this Serie A season. With a Ljajic like this and a defense that hopefully won't face a player like Higuain for a while, we will hopefully get different results on an evening like this when we deserved it. As always, FORZA INTER!!!
Make sure you follow me on Twitter:
Follow @siavoushf