Max De Luca – Five Things We Learned From Inter In The Last 10 Days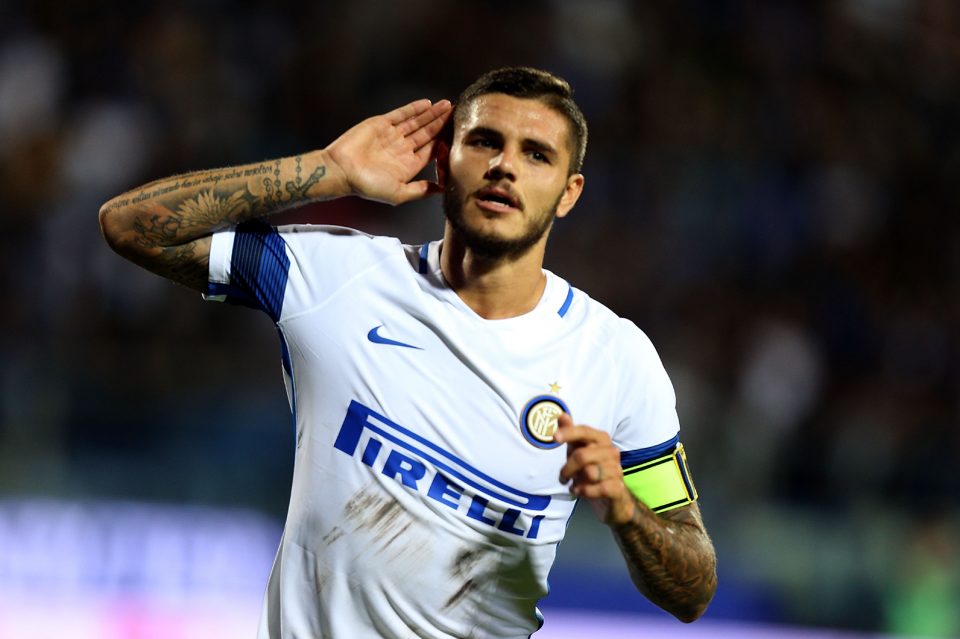 It was a predominantly positive week-and-a-half for Inter as they gained seven points from a possible nine in Serie A. The Nerazzurri came from behind to beat Juventus 2-1 on Sept. 18 for their first win over their bitter rivals in league play since 2012 before notching a comfortable 2-0 victory against Empoli three days later.
Inter looked the part of legitimate title contenders but the parade route plans were put on hold after the Nerazzurri needed a volley from Ivan Perisic to salvage a 1-1 draw at home to Bologna on Sept. 25. However, Inter's poor performances in Europe continued with a heavy 3-1 defeat against Sparta Prague yesterday in the Europa League.
Icardi rightfully deserves most of the plaudits for his part in the two victories but his supporting cast, especially the summer signings, showed that there are indeed brighter days on the horizon. Here's what we learned from the Nerazzurri in the last 10 days:
1. His Name Is Capitano
Legend has it that Torino great Valentino Mazzola would roll up his sleeves and scream "Go!" whenever he wanted to inspire his team during big matches and Icardi showed the same sense of urgency by playing the leading role in the 90-minute drama against Juve.
Inter were a goal down when Icardi took matters into his own hands. He met Ever Banega's delivery from a corner and expertly guided his header past Gigi Buffon corner to even the score in the 68th minute before lofting a perfectly weighted cross with the outside of his boot to Perisic to head home the winner 10 minutes later.
The 'Juve Killer' was in a predatory mood from the opening whistle against the defending champions and the Argentine seems poised to take another step forward in his young career.
Icardi didn't let up against Empoli as he opened the scoring with a diving header from Antonio Candreva's excellent delivery and then coolly slotted the ball past Lukasz Skorupski to secure the points before 20 minutes had gone by at the Stadio Carlo Castellani.
Icardi showed he wasn't Superman by missing a couple of chances that really should've ended up in the back of the net against Bologna but we're not going to give a guy who has scored six goals in six Serie A games too much grief.
2. Poor Damn Ranocchia
The much-maligned Italian defender channeled his inner-Giuseppe Bergomi for most of the match against Bologna only to see him squander a chance to be the hero in the waning seconds and earn the wrath of Inter supporters around the globe.
Ranocchia could've started the healing process with Nerazzurri Nation by scoring the winner but instead the wounds only deepened when he sent his header wide of the post.
Frank de Boer's reaction to the defender's miss deep in injury time said it all. Ranocchia is who he is at this point and won't turn into a quality defender until Inter sells him of course.
3. Joao Mario Looks Like Money Well Spent
I initially scoffed at the steep price tag for the Euro 2016 winner even though I realized Inter would probably have to overpay for top-class players due to their failure to reach the Champions League but Joao Mario has looked the part so far.
He's as cool as a cucumber on the ball and thrived under the bright lights of his first Derby d'Italia. The moment was definitely not too big for him and he followed up his stellar display by flexing his muscles against Empoli.
The Portuguese international expertly won back possession in midfield before delivering a scintillating through-ball to set up Icardi's second goal and in the blink of an eye it was game, set, match for Inter.
Inter weren't the same when Joao Mario left the Bologna game with a calf injury and his presence will be sorely missed against Roma.
4. Banega Is Finding His Feet
I don't recall a previous instance of a player receiving a standing ovation after being sent off with his team clinging to a one-goal lead over their bitter rivals. But that just showed Banega's impact on the game against Juve.
The Argentine was spraying accurate passes all over the pitch, including the pin-point delivery for Icardi's goal, and is quickly turning into one of the shrewdest signing of the summer.
Banega can be a game-changer in midfield on his day and you can see him getting more comfortable with each passing week, which can be only good news for the Nerazzurri.
5. So Long Kondogbia
Geoffrey Kondogbia's days at Appiano Gentile seem numbered after the Frenchman was yanked after just 28 minutes of action in an error-riddled display against Bologna.
De Boer later revealed that the 23-year-old failed to carry out the instructions laid out to him and has been relegated to the fringes of the first team. "I talked to him about playing simple balls especially in dangerous areas but he doesn't want to listen," the Inter manager said in a press conference. "If he doesn't want to listen then what can I do."
Kondogbia looks set to join a long line of major busts at Inter and I wouldn't be surprised to see him offloaded sooner rather than later. My heart is telling me that he is a young, talented midfielder who just needs some more time to come good but my head knows different.
Max De Luca is a journalist based in Toronto, Canada and has been published on Reuters, CBC, Yahoo, Goal, USA Today and many more. Every week, Max will pen a column exclusively for SempreInter.com listing the most pressing topics of the week.
Do you agree with Max? Discuss below in the comments and follow him on Twitter.