Sam Olsen – De Boer is the man this Inter needs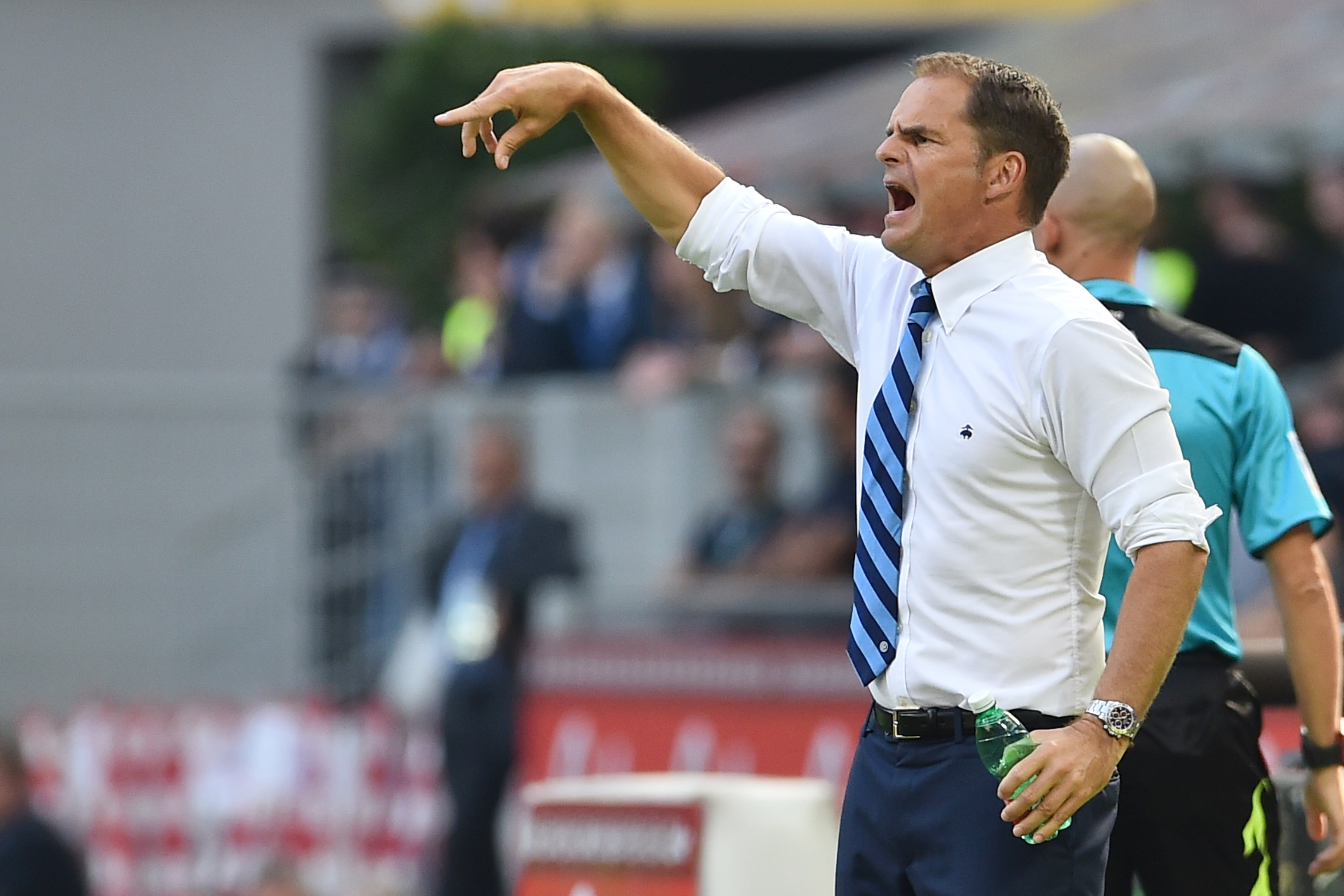 In his regular weekly column Inter fanatic Sam Olsen dives deep into the stories that matter to Inter's fans looking to keep the spirit of discussion alive and well on the pages of Sempreinter.com.
Two months ago Roberto Mancini once again called time on his Inter Milan management career after a fractious off season with the clubs management and blatantly clear differences with the board over the direction the club should be taking. Only a day later former Ajax manager Frank de Boer was announced as the club's new manager bringing an end to a policy of recruiting tired, old system managers in favour of one refreshingly separated from the constraints, ties and expectations of the Italian system.
Once this appointment was made the trigger happy trolls, armed with their keyboards or special super fast swipe screen mobiles, readied themselves with their library of clichéd comments while professional pundits sharpened their knives for what would appear to be an easy target for their vicious barbs. It wasn't long before much of Italian football's book of critical phraseology had been rolled out to welcome the newbie into the stagnating Serie A; 'He doesn't understand Italian football', 'He doesn't get the culture', 'He is too young', 'Too inexperienced' or my personal favourite 'Italian football is too tactical for such a freewheeling Dutchman to understand or succeed in'. Such quotes have been floating around Italy since Prometheus found himself strapped to a stone with the secret of fire. The criticisms are far too simplistic and easy to be true but are surely wheeled out by arm chair wizards at every opportunity to prove their knowledge of, and undoubtedly the superiority of, Italian football.
Many of these critics were undoubtedly angry at the departure of Mancini and would have fired shots at any poor soul who stepped into his large and feisty footwear. Others are weary of foreigners who dare to pretend themselves capable of managing a club like Inter, while others are just bitter trolls determined to criticize any and all when the opportunity arises and give themselves a pat on the back should the chance prove they are right, it ain't so hard to be a hater.
For this commentator however, the arrival of de Boer has already proven that Inter have finally taken a decisive action that can start to move the club back to where it should be. For the first time since Mourinho slipped into the shadows of the Santiago Bernabeu, and after so many 'Year Zero's' that some children in Milan began to actually question whether zero still really means 0, it feels like they are moving forward.
The achievements made since de Boer's appointment have been remarkable for a club that sometimes seems more comfortable sending postcards than emails.
For starters since his arrival de Boer has shown more interest in promoting members of the clubs multiple championships winning youth team than his predecessors. Both Gnoukouri and Miangue have benefited from his arrival with ample minutes and, despite neither being at a level that would make them starters, it was refreshing to see them chosen over their unmotivated, overpaid bench warming counterparts. This attitude to take a risk with these guys can only benefit the club in the longer term once de Boer has a better grasp of the level of the players out on loan as well as those coming through.
This attitude towards players of the future also falls nicely in line with the stated desire of the clubs new owners to recruit players who are on the up, players for the future but who can contribute today. Already we have seen how de Boer, in combination with Suning has put this plan into action, a plan that was one of the core points of differentiation between Mancini and Suning, with the recruitment of both Joao Mario and Gabrial Barbosa. Would these guys have been bought in had Mancini remained? By all accounts Mancini was dead set on getting Yaya Toure, a great player no doubt but a player surely on the decline unlike the rampaging Mario.
De Boer has also quickly and efficiently identified his top team and formation despite a couple of early and entirely understanding, as he had virtually no pre-season, hiccups. He quickly realised that the squad contained a number of high profiles liabilities and has either banished them to the bench where possible or called them up on their deficiencies. His tough and public treatment of Brozovic and Kondogbia has demonstrated that he is not prepared to suffer pre-Madonna's and is exactly the right course of action for those who aren't ready to be part of the team. It is now up to these players to prove themselves willing and able to fight for the club, its fans and their teammates or they are not worth having in the squad. I have read many comments about how the club needs Brozovic etc but this is simply not true unless he is fully willing to commit himself to his role, his teammates and the cause, otherwise he will be a liability.
He has bought excitement back to the San Siro. The last five seasons have been a disaster for the club. Not only have they not been successful but they have played God awful football. At times I have found myself dreading watching Inter games for fear of the stinking dross that was being served up. It was like dining at a restaurant owned by a friend whose food was terrible. You felt obliged to go there but the mess that made its way to the plate was enough to make you feel nauseous. Now I look forward to Inter's matches. De Boer has bought pace back into the team, he has given them freedom to take more risks and to get the ball forward. Although I was disappointed with the loss against Roma I felt like I has witnessed a great spectacle that could have gone either way, particularly if de Boer had been afforded the time to recruit a couple of half decent defenders. Under Mancini and Mazzari we would often win and I would still feel numb after watching 90 minutes of the ball being passed sideways, is that really the way forward?
Under de Boer I see a first team squad that is playing with joy, enthusiasm and as a team. Many have used the Europa league as a rock to cast at the Dutchman but to me the Europa League team is an indictment on those who came before. There is such a clear lack of effort, energy and skill in these squad players, many of whom we simply cannot get rid of because they are earning FAR more than they should be. Trolls have commented wisely that these players prove that de Boer is not up to the task but how do you motivate a player like Rannochia, who time and again has been caught out and is constantly criticized by fans and pundits alike, same with D'ambrosio, Melo, Nagatomo and Biabianby who seems to be stuck in Groundhog Day with his constant life cycle of being sold by Inter, bought by Inter, benched by Inter, repeat;? They are simply irredeemable at this club as their Europa League performances prove. Unfortunately de Boer has no real choice but to play them in the Europa League as he needs to rest his starters at some stage.
As for the tired argument favoured by the 'experts' that Serie A is too tactical, too strategic for any old Joe Bigshoes to come in and succeed, this too is should be consigned to the same box as the other tired clichés. A simple look at the hall of shame that is Inter's recent management past confirms this. Following Mourinho Inter has had Gasperini, Ranieri, Mazzarri and Mancini who I would consider the classic Italian managers so favoured by these experts. From what I have seen most of them bought very little in terms of style, energy or long term planning to the club. The club has tried these type of managers over and over again and it simply hasn't worked.
De Boer has been a breath of fresh air to Inter. He has reinvigorated the playing style, giving fans fast paced, exciting and enjoyable entertainment despite arriving only a couple of months ago. He has quickly settled on a first eleven that makes sense and sidelined those who should have been a long time ago. He has also stamped his authority on the team ensuring that those who are not working with their team mates are not working against them all and has done this despite not yet enjoying a full transfer window to bring in players that suit his style. His willingness to put his faith in youth is promising both for the present and the future, while he seems to be working to the same goals as his paymasters. While there is obviously a long time to go and results will clearly be important, Inter needs to show loyalty and faith to this path or risk falling back into a cycle of change that is all too familiar to fans from the last few years.
---
Words: Sam Olsen – Follow him @SamOlsenBYWV