Tactical Analysis: F.C. Internazionale Milano 3-0 F.C. Crotone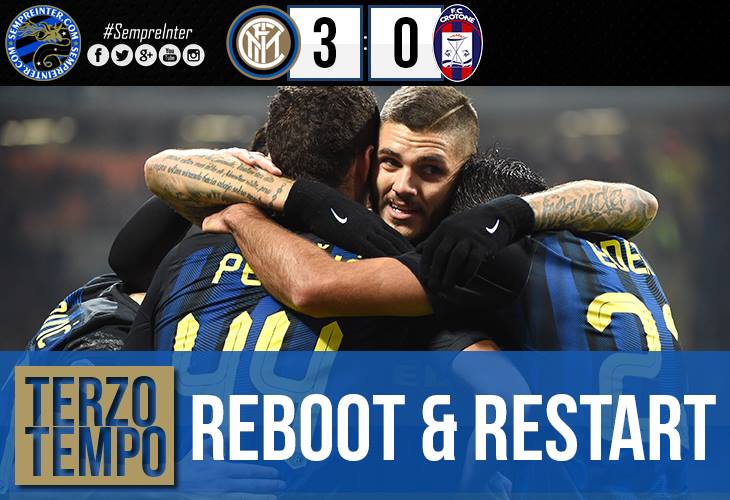 Date : 06/11/2016
Venue : Stadio Giuseppe Meazza
Competition : Serie A 2016/2017, Matchday 12
The starting line ups:
Inter took only their third win in the last ten games, the first at Serie A level for interim coach Stefano Vecchi, against the last placed Crotone, after a brace from captain Mauro Icardi and another goal from Ivan Perisic.
Due to the recent sacking of manager De Boer, the Inter Primavera coach, Stefano Vecchi, found himself as the first team coach with a few days to work and prepare the team for the two matches, first against Southampton and then against Crotone. Thus, the objective was not to install his football philosophy and a certain way of thinking, but simply put the players on the field in a formation they knew and with tasks that were understood and executed easily.
Having this in mind the Italian coach chose to field his team in a 4-2-3-1 formation, with Brozozic and Joao Mario in front of the defensive line and Ever Banega in his more natural position once again, as a trequartista.
With Crotone having no intention to try to keep possession and control the rhythm of the game, opting to sit back in a passive 4-4-2 shape instead and wait for a counterattack opportunity to arise, the whole game proved to be a question of if and how Inter were going to score.

Inter's structural problems
As Inter returned to a double pivot during the build-up phase for the first time since the Roberto Mancini era, many structural problems appeared, that together with a very slow ball circulation (an area in which the De Boer Inter was getting more and more improved) brought the Milanese side to a draw at half time.
First of all, the change from a one DM formation (4-3-3) during the build-up to a two DM one (4-2-3-1), meant that one less passing option existed between the lines, something that made taking advantage of the holes between the Crotone players as they shifted from side to side much more difficult, as it was almost impossible for Banega to move continuously from side to side and also being the only central option behind Icardi, Crotone could focus much more on his defending.
The abovementioned shifting of course didn't prove dangerous for Crotone mainly due to the fact that Inter's ball circulation was too slow.
It was a situation clearly exacerbated by the fact that many times Brozovic and Joao Mario played too close to each other or that in their attempt to create a passing lane for each other many times one was moving vertically to the other but cutting a passing lane to another teammate at the same time (for example to Icardi or Banega).
The third and last, obvious structural problem was being created as no player was matching Banega's movements, in his natural free role, in order to keep the side balanced. For example, as the Argentine was dropping closer to the ball in order to receive possession no one was moving to his just evacuated space between the lines, neither one of the wingers neither Brozovic nor J.Mario, or when they did their reactions and timing proved to be too slow. The result? A team that was split in half with no connections and limited possibilities to as to what was going to be their next step.
Second Half
In order to improve his team's performance for the second half Vecchi didn't make a substitution immediately but prompted to change the way Inter was building-up, instead.
In contrast to the first half when both Brozovic and J.Mario were staying primarily centrally during the build-up phase, during the second half the closest to the ball DM, was moving near the wing becoming momentarily a FB in order to push D'Ambrosio or Santon much higher up the field in vicinity with the winger in order to combine and also stretch the opposition.
When Eder replaced Banega at the 64th minute these movements continued, but now the focus on the wing and the inside channel was even greater as the Squadra Azzura forward was moving there to create a third option for the DM in possession of the ball.
Of course the team still looked split in half and with a more direct approach as the only obvious solution but Brozovic's vertical passing accuracy and overall performance combined with a very passive Crotone that wasn't putting enough pressure on the ball helped Inter improve offensively and become more dangerous.

Conclusion

In the end Perisic and Icardi made the score 3-0 to deprive Crotone of a historical result that would have made Inter's season even worse, and gave Stefano Vecchi his first win as a Serie A coach.
For more Inter and non-Inter related Tactical Analysis, you can find me on Twitter, @ThanosChelas.