Tactical Analysis: F.C. Internazionale Milano 4-2 ACF Fiorentina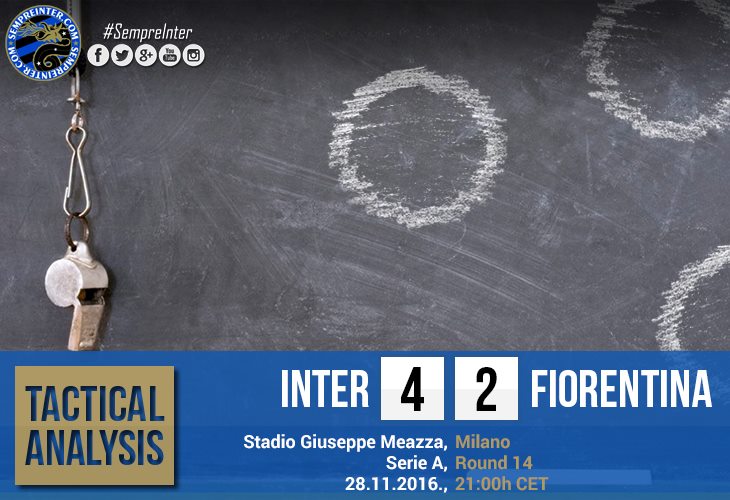 Date : 28/11/2016
Venue : Stadio Giuseppe Meazza
Competition : Serie A 2016/2017, Matchday 14

Inter took their first win with new manager Stefano Pioli after a fantastic start that saw them lead by a three goal difference before even the 20th minute mark and gave them the win, hiding at the same time many of the problems that the nerazzurri faced in their performance.
With the match being primarily influenced by Inter's coach defensive tactics, it would be wise to start with an explanation on how his team defended against Paulo Sousa's.
Inter's defense
Above you can see how Inter tried to defend against a Fiorentina side that builded-up in 3-4-2-1 formation.
With the CBs being responsible for initiating the play, Banega's and Icardi's task was to apply pressure to the ball carrier in order to force him towards Fiorentina's right side, while the nerazzurro captain also had the task of marking Astori, the most able CB the opposition had in terms of making penetrating passes and breaking the opposition lines, thus, never moving too far from the Italian defender.
Kondogbia and Brozovic had to mark Borja Valero and Badelj that created the Fiorentina double pivot, in order to eliminate them as passing options, while Ivan Perisic was responsible for protecting the left inside channel in order to cut any passing lane in that area and leave as the only open option Tello, who was pressed by Ansaldi when receiving the ball.
Candreva's task was to man mark Milic and also cover Danilo D'Ambrosio who was following Bernardeschi's movements, many of them centrally between Inter's midfield and defensive line, consequently leaving big spaces at the right side of the field.
Inter's defensive problems
Of course, with Pioli implementing such man-oriented defensive tactics, with a lot of man-marking also it was natural that Inter seemed at times out of structure and presented some noticeable problems.
As it can be seen in the video above, Inter's biggest defensive problem was a result of both CMs, Kondogbia and Brozovic moving up at the same time to mark Badelj and Borja Valero, leaving big spaces between them and a defensive line that exacerbated the problem by staying at times too deep.
To counter this foreseen problem the Italian coach had ordered D'Ambrosio to follow Bernardeschi's dropping movements in those spaces, something that of course created another problem as there were now spaces next to Ranocchia and behind the Italian RB. Spaces that Candreva had the task to cover, a task evidently too big for a winger that had to mark the opposition WB but also sprint in time in order to take part in Inter's counterattacks.
It was a problem that Kalinic took advantage of in order to score his team's first goal of the night.
As you can see above, Kalinic moves in the space created by the dropping movement of Bernardeschi that dragged D'Ambrosio out of position, and is not picked by neither Ranocchia nor Miranda, with Candreva being the Croat's only direct opponent just before the goal.
Another problem that Stefano Pioli faced, regarded Banega's defending.
The Argentinian was too slow to react, or wasn't even making an attempt to, in cases when Kondogbia and Brozovic were passing their man to him in order to drop deeper and protect the defensive line, and as a result there were times when Borja Valero or Badelj were free to carry the ball and find the right penetrative pass. He was also not very helpful in situations when Icardi was found out of position and couldn't mark Astori, not moving towards the Italian defender to mark him, leaving him free.

Pioli responds
Seeing Fiorentina score before halftime and his team unstable defensively, Pioli decided to substitute Kondogbia, who had a yellow card and considering the nature of the game it was very risky to continue, with J.Mario and make some tactical changes.
Above you can see how Inter defended in the second half against the ten-man Fiorentina, after Stefano Pioli's tactical changes.
With the Fiorentina build-up starting from the CBs, it was now only Icardi's job to apply pressure and force the ball towards the Viola RCB. As soon as the ball started to move towards the RCB (Salcedo), Banega had to leave his position covering one of the two opposition DMs and pressurize the Mexican, while Perisic had to take over centrally and mark Valero or Badelj.
This tactical change of course left Inter's left inside channel empty for passes to be made towards Ilicic but at the same time allowed Inter to have Brozovic as a DM in a role where he could assist with their defensive tasks both the defenders and the other two midfielders.
With the match becoming anarchic as the time passed by due to Fiorentina's willingness to attack on the counter, with Borja Valero also taking a more free role that created some confusion in the Inter midfield, and the nerazzurri more than content to respond in the same way in their attempt to take advantage of the spaces on either side of the Fiorentina CBs(created due to the absence of one of the two WBs after the red card), Pioli put Felipe Melo in the place of Ever Banega to defend the central areas better.
Despite the fact, however, that this anarchy was favoring the team that was one man down, it was Inter that managed to score another goal, as Icardi made the score 4-2.
Conclusion
Inter took another win that keeps them alive for another week in the Champions league race by taking advantage of their incredible start, but leave the pitch with a lot of problems to be solved and a lot of area's to be improved by Pioli and his staff.
It will be very interesting to see how Pioli is going to set his team up for the upcoming match against Napoli, as the individual defending based and a lot of times structure-less Inter will probably face a lot of problems against Sarri's very fluid and talented team.
For more Inter and non-Inter related Tactical Analysis, you can find me on Twitter, @ThanosChelas.