SempreInter.com Player ratings for Inter 2 – 0 Genoa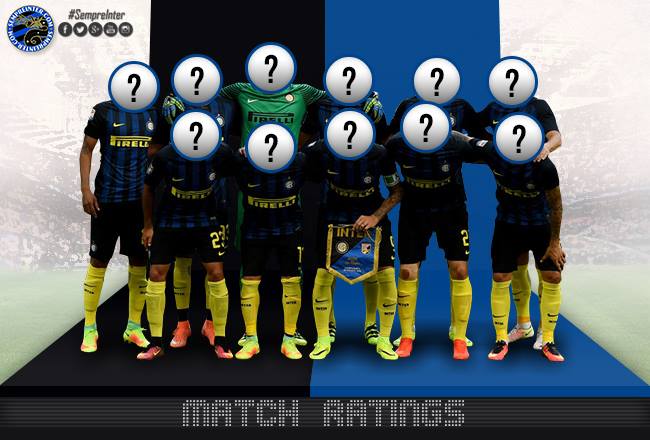 Inter got their 6th home victory in a row with a Brozovic brace tonight. Here are the ratings:
Handanovic – 6.5 Tonight we saw the good side of Handanovic, kept Genoa at bay when they were on top in the first half. Wasn't tested in the 2nd.
D'Ambrosio – 5.5 Gave away too many fouls and was lucky not to be booked. He was the weak link when Genoa were dominating.
Miranda – 6.5 Leader in defence. He has the toughest job in Inter's 11 as he needs to cover for his colleagues mistakes game in and game out.
Murillo – 6 Started lazily but slowly got into the game and lent a hand to Miranda as Genoa grew disillussioned
Candreva – 5 We didn't hear of Laxalt using his pace or ability, thanks to number 87. Defensively good, but gave nothing in attack at all
Brozovic – 8.5 Epic tonight. He couldn't do anything wrong and even if he misplaced a pass it came back to him somehow. Fantastic 1st goal.
J. Mario – 8 Calm, collected, assured. Everything a midfielder should be. Superb runs and had a hand in both goals tonight. Complete.
Nagatomo – 5 A typical Nagatomo performance, riddled with mistakes. He cleared a few moves and even came close to scoring.
Eder – 4.5 This cant be the same guy we saw on Thursday against Sparta. Wasn't able to string one move or a decent pass in the first half.
Icardi – 6 Amongst the chaos, one man always manages to put in a shift. Played like a captain but his team didn't even create a single decent chance
Palacio – 5 His contribution tonight was much like Eder, got the ball under control but didn't conjure anything. His age shows as he had run out of steam
Melo – 4.5 Brought on at HT to bring solidity to our midfield. He blew cold most of the time. Don't remember a positive moment at all.
Perisic – 5.5 Combined better with the midfield than Palacio and Eder but his crossing and passing looked off the boil.
Banega – SV Time wasting sub. One good turn but didn't have the time to do anything else.
Piolo – 5.5 Nobody understands why he went with that lineup, but credit is due as the team is responding to his call for mental strength and balance
Valeri – 7 For once an Italian ref that doesn't give away soft fouls on attackers. Burdisso was furious with one decision but got everything else right
Inter's performance  – 6  Chaos in the first half but most will feel some Grinta coming back into this team, a step forward tonight mentally if not tactically.
Let us know what you think in the comments or via our social media.