Tactical Analysis : F.C. Internazionale Milano 3-0 S.S. Lazio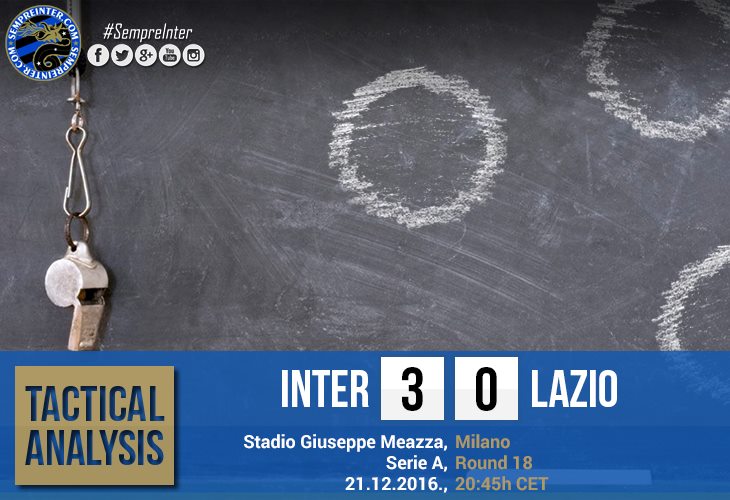 Date : 21/12/2016
Venue : Stadio Giuseppe Meazza
Competition : Serie A 2016/2017, Matchday 18
Inter finished their Serie A obligations for the year 2016 with an impressive win against fellow third place contenders Lazio, displaying a lot of problems during the first half but also some of the best, if not the best, football of the very young, until now, Pioli era.
First Half
In their most important match until now, regarding their Champions League aspirations, Inter presented a more problematic than improved face during the first half.
Against a man-oriented Lazio defense that focused on applying pressure on the ball-carrier after having forced the ball to the wing, the nerazzurri found themselves facing a lot of problems.
In order to counteract against those tactics and manage to build-up successfully on the other side, Stefano Pioli gave a lot of freedom to Banega and his two wingers that were moving in relation to each other in search of space and open passing lanes.
The Argentinian trequartista would either move towards the wing if space was not found centrally or between or next to Kondogbia and Brozovic if the two DMs had problems progressing Inter's build-up.
The Italian international, in his turn, was moving centrally every time his team's "number 19" was evacuating the spaces close to Icardi, with D'Ambrosio reacting to Candreva's movement too, taking a higher position and occupying the whole right wing.
But Banega leaving his natural position didn't seem to be the only prerequisite for Candreva to move centrally as he did the abovementioned movement even at times when the Argentinian was positioned more centrally or in the channels, creating thus a 4vs3 numerical superiority against Lazio's Biglia, Parolo and Milinkovic-Savic.
Despite this certain fluidity of movements and willingness to build-up organically and calmly though, Inter didn't seem to be very successful as the ball was circulated too slowly to create any spaces at Lazio's organized defence.
Some part of this inability is attributed to Kondogbia's zero risk approach with the ball. The Frenchman was evidently much more concerned with not losing the ball and keeping possession than helping his team progress, as he made most of his passes to the safest targets, his CBs or Brozovic, especially when compared with the Croatian who was much more willing to make vertical passes or carry the ball and dribble.
The absence of J.Mario was also felt in this phase of the game as despite the fact that Banega is an excellent player moving between the lines and carrying the ball in tight spaces, the Portuguese's energy and continuous effort to create passing lanes is uncomparable.
Moreover, Ansaldi's and D'Ambrosio's lack of timing in certain situations when both Perisic and Candreva had moved centrally left the team without width and Lazio as a consequence not stretched but compact and with great distances between the players to both press the ball carrier and mark his immediate options.
With Inter thus having problems with the ball, Lazio proved to be the most dangerous team, creating two almost identical chances with Immobile receiving the ball outside of the penalty area alone in transition.
Below we take a look at the mistakes leading to those two chances.
In the first of the two huge Lazio chances the reason was lack of communication and understanding of when to exchange positions, an area in which Pioli would have to work a lot after Christmas as his players were caught four or five times without knowing how to react after being dragged out of position.
If you pause the above video on its 00:17 mark you will see Brozovic turning his head around, identifying a numerical disadvantage for his teammate on the opposite wing where he will eventually move. This move, however did not find the correct reaction by Candreva who also stayed in this area, not deciding to close on Immobile until it was too late.
What should have happened?
There are two easy solutions, if not more.
In the first option, supposing Brozovic sees Candreva behind him, the Croatian stays close to Immobile leaving his teammate to move towards the opposite of the ball FB for help with a small sprint.
The second solution, supposing Brozovic moves eventually far from the ball, includes Candreva rotating positions with the Croatian and moving immediately closer to Immobile.
As regards the second missed opportunity by Lazio, we can see proof of how football is a game of detail, especially at the highest level against skilled opponents.
Pausing at the 00:16 mark, the passing lane towards Immobile can be seen free, and that, simply because Brozovic overran by one or two metres, thus allowing the pass.
Second Half
The second half proved to be a totally different story for the teams as Inter took a 2-0 lead in less than three minutes, locking the result ten minutes later.
The strange thing in fact is that Pioli didn't radically change anything for the second half, his team however seemed to press much more successfully when organized or immediately after losing the ball.
And that is how the first two goals were both scored as the well-known phenomenon "Déjà vu" was experienced by everybody watching the match.
Notice Icardi's beautiful move as the cross comes in, moving from De Vriij's blind side, in front of him, as the Dutchman is focused solely on the ball.
In both videos above, the ball is just lost by Inter, Wallace becomes the ball carrier but being pressured and without any space in the corner of the pitch he decides to clear the ball away only for Inter to win it back and eventually score.
The third goal came after a very well executed set-piece routine in which Murillo, Miranda, Kondogbia and Perisic screened, in basketball terms, their markers in order to free Icardi.
It was a very refreshing goal in an area in which Inter have been struggling for years but seem to improve week after week with Pioli as their coach.
Conclusion
Inter took their most important win to date against Simone Inzaghi's Lazio and are now five points away from the third placed favorite Napoli(after their draw with Fiorentina) as they'll welcome the new year ready to face much more inferior opponents like Udinese, Chievo, Palermo and Pescara in their next four matches.
For more Inter and non-Inter related Tactical Analysis, you can find me on Twitter, @ThanosChelas.